Bridgerton books in order: this is how you should be reading Julia Quinn's series
How to read the Bridgerton books in order, now they have been adapted into the hit Netflix show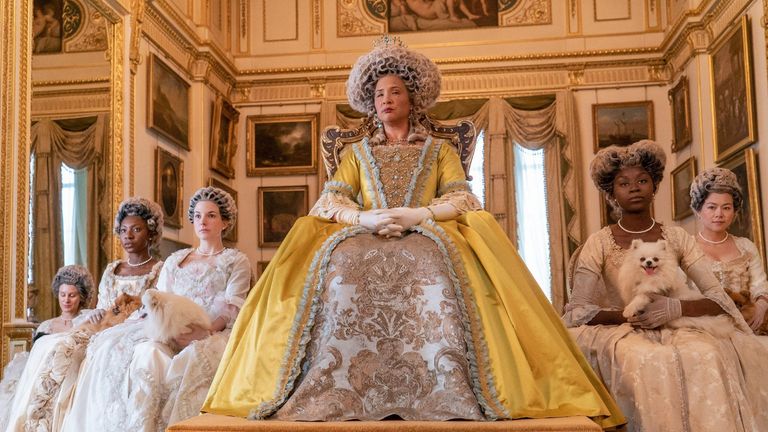 (Image credit: photo: Liam Daniel / ©Netflix / Courtesy Everett Collection/Alamy)
Many fans are keen to read Julia Quinn's Bridgerton books in order after they have once again returned to the limelight following the release of Netflix's adaptation. 
This compelling period drama has viewers hooked. Bridgerton fans might wondering everything from where the Bridgerton filming locations are, to the question of will when does Bridgerton season 2 come out? 
And more might be wondering exactly what lies in store for the Bridgerton cast— something the original book series can tell us. It was all the way back in 2000 that Julia Quinn's first Bridgerton book, The Duke and I, was published. From then on, the books focus on the love stories of each Bridgerton sibling. And if that's not enough romance and drama to satisfy you, the Rokesby series of four books serve as a prequel to the Bridgerton books. 

Bridgerton showrunner Chris Van Dusen reportedly told OprahMag.com: "For me the books—and I think this is true for romance novels in general—they offer an escape", whilst also mentioning that he "devoured them".
The adaptation of the Bridgerton books is produced by the wonderful Shonda Rhimes, perhaps best known as the creator of Grey's Anatomy and Scandal. 
Now with a confirmed season 2 (even if without the dreamy Duke of Hastings, aka Regé-Jean Page), it may just be worth diving into this historical series to see what extra drama, romance, and intrigue you can expect.
Bridgerton books in order: how to read Julia Quinn's series
1. THE DUKE & I 
This first instalment in the Bridgerton book series inspired the popular show. The Duke and I tells the story of the romance between the fourth oldest Bridgerton sibling Daphne (played by Phoebe Dynevor) and Simon Bassett, Duke of Hastings. Daphne and Simon enter into a fake courtship to help her garner more interest from suitors and to help him evade marriage-minded society mothers. But it soon becomes clear that genuine feelings have blossomed between them.
2. THE VISCOUNT WHO LOVED ME 
The oldest Bridgerton sibling, Anthony, has been the head of the family since his father died, taking care of all responsibilities. Now he is London's most famous bachelor, but then he decides it's time to find a suitable match. Anthony soon meets the perfect person, but a lady named Kate soon becomes a distraction as she seeks to stop the betrothal, all the while capturing Anthony's imagination. But who is Kate in Bridgerton? This book will inspire the show's second season.
3. AN OFFER FROM A GENTLEMAN
Sophia Beckett never imagined she'd be able to make it into Lady Bridgerton's famed masquerade ball and find her very own "Prince Charming". As the illegitimate daughter of an earl, Sophia's story is a classic Cinderella tale - with a twist. After meeting the family's second oldest son, Benedict, she falls in love with him, only to flee at midnight. Their romance then picks up years later after a chance encounter. 
4. ROMANCING MR BRIDGERTON
Penelope Featherington has long had feelings for Colin Bridgerton. And after returning to town after being abroad, their once platonic relationship now has the chance to turn into something more. When he discovers that Penelope has her own secrets, however, he must decide if she is a threat—or the happy ever after he's hoping for. 
5. TO SIR PHILLIP, WITH LOVE
After having rejected multiple proposals, headstrong Eloise Bridgerton is a spinster. However, after exchanging letters with distant relative and widower Sir Phillip - who proposes to her—marriage could be on the cards after all. The only problem is, they've not yet met in person... 
6. WHEN HE WAS WICKED
Michael Stirling was London's most notorious rake - until that is, he first saw Francesca Bridgerton. After a lifetime of chasing women, he fell hopelessly in love with her. But when she married his cousin, it seemed he'd lost the chance to tell her how he felt. Now, years later, she is widowed and Michael may have his chance all over again. 
7. IT'S IN HIS KISS
Beautiful, outspoken Hyacinth is the youngest of the Bridgerton siblings. Yet despite her charms, she and Gareth St Clair are often at odds with each other. Then a mysterious diary begins to bring them together. 
8. ON THE WAY TO THE WEDDING
Gregory Bridgerton is a true romantic, though he finds himself in a love triangle when he recruits Lucy to help him win the affections of her best friend Hermione. It's not long before Lucy falls for Gregory herself, though she's engaged. By the time he realizes he returns her feelings, she's walking down the aisle. 
9. THE BRIDGERTONS: HAPPILY EVER AFTER
This bonus edition of the Bridgerton series was published to give fans an update on the siblings' lives after marriage. The collection of second epilogues gives a sneak peek into their lives following their initial stories. 
Will you be reading Julia Quinn's Bridgerton books?