Your definitive morning routine checklist
A personalized morning routine checklist ensures you start off the day with energy and focus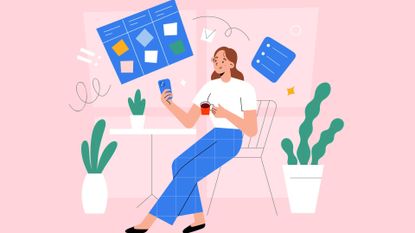 (Image credit: Getty)
So, what do you do when you wake up every morning? Do you have a set schedule that you follow, or do you plan as you go? Having a morning routine checklist can make those a.m. hours less hectic, in addition to a dozen other benefits—and it is surprisingly not monotonous, as many people presume.
Developing a morning routine is easy. All you need is a good night's sleep (which you can get using the best sleep aid products) and a clear idea of what you want to do the next morning.
Here is a brief guide on how to go about setting your definitive morning routine checklist.
How to create a morning routine checklist:
Many people's morning routines are similar; for example, almost everyone's routine includes taking a shower and having breakfast.
However, your routine should reflect your own personal needs and preferences. It doesn't have to look like anyone else's—it only needs to feel natural to you. Consequently, it is advisable to be objective when creating your routine. Here are some tips on how to go about it:
1. Visualize your mornings
What do you do when you wake up every morning? Do you have kids to prepare for school, or perhaps pets that need feeding and walking? What time do you have to check in for work?
Your morning routine should be based on your daily tasks and activities. For example, if you have school-going kids, it might include packing their lunch for the day. These activities may be ones that you already regularly do, but now they'll be clearly spelled out and guided by an orderly timetable.
Your morning routine should also include activities that you wish you could do more often. For instance, you may wish to jog every day but are discouraged by your other responsibilities. Designating time for these activities in your morning routine will make you more organized and allow you to get more done each day.
2. Set realistic goals
Yes, a morning routine will mean that you can do more and still make your mornings less hectic. However, there is still a limit to what you can do every morning—it wouldn't be realistic to make a three-course breakfast, do an hourlong home workout, perform a 12-step Korean skincare routine and walk your dog before getting to the office 20 minutes early, say.
As such, it's advisable to be realistic when deciding what to include in your morning routine checklist. You can also have a flexible routine, whereby there are different activities on different days, such as adding more time for lengthier exercises during the weekends.
3. Make a list
Do you now have a concrete idea of what you would like to do (or have to do) every morning? Great, now write it down in order, starting with what you would like to do immediately after waking up and ending with what you should do before heading out for the day.
Having a list of your morning schedule will help boost your resolve. However, it doesn't mean much if you don't put it into practice. Some people consider following a routine monotonous, while others think that it diminishes their free spirit. However, the benefits far outweigh any perceived shortcomings and sticking to your routine will become easy over time.
Activities to include in your morning routine checklist:
Many of the world's most successful personalities have morning routines. For example, here is Oprah Winfrey's daily routine, per Harper's Bazaar:
Waking up and expresses gratitude for being alive
Brushing her teeth
Caring for her dogs
Sitting down for a cup of healthy chai tea
Stretching and working out
Meditating while walking or sitting for 20 minutes
Having breakfast
Going about business and administration
However, as we mentioned, everyone's morning routine checklist should be customized to suit their own preferences. Here is an overview of some common activities that you can include:
Make a fresh pot of tea or coffee
Do a quick clean-up of your space
Update your journal
Check your mail and check in with friends and colleagues
Do some deep-breathing exercises
Throw a load of laundry into the machine
Swap out a shower for a bubble bath
As always, it's important to get enough sleep, or else you may lack enough energy to stick to your routine. You will then start, spend, and end your day well. Anyone can do it, and everyone should! Want even more focus and organization in your day? Check out our picks for the best planners and productivity apps.
Christina Izzo is the Deputy Editor of My Imperfect Life.
More generally, she is a writer-editor covering food and drink, travel, lifestyle and culture in New York City. She was previously the Features Editor at Rachael Ray In Season and Reveal, as well as the Food & Drink Editor and chief restaurant critic at Time Out New York.
When she's not doing all that, she can probably be found eating cheese somewhere.