6 productivity apps to bring more focus and organization to your life
Need help staying motivated? These productivity apps will do the job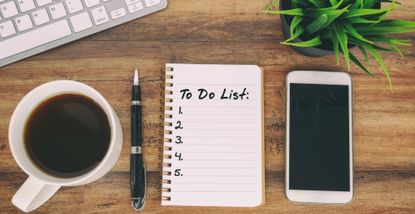 (Image credit: Getty Images)
Finding it hard to stay focused? Productivity apps could be your saving grace. With the pandemic still going strong (a year later!) and many of us still living under government restrictions, we've all had moments of feeling pretty uninspired and lacking in motivation, especially when it comes to work or other life admin that needs taking care of.
Millions of us are still working from home with no return to the office in sight, which means we're constantly on the hunt for new ways to keep ourselves focused. And when it comes to staying productive, we need all the help we can get—that's where productivity apps come in.
Just like the best meditation apps help you de-stress and the best dating apps help you find a significant other, there are a number of apps out there that are designed to help us stay in control of our schedules and make sure we cross off all the things on our to-do list. From work tasks to grocery shopping needs and other family commitments, these apps could be the answer to a more organized life. So why not give them a try?
The best productivity apps for work and home
1. Any.do
It can be easy to forget daily chores when you're super busy with work and other, more pressing commitments. However, Any.do helps you stay on schedule throughout the day to make sure you get to the bottom of your to-do list. The app, which is available to download for free on Android and iOS, lets you sync between phone, desktop, web, and tablet to keep your lists up to the minute. That way, you can access your reminders and notes, as well as share lists with and assign tasks to others.
The app also has a voice feature, which allows you to add things to your to-do list simply by speaking into your mic. How convenient is that?!
2. Kitche
Kitche is another great app that'll have you staying one step ahead. Whether you're struggling with time management or want to stay on track of a new lifestyle (for example, being more environmentally conscious), the app will help you do so.
One of the best features is that you can use the app to scan your supermarket receipts so it knows what food you've bought, and then it will help you to plan your meals based on what you've already got in the cupboards. Talk about making life easier! Download it for free on OS and Android.
3. Focus
Time management struggles will be a thing of the past when you download Focus. The app, which is sadly only available for Apple users, helps you take control of your time by structuring your day into small sections. How? It breaks up your day into 25-minute working chunks, with tasks and regular breaks so that your to-do list doesn't feel overwhelming (and so you can check out what's happening on Clubhouse). You can also track individual tasks on the app, whether it's home chores or work commitments. The app comes with a free three-day trial, but you'll have to buy a subscription after that.
4. Todoist
A wordplay on 'to-do list', Todoist is one of the most popular apps for productivity. Not only is the app super organized with color-coded priority levels for every task, shared projects, and productivity graphs that record your progress, but it also makes sure you get things done. There's also a' 'Quick Add' feature that allows you add last minute tasks. Best of all? The app integrates platforms like Dropbox, IFTTT, and Slack so you can access all your tasks in one place, as well as share them in a group.
5. Slidebox
We won't be the first to admit that our smartphones can get pretty cluttered with photos and screenshots that can all become overwhelming and make us dread even opening up our camera roll—unless you're very organized and have everything in appropriate albums, of course. If like us you don't, then Slidebox is the app you need. The clever app is a smart way to go through your library, deleting any unwanted pictures whilst sorting others out into neat folders.
6. Actions by Moleskine
Moleskine is known for their tangible notepads and journals that help us all with our productivity. However, the brand also has a digital app that's even more helpful. Actions by Moleskine is a super handy to-do list app that assists you in your work life and your home life by acting as a reminder for things you need to do, making sure you stay on top of it even at the busiest of times. Like Focus, it starts with a free trial and then requires you to sign up for a subscription; however, at least it's available for both Android and iOS users.
Sagal is a journalist, specialising in lifestyle, pop culture, fashion and beauty. She has written for a number of publications including Vogue, Glamour, Stylist, Evening Standard, Bustle, You Magazine, Dazed and Wonderland to name a few.