Your weekly horoscope is here: May 2 - May 8
Your weekly horoscope is here—are you feeling the effects of eclipse season?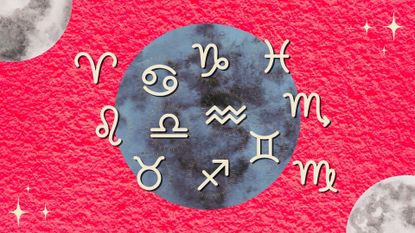 (Image credit: Future)
Welcome to your weekly horoscope! As we enter May (hi May horoscope), we are in the middle of eclipse season, so expect the overall energy to feel a little strange. Eclipses are portals, and as we cross the threshold into next week's powerful full moon lunar eclipse, it's only normal to feel in a state of limbo. Resting and meditating are the practices that will help us ground, so make sure to set aside more time for self-care.
Love and relationships enter a new phase as our cosmic lover, Venus, enters Aries. Over the next three and a half weeks, we will be more spontaneous in the expression of our desires. We will have a clear picture and will be unapologetic about what we want—but could also be blunt and rash in our chasing.
This week also brings the electric meet-up of the Sun with Uranus, the planet of the unpredictable! As the planetary ambassador of the future, Uranus is here to shake us out of our comfort zone. If we manage to ground enough to connect to its brilliance, we are in for some major downloads of genius. Under this energy, quantum leaps are in store for those who can practice non-attachment to the past. Uranian wisdom occasionally arrives in the form of body nervousness, symbols, and visions—so write down any new ideas that come to mind this week.
Weekly horoscope: what does this week have in store for you?
Aries
You have the attractor factor as sexy Venus enters your sign, where it will stay until May 28. This once-a-year influence magnifies your charisma and helps you attract lovers as well as new friendships. If you've been considering trying a new haircut or overall look, this is the week to go for it. It's the perfect time to unleash your inner rebel and get wild, Aries, so don't hesitate to try something new and funky!
Taurus
Last week's powerful eclipse opened a new door for you, Taurus—and this week, you get clearer messages from the universe on the direction to move forward. How can you bring more freedom (and creativity) into your life? Whatever is standing in the way for you to attain that must go. Use this week's powerful Sun-Uranus conjunction in your sign to unplug from whatever is keeping you from expressing your creativity. A new version of you is unfolding!
Gemini
Although the overall energy will be a bit strange due to eclipse season, this week brings harmonious aspects for your sign. The Sun, Mars, and Uranus will be activating your tenth and twelve houses, which could bring a golden opportunity for you, but you will have to stay alert. If an eccentric personality suddenly shows up, take the opportunity to listen to what they have to say, as they could open your mind to new and exciting ideas.
Cancer
You are one of the most introverted signs, but this week, the universe is calling you to expand your mind, Cancer. The Sun, Mars, and Uranus will be connecting your ninth house of learning and far-away horizons with the sector of your chart that rules community. It's time to connect with people who will be opening your mind and helping you see the world with new eyes! If the opportunity to belong to a new group comes along, by all means, take it!
Leo
Last week's new moon solar eclipse brought you a new beginning in the realm of career. And this week, information that was hidden before around this new project or path comes to the surface—and it might be quite exciting! As lover Venus enters your ninth house of travel and far-away horizons, you might suddenly feel the need to book a vacation. If you're in need of a break, you should certainly hear the call, Leo.
Virgo
For you, Virgo, this is a week to tie up loose ends in preparation for the upcoming retrograde of Mercury. Finish your most important career projects, as this is the area of your chart that will be highlighted. The great news is that your ruler, Mercury, will be harmonizing with Venus in Aries, bringing you opportunities to tap into your creativity and maybe even connect with a new lover—if that is of your interest right now.
Libra
This week, Venus enters your seventh house of partnerships, injecting energy to your social interactions. This is a wonderful time to begin working with a healer or a coach. Venus also brings a red-hot energy to your closest relationships. If you're single, your magnetism will help you attract new prospects. If you're partnered, it's time to prioritize them and truly connect. Trust us when we say that having a strong foundation is key, in preparation for what the weeks ahead will bring.
Scorpio
As the Sun and Uranus meet in your seventh house, you're receiving an injection of change in a key relationship. If there is tension with someone, this powerful once-a-year meetup will help release it. While a new way of relating can feel strange at once, it will bring you a much-needed sense of freedom and exhilaration. By the way, this can also be a very kinky vibration, so if it feels right, feel free to try new things in the bedroom.
Sagittarius
With Jupiter, your ruling planet, spending its last days in Pisces, there is an energy of endings and completion to your week. A project could be wrapping up for you in the realm of home or career, which could be keeping you quite busy. The very best news is that powerful forces are working behind the scenes to catapult you to great success. A promotion or leadership role could be in the cards for you, dear Sagittarius!
Capricorn
Venus enters your home sector on Monday, bringing opportunities for connection with your partner or roommates. Since Venus is also the planet of aesthetics, it also makes the next three weeks ideal for working on creative and home DYI projects. More good news! Magnanimous Jupiter forms a rare and fortunate connection with retrograde Pluto in your sign. An opportunity that previously passed you by could suddenly reappear and be sealed at the beginning of the week.
Aquarius
The power of your words is elevated as Venus enters your third house of communication, giving your intellectual soul an outlet. It's been an intense year, Aquarius, so use this placement to focus on healing writing modalities for the next three weeks. The Sun-Uranus conjunction happens in your sector of home and family, bringing change to a situation that has been feeling stuck or past its due date. Enjoy this new sense of freedom!
Pisces
This is the last week magnanimous Jupiter will be in your sign, which could be either great or sad news. If you've been experiencing growth in a creative or personal project, focus on wrapping it up while Jupiter's energy is still strong and positive for transformation. If you've been experiencing confusion, rest assured that most of the fog will soon begin to dissolve, bringing more clarity to your life or any unresolved situation from the past few weeks.
Cute astrology-themed gifts
Brand
Colour
Price
Refine ☵
Sort By
Athena Antares is a traveling writer, astrologer, and mystic who believes in adding a touch of magic to everyday life. She has written horoscopes for numerous lifestyle publications and has dived deeply into astrological magic and manifestation spell work. In her spare time, Athena enjoys exploring new places, spending time in nature, and reading charts for her worldly clientele.