The Zendaya workout routine that gets the superstar feeling her most powerful
Marvel at these Zendaya workout tips to help you feel strong and lean like the 'Euphoria' star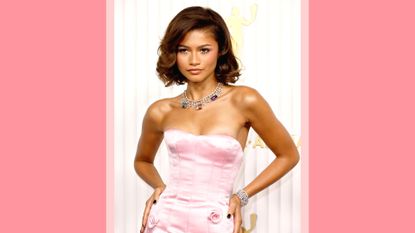 (Image credit: Frazer Harrison/Getty)
Struggle to enjoy exercise? Following the Zendaya workout philosophy could help you have more fun while getting fit. The 26-year-old actress trains hard to keep up with her fast-paced movie roles—from the Spider-Man franchise to the Dune trilogy—but she also makes sure she has a good time while staying in shape.
Just like Kendall Jenner's workout, Zendaya favors routines that focus on strength and build her overall cardiovascular fitness. "I figured that I should do more physical activity," the star relatably told Stephen Colbert on The Late Show about realizing she ought to up her activity levels. "I was like, 'I need to start getting my blood pumping. I need to be outside more. I can't just stay inside and not do anything all day.'"
So, if you're wondering how to motivate yourself to work out, here's how Zendaya got the drive to lace up her trainers. From long hikes to HIIT circuits, we'll reveal her feel-good approach to fitness. (Just be sure to have your best reusable water bottle at the ready as this girl's a superwoman in the gym!)
What is the Zendaya workout routine? 4 key tips
1. Enjoy yourself
Have a tendency to put off your sweat sessions? Zendaya has previously admitted to not exactly feeling euphoria when it comes to exercise, which is why she has made an effort to only do workouts that have an element of fun, like dance. In fact, she looked like she was having a blast when she placed second on Dancing With The Stars back in 2013.
"For me, I enjoy dancing and doing choreography, stuff like that. So, that's how I get my exercise", the star told Justine Magazine. "Find something that's really fun for you. Whether that's jazzercise or whatever." In short, embrace the form of exercise that helps you get in the flow of moving—and, just like the obsession with the Zendaya bob, we think she's on to something!
2. Upper body work
On that note, exercise doesn't have to involve lifting weights in the gym or running on a treadmill. In fact, Zendaya discovered she was able to tone up fast doing circus moves while training for her role in The Greatest Showman film, in which she spun on the trapeze alongside co-star Zac Efron. With the help of a personal trainer, the star was able to gradually increase her upper body strength.
"It was a lot of training, literally just getting up there and going for it," she told Jimmy Fallon on The Tonight Show. Although, she noted that it's important to keep at it, as she hadn't "maintained" the skill, adding: "So, don't ask me to do any trapeze if you see me, 'cause I don't have it anymore!" If you're in the same boat and want to go back to basics, try these beginner workout exercises.
3. HIIT circuits
In keeping with her desire to ensure that exercise isn't something she dreads, Zendaya also keeps her sweat sessions as time-efficient and effective as possible. In a YouTube video, she can be seen being trained by her younger brother Austin Coleman, who is a personal trainer.
The 23-year-old put his A-lister sister through her paces with a full-body HIIT circuit routine incorporating the following exercises:
Arm raises with TRX straps
Bicycle crunches
Laps
Push-ups
Leg raises
Pop squats
Wacky jacks
Russian crosses
Wide leg squats
Lunges
4. Regular hikes
Last but not least, Zendaya factors regular hikes into her routine. The star has shared posts to Instagram of herself on sunny walks up into the Californian hills—often with her dog Noon, who she'll sometimes have to carry on her back when he gets tired (meaning she gets an unexpected, extra workout).
Hiking is one of the best forms of LISS—standing for low-intensity steady-state cardio—which is a slower aerobic activity done for an extended period of time. It is great for boosting heart health, without the strain on joints, and also provides benefits to mental health and sleep. Top tip: pick up a pair of the best leggings with pockets to store your phone and keys.
Lauren is a freelance writer and editor with more than six years of digital and magazine experience. Most recently, she has been the Acting Commissioning Editor of Women's Health—where she co-produced the Going For Goal podcast—and has previously also written news and features for titles including The Telegraph, Grazia, Stylist, Dazed, The Sun's Fabulous, Yahoo Style UK and Get The Gloss. She covers all aspects of lifestyle, specializing in health, beauty, and travel. Can't live without: oat milk lattes, new podcast episodes, long walks, and great skincare.