The best leggings with pockets are the perfect blend of stylish and practical
Perfect for workouts and beyond, the best leggings with pockets combine functionality with style.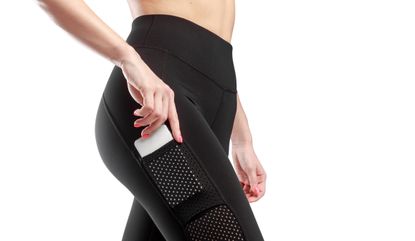 (Image credit: Getty)
What's better than the best leggings around? The best leggings with pockets.
A pair of black gym leggings is arguably one of the most essential components of your wardrobe—they're equally stylish, practical, and do the job they're meant to. However, there is one sure-fire way to elevate their status, and that is the addition of pockets.
The best workout clothes boast soft, stretchy fabrics, second-skin levels of comfort, and pass the squat test with flying colors—i.e. they won't let you down in the see-through stakes. The best leggings with pockets go one step further, however, offering all that and more, along with the chance to leave your handbag at home.
Even better, pocketed types of leggings can be extremely versatile. They come in several different colorways and materials, from faux leather leggings to workout ones that have complete sweat-wicking properties—there really is a pair for all occasions.
Best leggings with pockets to add to your wardrobe
1. Sweaty Betty Super Sculpt Leggings
Best leggings with pockets for all activities
Specifications
RRP: $108
Sizes: XXS-XXL
Machine washable: Yes
Reasons to buy
+
Flattering fit
+
Practical details
Reasons to avoid
-
Some reviewers say they come up small
Sweaty Betty's Super Sculpt Soft High Waisted Yoga Leggings guarantee a perkier—and peachier—bottom before you've even stepped foot in the gym.
Using compression technology, these leggings both hold and hone your figure. Not only does that equal a flattering fit, but it helps to reduce the dreaded day two DOMS (that's delayed onset muscle soreness for the uninitiated).
High-waisted styles like these are brilliant for yoga, as they won't slip and slide during your sun salutations.
The fabric is substantial enough to pass the squat test but lightweight enough for even super-sweaty sessions. It's moisture-wicking too, drawing water away from your body to keep you cool and dry.
2. Spanx Jean-ish Ankle Leggings
Best jeggings with pockets
Specifications
RRP: $98
Sizes: XS-3X
Machine washable: Yes
Reasons to buy
+
Comfy alternative to jeans
+
Handy pockets
Reasons to avoid
-
Pricier than your average pair of jeans
Psst! Spanx Jean-Ish Ankle Leggings might look just like your favorite skinnies, but instead of feeling firm or restrictive, these are soft, stretchy and a complete joy to wear.
Flexing their shapewear credentials, Spanx has added a smoothing panel to the inside of these leggings, helping to create a more sculpted silhouette. They sit high on the waist too, helping you steer clear of any "muffin top" type spillage.
The front pockets might be fake (they're just there to add to the authentic jeans feel) but the ones at the back are fully functional.
Spanx sizing is inclusive, ranging from an XS-3X, with extended or shorter inseam options for tall and petite. Choose from four different shades (black, white, indigo, and taupe).
3. Commando Faux Leather Pocket Legging
Best faux leather leggings with pockets
Specifications
RRP: $128
Sizes: XS-XL
Machine washable: Yes
Reasons to buy
+
Fit tested on real women
+
Smooth, sturdy fabric
Reasons to avoid
-
A little tricky to wiggle into
We love Commando's classic faux leather leggings, but even best-sellers can be improved with the addition of pockets. In this case, it makes the leggings feel more like trousers, offering even more ways to wear them.
As with all faux leather leggings, these take a little shimmying to get into but don't take that as an excuse to size up. They'll only give the more you wear them, so if you're starting off loose, they'll be saggy and baggy within days.
The fit is firm, and the fabric smooth and shiny, complete with a slightly pebbled texture that feels just like real leather.
Commando fit-tests their clothing on real women, so you can rest assured that both the cuts and sizing are reliable. The raw edge cuffs mean you can adjust the length yourself, without the need for professional help or hemming.
4. Girlfriend Collective Black Compressive Pocket Legging
Best plus-size leggings with pockets
Specifications
RRP: $78
Sizes: XXS-6XL
Machine washable: Yes
Reasons to buy
+
Fully inclusive sizing
+
Made from recycled materials
Reasons to avoid
-
No cons that we can find!
One for the eco-conscious shopper, every pair of Girlfriend Collective's High-Rise Pocket Leggings are made from at least 25 water bottles that would otherwise have ended up in landfills.
But that's not all. Once you've worn your leggings to breaking point (trust us, it takes a while) you can return them to the brand to be recycled. They'll then top up your account with a store credit to say thank you.
Now for the leggings themselves. It might have been the fully inclusive size range and wide selection of colors that drew us in, but we stayed for the sturdy, squat-proof fabric and super comfortable fit.
Each pair comes complete with a pocket on each hip, deep enough to store your wallet or phone.
5. Fabletics Ultra High-Waisted Seamless Stripe Legging
Best high-waisted leggings with pockets
Specifications
RRP: $49.95 for members, $64.95 for non-members
Sizes: XS-XL
Machine washable: Not specified by brand
Reasons to buy
+
Multi-use pocket
+
Fashion-forward design
Reasons to avoid
-
Pricing can be a little confusing
Not familiar with Fabletics? After spotting a gap in the market for hard-working yet affordable activewear, the brand was co-founded by actress Kate Hudson back in 2013.
Instead of straightforward shopping, Fabletics work mainly on a membership basis. Upgrade to VIP membership to save up to 50% on the RRP, with even bigger discounts during promotional periods.
The Ultra High-Waisted Seamless Stripe Leggings are an impressive introduction to the brand. So much more than just a pretty face (although we do love the stripe detailing), these seamless, chafe-resistant leggings feel like a second skin.
Close the zips on either side of the back pocket to safely store your essentials, or leave them open to slot your towel through the space during sweaty sessions.
The best part? If you're not completely converted to your new leggings after 45 days of use, Fabletics will offer you a full refund.
6. Everlane The Perform Legging
Best leggings with pockets for everyday wear
Specifications
RRP: $58
Sizes: XXS-XXL
Machine washable: Yes
Reasons to buy
+
Quality fabric
+
Good colour range
Reasons to avoid
-
Some shades can be slightly sheer
Loved by the likes of Meghan Markle, Gigi Hadid, and Angelina Jolie, Everlane is our go-to for stylish, minimal pieces that have been built to last.
It's this quality that's key to their Perform leggings. Not only has the stretchy yet sturdy fabric been crafted in an Italian mill, but it's also made from 58% recycled nylon for extra planet-friendly brownie points.
Although they've been designed with exercise in mind, there's no reason why these leggings can't be worn for casual brunches and nipping to the shops too. Especially with the interior pocket making space for your card, keys, or lipstick.
Available in a wide range of shades, it's the rich, earthy tones like green, red, and copper that get our vote—making a welcome change from standard black.
7. Spanx Skinny Ponte Pants
Best smart leggings with pockets
Specifications
RRP: $128
Sizes: XS-3X
Machine washable: Yes
Reasons to buy
+
Smart enough for evening wear
+
Flattering shape
Reasons to avoid
-
We want them in more colours!
Ok, you've got us. These aren't technically leggings, but a fit this skinny hardly counts as a trouser either. Spanx's Skinny Ponte Pants tip-toe the line between the two, teaming together a pull-on elasticated waist, practical pockets, and shapewear-worthy compression.
Super flattering without compromising on comfort, wear with longline jumpers and oversized, borrowed-from-the-boys shirts for laid-back weekends. Or, make the most of the clever cut and team with shorter tops. A French tuck (out at the back, nipped in at the front) offers the best of both worlds.
Not only are these leggings easy to wear, but they're also simple to care for too. Good news for anyone who struggles to find the time (or the motivation) to hand-wash or dry-clean their clothing. Just pop in the machine on a cool, gentle wash.
8. lululemon Align High Rise
Best leggings with pockets for yoga
Specifications
RRP: $88
Sizes: 0-14
Machine washable: Yes
Reasons to buy
+
Good range of leg lengths
+
Suitable for petites
Flexibility is key to yoga, so you'll need a pair of leggings that move with you, instead of against you. Luckily, Lululemon's Align Leggings do just that, using an almost unbelievably soft blend of nylon and lycra to provide superior, four-way stretch.
During the warmer months, or especially sweaty sessions (hot yoga fans, we're looking at you) the cropped version is a great choice. They work well for petite people too, offering a choice of three shorter leg lengths.
The pocket on these is admittedly on the smaller side, but it is cleverly hidden. There is just enough room to stash your bank card or your keys.
According to some reviewers, these leggings can start to pill and bobble after a few washes. So, always ensure that you follow the instructions carefully to keep yours in the best condition possible.
9. LJ Maternity Phone Pocket Leggings
Best maternity leggings with pockets
Specifications
RRP: $112.99
Sizes: XXS-XL
Machine washable: Yes
Reasons to buy
+
Can be worn during and after pregnancy
+
Soft fabric
Reasons to avoid
-
Sizes can sell out quickly so be fast
There's enough to think about when you're preparing for a new arrival without having to pack (and carry!) your handbag too. Luckily LJ's Maternity Phone Pocket Leggings have come to our rescue, with a deep side pocket big enough to store even the largest phones.
These can be worn in one of two ways—with the high waistband over your bump for extra support or folded down for comfort. The choice is yours. They're just as wearable after the baby is born too, keeping you looking and feeling good as your body adjusts.
The simple design is free from detailing (aside from a logo at the left ankle) meaning they make a versatile layering piece. The chic navy shade will go with everything from muted neutrals to bold brights.
How to find the best leggings with pockets
If you're not sure where to start when it comes to tracking down the best leggings with pockets, thankfully we're here to assist. In our handy guide of the best leggings with pockets, we've broken down the key considerations to mull over before adding these types of leggings to your shopping basket:
What's in a pocket?
Yes, sometimes size doesn't matter but don't get it twisted, in this instance, size really does matter. Workout leggings with pockets might mean you no longer need to stuff your sports bra with essentials before heading out for a run but are they big enough to store everything you need? Your phone? Debit card? A sneaky post-jog snack? Check online measurements to make sure they tick all your boxes.
Zips, poppers, and button closures are handy too, keeping valuables such as your door key extra secure.
Fabric choice
It might sound obvious but the fabric of your leggings can completely change the look and feel of your outfit. When you plan to wear your new leggings, and what you plan to wear them with, will determine the type of fabric you need. Leggings worn with longer tops can afford to be a little thinner, but if you're planning to team yours with just a sports bra, they need to be completely opaque.
A good way to see if your leggings pass the squat test is to squat in front of a mirror, either in the changing room—whether people are around or not, that's up to you—or some good light in the comfort of your own home. Essentially, if you can see your underwear, they're a no-go.
Soft fabrics will ensure your leggings are comfortable enough for all-day wear, while those with sweat-wicking properties are worth every penny when you're working out.
The devil's in the detail
The little touches can make all the difference. If you prefer something that offers stomach-smoothing support, then look to leggings with a high waist—they're all pretty efficient in reducing the chance of a wardrobe malfunction. Ribbing around the waistband and cuffs will stop your leggings from riding up, or inching down as you wear them too. If you're planning to wear yours for long periods of time (e.g. for a marathon Netflix binge), flat seams won't leave niggling grooves along the sides of your thighs.
Jess Beech is a fashion and beauty writer and editor with more than 8 years experience in publishing. She has worked for a number of UK websites and print titles, for brands including woman&home, Woman and Woman's Weekly. She's written about everything from fashion and beauty to homes and travel, and is always on the look-out for the latest trends and innovations. Her special interests include frizz-busting haircare, science-lead skincare and where to find the perfect pair of blue jeans.