Kendall Jenner workout: the abs-focused routine the model follows to stay in shape
The Kendall Jenner workout routine is geared towards the lower body, and will really put you through your paces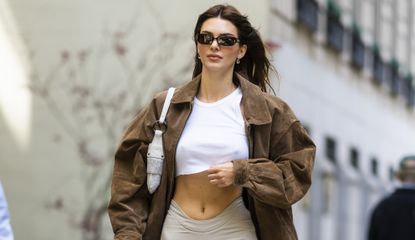 (Image credit: Gotham/GC Images)
Kendall Jenner is one of the most famous women in the world, and a model who has walked the runway for many major fashion brands. So it's no surprise that the Kendall Jenner workout is expertly crafted to shape, tone and sculpt the 25-year-old's body.
The Victoria's Secret model takes great care of her body, and her workout routine is one that prioritizes abs and glutes, incorporating a lot of strength and agility training.
Her supermodel-approved exercise set is just the ticket for people who want to try out a challenging new routine. And while we can't promise the lithe, athletic figure of Miss Jenner (after all, there's no doubt that genetics play a big part in her physique), it's certainly a great option if you want to work your core and lower body.
So, prepare your collection of exercise equipment—you'll need the best resistance bands for women and one of the best yoga mats for this routine—and get ready for a truly sweat-inducing workout, courtesy of Kendall Jenner.
All about the Kendall Jenner workout routine:
1. Early morning workouts
Like many members of the Kardashian-Jenner clan, Kendall, too, loves an early morning workout and prioritizes getting her movement in first thing.
In a 2016 interview with Harper's Bazaar, she admitted: "I prefer to workout in the morning". And while she didn't give a specific time, it's reported that she tends to exercise at around 6:30 or 7am, before busy days of photoshoots and filming begin.
Of course, she's not the only Kardashian-Jenner to work out super early. Family matriarch Kris Jenner has famously detailed her intense morning routine, which includes a 6am hour-long treadmill workout. Half-sisters Khloé and Kim Kardashian have also regularly spoken about hitting the gym before the rest of the world wakes up. We love the dedication!
2. Quick, effective (and intense) strength training routines
Kendall, like many of us, has a busy schedule and doesn't have hours to spend in the gym each day. So, when Jenner wants to knock out a workout, she chooses one that she can complete in under 15 minutes.
As the model revealed to People in 2017, her favorite workout is one that she can do from the comfort of her home, with minimal equipment—and we've got her exercise plan below, which will mostly work your abs and glutes.
The following routine is challenging and bound to leave anyone out of breath, whether you are a seasoned fitness fanatic or an eager beginner.
Planks for a strong core
Start by doing a forearm plank for 30 seconds, followed by a high plank for 30 seconds. Make sure to watch your form, keeping your hips in a straight line for the forearm plank and keeping your fingers spread wide for the high plank. When you're done, do a side plank for 15 seconds before transitioning to side planks with crunches, five reps on each side. Finish the set by doing single arm and leg planks, 15 seconds on each side, transitioning to a rocking plank for 15 seconds. Finish with knee-to-elbow planks, five reps on each side.
Crunches for tight abs
To replicate this portion of Jenner's workout, start out with a standard crunch, doing 20 reps. Keep your chin tucked, and make sure to place your hands by your ears rather than by your head. After doing 20 reps of the standard crunch, do bicycle crunches for 30 seconds, maintaining your speed to make them extra challenging. Next, perform a vertical crunch for 20 seconds, keeping your legs up at a 90-degree angle and pulsing your arms up towards your legs. Follow that up by doing frog crunches for 15 reps, and finally, a twisted crunch for 15 reps. Ouch!
Finish the workout with a glute exercise
Kendall finishes her workout strong by doing donkey kicks, which can help build strong legs and glutes. Mimic her routine by starting on all fours and kicking your leg straight up into the air, pulsing it for extra muscle-building power. Do 15 on each leg, all while focusing on the glute. If you want to make this workout more challenging, simply add more reps to any part of the routine or do some exercises while wearing a resistance band. Or, use some of the best dumbbells for women, to introduce an extra level of strength training.
3. Cardio-interval training—but not too much
Back in 2016, Gunnar Peterson, one of the Kardashian-Jenner family's favorite trainers, revealed that Kendall often leans into more intense cardio-based workouts when she's preparing for a show—as she did for Victoria's Secret fashion shows.
He explained that the model did "a lot of sled-pushing, a lot of lateral banded work, up and down the track, and a lot of very high-intensity cardio intervals", and did some form of exercise every single day.
However, that doesn't mean she enjoys it! Speaking to The Thirty, Kendall admitted, "I hate cardio. I'd rather just stand there and lift some weights than run in place. But I'll do it!"
4. Supplements her exercise routine with healthy foods
Kendall Jenner clearly kills it in the gym (if we need inspiration when trying to motivate ourselves to work out, we'd definitely look to her), but she also follows a healthy eating plan in order to get maximum results.
She generally focuses on high-protein, low-carb foods to get essential nutrients in, explaining to Harper's Bazaar that she generally eats lots of lean protein, brown rice, veggies, and dips such as hummus. She also loves eggs and avocado toast (a classic) for breakfast, or a big bowl of oatmeal.
Jenner also stays hydrated, drinking plenty of tea and water, which is even more important than usual when performing an intense workout.
Amy Hunt is a lifestyle writer and editor, and was previously Lifestyle Channel Editor at womanandhome.com, having been with the brand since 2015. She is passionate about everything from entertainment to books, to homes, food and wellness. When she isn't editing, researching or writing articles, he's busy burying her nose in a gripping thriller, practising yoga, or buying new homeware.