How to brush curly hair without losing curls – yes, it can be done
Want to know how to brush curly hair without losing curls? Done right, is it possible!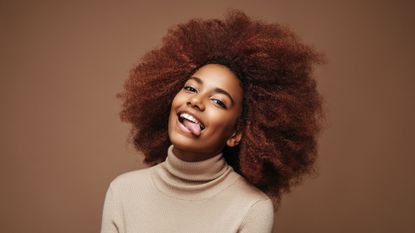 (Image credit: Getty Images)
Taking a brush to curly and coily hair is something that many people try to avoid due to the worry of frizz and loss of definition (even if you pick one of the best brushes for curly hair). It's no surprise when loads of images you see of brushed out curls are of frizzy manes and stock photos of brushes getting stuck in people's hair.
However, brushing through your curls can be instrumental in stimulating growth from the scalp, removing dead hair and keeping knots at bay. It can also enhance shine, which can lack in curly and coily hair types because of the cuticle alignments of curly strands. Whatever way you choose to brush or comb through you strands it's a step in your hair care routine you shouldn't completely avoid.
So, what is the key to brushing curly hair without losing definition? Follow our expert tips below for the smoothest curls of your life…
How to brush curly hair without losing curls
The key is in your tools
Are you happy with the tools you use to style of care for your curls? If you're not too sure what the best brush is for curly hair, then the best thing to do is work out why you're brushing your curls in the first place.
Is it to create a style? Is it to detangle your curls? These two parts of your haircare routine require very different brushes, the right brush to use will fall into place and you'll be on your way to a beautiful style. And if you haven't found a brush that works for you yet, a wide tooth comb is a great alternative for smoothing and working in products, plus it avoids frizz.
Adjust your technique according to your curl type
It's important to remember that every head of curls is different so the way you brush your hair will be different to others. For instance, if you have type 3 curls, it'll be easier to coax your curls back into formation if you have brushed things out too much. Tighter type for curls and coils will more likely require some product and a nourishing oil to redefine it.
Why do you need to brush your curly hair?
Ask the question whether you really need to brush your curls and coils? Especially if you have already dried and styled them into formation, brushing them will result in a loss of definition. If you're looking for a bigger, bouncier brushed-out look then great, but if not then you might want to put down the brush. "Brushing curls and not losing definition don't go together unfortunately and there's not really a way around it," says session stylist Stefan Bertin.
Prep your curls with the best products
All the experts we spoke to had the same advice when it came to brushing curly hair – you can't go in dry. You have to prep your strands with good curly hair styling products to reduce the loss of definition and combat frizz. Hairdressser Dionne Smith says applying to wet hair is the best way to brush: "To retain the natural curl pattern the best way is to work on wet hair – use a water spray to wet down hair first. Wet hair activates and it actually encourages the natural curl pattern."
If you prefer using a wide tooth comb then Stefan has this advice: "Put down the brush, pick up a wide-tooth comb instead, grab a soft mist bottle filled with water and/or a leave-in conditioner. My favourite leave in conditioner is the Shea Moisture 100% Virgin Coconut Oil Leave In Treatment."
Only detangle when wet
And along the same wave-length you should only detangle hair when it's wet. Celebrity hairstylist Michelle Sultan says: "I would strongly recommend that you brush curly hair only when its wet not when it's dry, reason being curly hair can be very fragile when its dry, it's a lot stronger when its wet. So, if you brush it when its dry you could risk breakage or pulling out hair unnecessary." Condition with the Imbue Curl Restoring Intensive Mask to fortify weakened strands.
Once you're done, don't touch the curls
Once you've created your style, whether you brushed your hair to detangle it or you brush through to create even more texture for your style, once your hair's in the place you want it, leave it alone. Touching it further will disrupt your style and the hard work you've just put in. If you want to add more volume, then focus this at the root advises hairdresser Tim Scott-Wright: "For a little extra volume at the roots try a quick spray of OSiS Powder Cloud."
Keeks is an award-winning digital & social content specialist a hair & beauty writer and a brand consultant. You can find her work in Cosmopolitan (in print and online), Refinery29, Harper's Bazaar, Woman and Home, Women's Health, My Imperfect Life, OK! Online and Hairdressers Journal