How to make shampoo bars at home
Ever wondered how to make shampoo bars? It's easier than you think!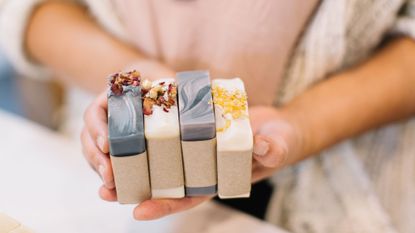 (Image credit: Getty Images)
If you've been trying to master the art of how to make shampoo bars at home, then you've come to the right place.
While the art of washing your hair is something that's been done since the beginning of time, the way in which we do it and the products we use has changed over the years.
Most recently, shampoo bars have come to the fore. Designed to be used in place of the liquid shampoo that we all know and love, they are a much more eco-friendly product because they use no plastic, and the packaging they come in is much more likely to be recyclable.
That's not the only reason for their growing popularity, though; shampoo bars are also good for travelling because there's no chance that they will spill or leak over your suitcase or holdall. Win win!
While shampoo bars are gradually becoming more popular and therefore much more readily available than ever before, they are also fairly easy to make at home. That way, you know exactly what ingredients are going into them, you can pick and choose what scent you would like them to have, plus you can customise them so they're perfect for your individual hair type.
Here, we've got the lowdown on how to make a homemade shampoo bar, from the ingredients and quantities you'll need, to what oils to use and how to store them once they have been made.
How to make a homemade shampoo bar
Before you dive in, it's worth familiarising yourself with the basics. First, you need a base ingredient, and while a lot of recipes tend to include lye (which is a crystallised version of sodium hydroxide), it's something that is quite dangerous to work with, so if possible it's best avoided. Instead, you can buy Melt and Pour soap bases which will form the core of your shampoo bar and is what you'll add your chosen ingredients to.
What oils can go in homemade shampoo bars?
Next, you need to choose the type of oil you want to infuse your homemade shampoo bar with. There is a variety available, and really the choice is completely personal. Most oils can be found in your local supermarket or pharmacy, or you can buy them online. Some of the most popular include:
Argan oil is a popular ingredient in mainstream liquid shampoos thanks to its ability to nourish and rejuvenate dry, damaged, heat-styled and coloured hair. It also helps add shine and reduces frizz.
Olive oil promotes thicker, longer hair and helps to repair damage, as well as helping to soothe dry and flaky scalps.
Coconut oil helps stimulate hair growth as well as improving overall scalp health. It's also a super hydrator, making it good for very dry hair.
Castor oil which is very moisturising, it's gentle on the scalp and can help ease dandruff. It'll also help to leave hair looking smooth and shiny.
Sweet almond oil will not only impart a lovely smell, but it'll also moisturise hair while helping to reduce breakage, split ends and itchy scalps.
Avocado oil is rich in oleic acid which means that it's one of the only oils that is able to penetrate deep into the hair shaft, helping to moisturise it from within. It's also high in monounsaturated fats which help prevent breakage.
Best essential oils for homemade shampoo bars
Once you've chosen your oils, you now need to pick what essential oils you want to add. The scent you choose is purely down to personal preference because adding essential oils to homemade shampoo bars is mostly for fragrance purposes. However, some oils – like lavender, basil and bergamot and lemongrass – are all extremely good for hair, too.
Ingredients for homemade shampoo bars
Now it's time to gather the ingredients that you'll need. The list below will make around 2-3 homemade shampoo bars, depending on the size of your mould (which you can buy on Amazon).
236ml/1 cup melt and pour soap base
1tsp oil
½ tsp oil
15 drops essential oil
10 drops essential oil
Homemade shampoo bar method
Cut the soap base into small chunks and put into an aluminium bowl placed over a pan of warm water (a low simmer is better than boiling water), melt down on a medium heat.
Once the base is melted, add your chosen oils and stir well.
When it's all melted together, take the bowl off the heat and allow to cool slightly.
Add in the chosen essential oils, it's important not to add them when the base is hot otherwise they will evaporate and you won't be able to smell them.
Pour the mixture into your soap moulds, leaving it to set for at least 24 hours before cutting.
How to store a homemade shampoo bar
It's best to keep your homemade shampoo bar on a dedicated soap dish, ideally one with slats or grooves along the bottom which helps drain any water out. Soap dishes with solid bottoms will turn shampoo bars into mush as they will hold the water. It's also important to keep the soap dish on a level surface if you can.
Lucy Partington has been a beauty journalist for eight years, writing for titles including Stylist and Cosmopolitan. She's a true skincare nerd who's on a lifelong quest for a glowing complexion and loves nothing more than learning about new ingredients and products. She's obsessed with having perfect eyebrows and collecting eyeshadow palettes she'll probably never use.