How to make an outdoor movie theater for the ultimate home viewing experience
We show you how to make an outdoor movie theater to enjoy all your favourite festive movies…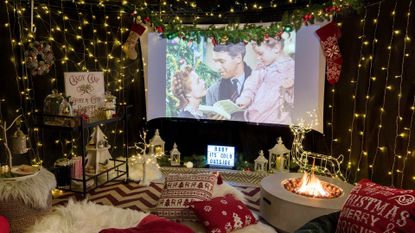 (Image credit: Future / David Giles)
If you've ever wanted to know how to make an outdoor movie theater but don't know where to start, then you're in luck as we've done all the hard work for you.
We all love a magical outdoor cinema experience, right? Somewhere to meet friends, relax, watch a Christmas film and get excited for the festive time ahead. This year might be slightly different, so if you're already feeling that you're missing out on attending organised events, why not create your own Christmas grotto instead? You may not have the crowds, but you'll also have no interruptions and get first dibs on what movie to show – plus it's the perfect chance to go all out on the decorations of your choice.
So, what exactly does that entail? we hear you ask. Is it easy to do? Will it be costly? The answers are that you can make it as intricate or simple as you choose, and once you've got your structure and a projector, you're pretty much good to go. You can use both items in the summer, too, so really it's an investment – at least that's what we're telling ourselves! Want to find out more? Here's how @lifeofaninteriorstylist created hers.…
Set up an outdoor structure
Now, this is the trickiest part, but once you have a home for your outdoor cinema, you'll be able to use it time and time again. Gazebos, such as this one from Wayfair are a great investment as you can use them all year round – just make sure that the one you choose is heavy-duty enough that it won't blow away in the bad weather that winter brings.
You'll also need to make sure that a gazebo is watertight – especially as you'll have electrics inside. If not, you can buy a tarpaulin to cover it if needed, which will also help create a blackout environment, ideal for helping you see your cinema screen clearly in the daytime as well as at night.
Not keen on a gazebo? Maybe you have an outhouse, a garden office or a garage you can transform?
Make it twinkle
Fairy lights, fairy lights and more fairy lights – you want as much sparkle as you can get for that truly magical feel. Try stringing LED net lights on the ceiling and curtains of fairy light strings down the sides of your winter cinema. If you're outside in a gazebo, make sure that any extension leads are heavy duty and protected from the elements.
Next, add in some light-up reindeer and twig trees, along with lanterns complete with battery-operated LED candles (avoid naked flames).
Invest in a projector
If there's any expense with an outdoor winter cinema, it's the tech, but again, it's an investment and something that you're likely to find yourself using all year round. So, what do you need?
Firstly, the projector. Yes, this is the scariest to buy, as it's the part you don't want to get wrong. No one wants a fuzzy picture or something that's too tricky to use. Thankfully, most of the latest models are bright enough that you can see even with the lights on, and two entry-level models from Epson, the EH-TW740 and EH-TW750, are both fully HD and will do the job well. Make sure, like these two models, that your projector has around 3000 lumens or more, with built-in Wi-Fi. You'll want to plug it into your electrics, line your projector up with your screen, plug in your Firestick or use Wi-Fi to link to your phone and laptop – and from there you can play whatever you like, the world's your oyster. Granted, it's not a cheap purchase, but the picture is so good you may well be tempted to use it instead of your TV all year round.
Add snuggly seating
Hard chairs just aren't going to cut it for a proper movie experience – no one wants a numb bum after hours of film-watching – so think about your seating and what will be most comfortable. Go for cosy beanbag chairs in a mix of fabrics – velvet, faux fur, quilted and suede-effect all create a cosy, tactile vibe. Add in some pouffes to use as a side table when you need a spot to put your drink or mince pie, or on which to stretch your legs. Some cuddly throws and a few cushions will all help ramp up that comfort factor.
Create a snack station
You can't have an outdoor cinema without snacks. Trolleys on castors are ideal as you can pop food and drinks on them, and wheel them to where you want them. Try a popcorn machine for a true cinema experience, with shakers holding different sprinkles such as salt, sugar and Christmas spice.
As you're outdoors, you might want to embrace the cosy feel with steaming mugs of hot chocolate – don't forget the whipped cream and marshmallows! Finally, add cake stands of mince pies and cupcakes, and glass canisters with chocolate chips and candy canes for a truly festive feel.
Keep it soft underfoot
Rugs, and outdoor rugs in particular, are ideal for lining your outdoor cinema, as not only do they add a decorative element, but they're super practical, too. They're great for adding colour and pattern, as well as some softness underfoot if your gazebo is on a hard surface rather than grass. Choose designs in different colours and patterns to match your theme, and overlap them, with luxurious faux fur rugs layered on top.
Consider the details
This is YOUR cinema and that means there are no rules when it comes to how you decorate it. Go for a traditional Scandi scheme as shown here with its red, white and grey colour palette, or opt for something more luxe with metallics and deep jewel colours.
Signs, lightboxes and small quirky accessories like our round-up of the best scented candles, will all help you personalise the space, while garlands strewn with lights and decorated with baubles will help frame your screen nicely.
Don't forget the stockings
Who says you have to wait until Christmas Eve for a stocking? Hang yours from the gazebo frame and pop presents in to make those movie evenings all the more magical. Gifts could include edible or drinkable movie snacks, fun fancy dress items or beauty treatments you can use while you're watching your film.
Stay warm
Outdoor movie theaters don't have to be chilly. Plug in a heater and you'll make it toasty in no time. In fact, you'll likely have the opposite problem as a small space such as this warms up quickly. You could also add a gas firepit, but be aware you'd need to draw back your gazebo to ensure it was well-ventilated.
Choose your movie
Lastly, choose your Christmas movie – whether it's an old classic like It's a Wonderful Life, a family favourite such as Home Alone or the new The Christmas Chronicles 2. It's the perfect way to get in the festive mood!
Laurie Davidson is a Surrey-based freelance interior stylist and writer, who also dabbles in travel, craft and lifestyle content. She has over a decade of publishing experience and spent five years as the Homes & Interiors Editor on Style at Home magazine.