One of Amanda Gorman's favorite jewelry brands is launching a new collection with NET-A-PORTER
We can't wait for the pieces to drop!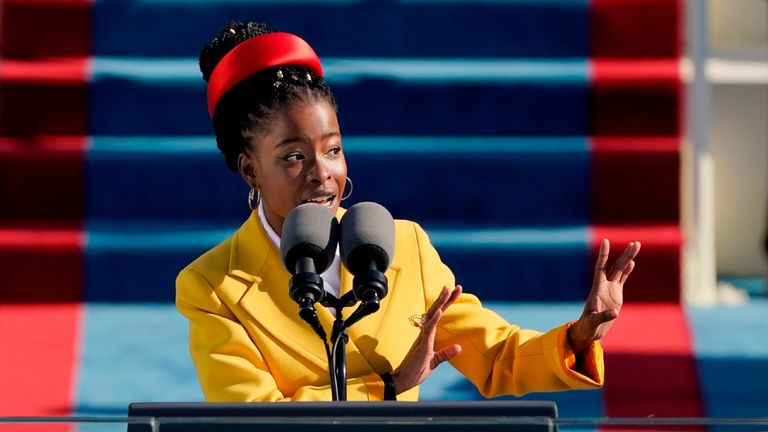 (Image credit: Getty Images / PATRICK SEMANSKY / Contributor)
From her Super Bowl coat to the gorgeous caged bird ring she wore at the Inauguration, Amanda Gorman has given enough proof that she's not only an inspiring poet but a style icon too.
She's recently been featured on the cover of TIME magazine, wearing her signature shade of yellow and very cool jewelry from KHIRY.
Created by Jameel Mohammed, a Black designer, the brand has become well known since its debut in 2016 for its beautifully sculpted pieces. Mohammed describes his line as "Afro-futurist," saying it's inspired by African Diaspora.
And how lucky are we, because Mohammed is now collaborating with famed brand NET-A-PORTER and is creating his first-ever fine jewelry collection. His brand is already a favorite among many celebs, from Regina King to Beyonce, but it looks like it's about to get a whole lot more popular!
Mohammed has teamed up with NET-A-PORTER under the vanguard program that helps bring designers to the forefront and pairs them with mentors and sponsors. He's been taken under the wing of Mathew Harris, designer for brand Mateo.
KHIRY's collaboration, called 'KHIRY Fine' will be available at the end of the month.
From the selection of modern, minimally sculpted pieces, Amanda wore a choker as a crown, gold earrings, and a stunning ring, giving her a positively regal vibe for her TIME magazine cover—and it's safe to say fans approved.
Many took to Instagram to compliment the poet, with one saying: "Amazing young Lady .... Beautiful ❤️".
Another wrote: "❤️ Shine, you gorgeous lady! Thank you for your beautiful words that have helped soothe and heal a troubled nation! ❤️" while a third simply said: "In a word: regal." Our thoughts exactly.
Mohammed also reposted Amanda's TIME cover and said: "The Black Renaissance. So beyond moved to see Amanda Gorman, Youth Poet Laureate today on the cover of Time Magazine in KHIRY!"