Amanda Gorman just made history with Vogue cover and this is why
The Amanda Gorman Vogue shoot takes the young poet from Inauguration Day star to cover girl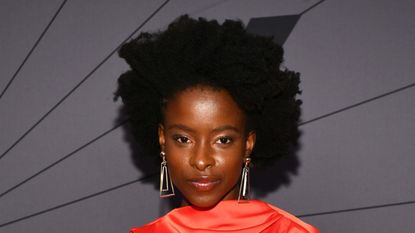 (Image credit: Getty/ Dave Kotinsky)
World, meet Amanda Gorman, Vogue cover model.

We've all been waiting to see what Amanda Gorman, National Youth Poet Laureate, would do next after her star-making turn at the U.S. presidential inauguration this January. She first appeared on the cover of TIME magazine, then at the Super Bowl in that dreamy Moschino coat.

But now Gorman can add yet another accomplishment to her increasingly growing résumé: she just became the first poet to star on the cover of U.S. Vogue.
She did it first: 20 women who set records, made history and changed the world in 2020
The Amanda Gorman Vogue look was styled by Gabriella Karefa-Johnson, a powerhouse fashion guru who has dressed Selena Gomez, Gigi Hadid, Paloma Elsesser and Vice President Kamala Harris in the past year alone.
The photographs were shot by none other than lens legend Annie Leibovitz and featured an array of stunning dresses from designer spring collections including Y Project, Studio 189, Dior, Alexander McQueen, and Virgil Abloh for Louis Vuitton.
Vogue shared a video of the poet seeing her cover for the first time over a video call with her mother, who excitedly screamed: "You look fantastic! That's my girl!"
Gorman was quick to share her excitement over one of the covers (there are two), saying: "I'm so happy that the cover is the look designed by Virgil Abloh from Louis Vuitton."
Given her status as a proud activist, she went on to say: "I felt so amazing wearing it and knowing that it was designed by a Black designer and that I was going to wear that in Vogue. I didn't know what was going to be the cover and I'm so glad that this is what we went with."
Stylist Karefa-Johnson penned a sweet message that read: "Oh, how widely my Sierra Leonean grandfather, my grandmother, and all of my ancestors must be smiling. How chuffed they would be to see a symbol of our heritage celebrated in this way— how astounded they would be by a young black woman so graciously and confidently commanding the world stage as Amanda has—so beautiful and so powerful and so emblematic of a better future."
She signed off the post saying: "Thank you to @virgilabloh for creating in his collection for Louis Vuitton a moment that speaks to how important cultural heritage is in the work that we do. I feel so grateful to exist in a world populated by creators and thought leaders like him and Amanda."
Since December 2020, Kudzai has worked as a trainee journalist at FUTURE, writing about fashion, entertainment and beauty content for My Imperfect Life.

Kudzai previously worked as a freelance fashion wardrobe stylist, directing magazine photoshoots and coordinating the fashion direction of recording artists.

A fully qualified Journalism and Media graduate from De Mont Fort University, Kudzai graduated in the summer of 2020.