The Away luggage Black Friday sale is perfectly timed for you to plan that much-deserved vacation
Travel in style for holiday season and beyond with these Away luggage Black Friday deals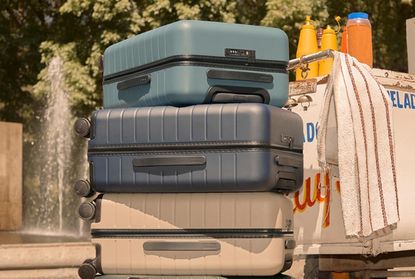 (Image credit: Away)
If you've been missing travel (join the club!), this year's Away luggage Black Friday sale is here to kick up some wanderlust inspiration. The suitcase pros have launched an almighty sale with up to forty percent off for Black Friday/Cyber Monday weekend. Time to start looking at those flight deals, ya'll!
Whether you are planning a vacation (check out these destinations for solo travel and alternative city breaks for even more travel inspo), a long-haul holiday, or a short-term staycation, you need a good piece of luggage you can rely on from time and time again, and Away (opens in new tab) always has you covered, with chic carry-ons, durable weekend bags, packing cubes and more.
It is a rarity for the brand to offer discounts, so when they do slash prices, it is to be taken full advantage of. Here are the marked-down suitcases, Away carry-ons and other travel essentials that we're scooping up this Black Friday.
Our top picks from the Away luggage Black Friday sale
What we love about Away is the whole host of sizes available to shop, from smaller carry-on cases to larger designs, expandable creations and even options with USB ports, which is perfect for those on the go.
During the Black Friday sale, you can also shop tote bags, backpacks and holdalls to coordinate your suitcase, if you're looking to buy a full matching set.
Plus, Away's cases and luggage items come in all the colors you could possibly want, from classic black and charcoal greys to pastel shades of pink, ice blue and trendy lilac. Throw into the mix the option to personalize suitcases and Away truly has all bases covered.
---
---
How long is the Away luggage Black Friday sale?
The Away luggage Black Friday sale will run from Monday, November 22 to Monday, November 29, but we predict that those coveted carry-ons and other travel accessories will move quickly, so don't sleep on this sale. You can sleep on the plane!
Maisie is a Freelance Writer and Editor, covering e-commerce and lifestyle content for various online publications. She has previously worked for Yahoo UK, Mail Online, Fabulous, The Sun Online, Grazia and Marie Claire UK, where she covered everything from fashion, beauty, travel to royals and celebrity news. When she's not tracking down the best deals and discounts on the latest must-have products, she can be found slathering lotions and potions on, shopping for new clothes her wardrobe can't home, home interiors, or swooning over adorable French Bulldogs—or frantically trying to solve the Sudoku puzzle like it's a challenge on Squid Game.