How to use castor oil to improve hair growth - we asked the experts
Castor oil is the all-natural beauty remedy cropping up on your Insta feed. But is it really the secret to longer, fuller strands?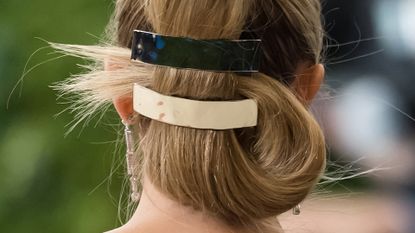 (Image credit: NEW YORK, NY - MAY 01: Actress Reese Witherspoon, hair detail, is seen at the 'Rei Kawakubo/Comme des Garcons: Art Of The In-Between' Costume Institute Gala at Metropolitan Museum of Art on May 1, 2017 in New York City. (Photo by Gilbert Carrasquillo/GC Images))
Castor oil - it sounds like something you're more likely to pour under the hood of your car than slosh on your hair.
Google 'hair growth', however, and no shortage of anecdotal testimonials praising castor oil for encouraging hair regrowth will hit your feed. And we'd be lying if we said we hadn't typed "how to get longer hair" into Google more than a couple of times.
While castor oil doesn't get top billing on the front of bottles, is it the miracle ingredient our spindly strands have been crying out for?
We hate to be the bearers of not-so-great news, but there is zero scientific evidence to back up claims that castor oil stimulates new hair growth. On the upside, however, it can help to keep your scalp hydrated and nourished. So any new hairs will be stronger, shinier, and healthier.
As silver linings go, it's not a bad one.
What is castor oil?
Castor oil is a vegetable oil pressed from castor beans. As well as being loaded with vitamin E, its high levels of fatty acids are good for soothing down ragged cuticles that ruin an otherwise sleek pony.
But use a super light touch - and we mean light - when using pure castor oils such as Biogeo Organic + Cold-Pressed 100% Castor Oil or Kreyol Essence Haitian Black Castor Oil.
"Personally, I think pure castor oil can be quite heavy on the hair, which means it's hard to wash out even after a few days," says Jonathan Andrew, Fudge Professional Global Brand Ambassador.
A less intense option is to find a hair product that contains castor oil - like a shampoo, conditioner, mask, or serum.
Can castor oil make your hair grow?
"While there are no real scientific studies that prove castor oil helps with hair growth, one proposed benefit is that it helps cleanse the scalp, providing a better environment for new hair growth," says Andrew.
"It's also thought that the ricinoleic acid in castor oil can boost the condition and moisture of hair - all of which are essential for healthy growth."
So what can improve hair growth?
First thing's first, the rate at which hair grows, and the length to which it will grow, is genetically determined. "For most, this is 0.5 inches a month, with a growth phase that lasts between 3-7 years," explains Anabel Kingsley, consultant trichologist and Philip Kingsley brand president.
But what hair growth is reliant on is scalp health. "Daily cleansing to every other day is best – your scalp is simply an extension of the skin on your forehead and benefits from similar care as the skin on your face," says Kingsley.
If you use a boar bristle brush, it's also worth switching to a paddle brush or one of the best brushes for curly hair. "While boar bristles provide great traction and control when styling, they are very scratchy and can remove sections of your hair's protective cuticle layer," adds Kingsley.
And of course consider your diet. " Hair is made of protein. At our Clinics in London and New York we have found that eating at least a 120g portion of fish, eggs or low-fat cottage cheese, which contain all the essential amino acids, at breakfast and lunch is ideal," she explains.
"Whole grains are also key as they are complex carbohydrates and provide you with slow-release energy. Being the second fastest growing cells the body produces, hair cells need a consistent energy supply."
So if Rapunzel-long locks are the goal, there's no reason you shouldn't use castor oil. Just don't expect miracles from just one source if you have thinning or slow-to-grow strands.
Fiona Embleton is a multi-award-winning beauty editor who has tested over 10,000 products in her 10 years + of writing and shooting beauty stories. For the past four years, she was the Senior Beauty Editor at Marie Claire, having previously worked in the role of Beauty Editor at both Stylist and Cosmopolitan. She has recently gone freelance and alongside My Imperfect Life, she has written for titles including ELLE UK, ELLE Canada, Buro 247, Harper's Bazaar Arabia, Vogue Scandinavia, and ES Magazine. Beauty journalism allowed her to marry up her first-class degree in English Literature and Language (she's a stickler for grammar and a self-confessed ingredients geek) with a passion for make-up and skincare, photography, and catwalk trends. She loves jumping on the latest internet-breaking beauty news, dissecting the best red carpet looks, and having the crème de la crème of dermatologists, make-up artists, and hairstylists on speed dial so she can tap them for the best advice. She's a discerning beauty shopper and knows it can be confusing trying to navigate what's hype and what really works. So if she really likes something, you can trust that she has reached that opinion by vetting it against everything else she's ever tried. Her career highs? Interviewing Cate Blanchett and winning a Jasmine Award for the deeply personal feature Cancer Stole My Mother's Scent.