David Attenborough explains the one small thing we can all do to help climate change
This small choice can make a huge difference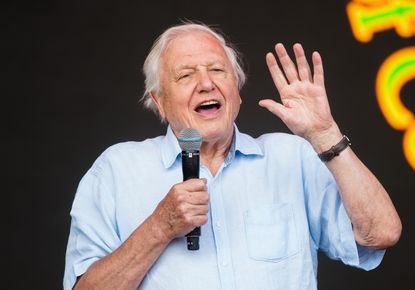 (Image credit: Getty Images)
When Sir David Attenborough talks, we listen - especially when he's talking climate change.
The national treasure surprised us all recently when he made his Instagram debut, racking up millions of followers in just a few hours. While his face (and iconic voice) is enough to brighten up anyone's feed - and act as a regular reminder to shop sustainably, including sustainable jewelry - the 94-year-old naturalist has been using his new account to show us snippets of his upcoming new Netflix film, A Life On Our Planet.
In the film, which arrives on the streaming service this weekend, he tackles concerns about how the coronavirus pandemic has affected the momentum in the fight against climate change and saving the environment while explaining how one small choice from us all could make a huge change for the better.
Attenborough, who has spent the majority of lifetime witnessing the colossal scale of humanity's impact on nature, has once again come to rescue by offering advice to anyone who is struggling with eco-anxiety and feels helpless in the new memoir-style documentary that maps out his 60+ year career.
Speaking to BBC One about facing up to the harsh reality of environmental issues, Attenborough said: "I don't despair because what will you go and do? Just go and hide in the corner? Crying in the corner and forgetting it all and giving up?
"And if there's only a fragment of hope, we have a responsibility to do something about it."
He then went onto explain what we could do to make a change, after presenter Louise Minchin asked: "If there's one choice to make today, what choice would you like people to make?"
After a brief moment to reflect, Attenborough's response on sustainable living was short and simple: "Don't waste."
"Don't waste anything," he said. "Don't waste electricity, don't waste food, don't waste power. Just treat the natural world as though it's precious, which it is. And don't squander those bits of it that we have control of."
You heard the man!
Sagal is a journalist, specialising in lifestyle, pop culture, fashion and beauty. She has written for a number of publications including Vogue, Glamour, Stylist, Evening Standard, Bustle, You Magazine, Dazed and Wonderland to name a few.