Ginny & Georgia fans spotted a major plot hole involving Marcus
Wait... where did Marcus get that phone from? Because we need it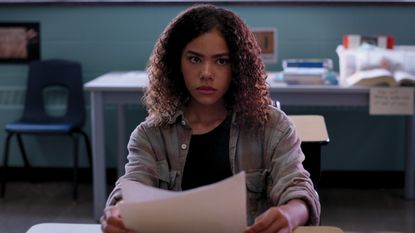 (Image credit: Netflix)
Ginny & Georgia is our new Netflix binge-watch. The drama-filled mother and daughter comedy series follows Virginia Miller's turbulent life packed with mystery, secrets, and steamy romances. But that doesn't mean viewers couldn't spot at least one albeit hilarious plot hole.
In the show, Ginny lands herself in a wild love triangle with Hunter and Marcus, played out through the series. Her charm completely smites both boys but what we're wondering is where did Marcus buy his phone?
To bring you up to speed, Marcus (one Ginny's love interest) loses his phone, which is full of texts from her. This is problematic, seeing that his twin and Ginnys BFF have no idea that they have a fling going on—yikes!
While he thinks he lost his phone somewhere during his accident, it turns out that his sister Max finds it down the back of their sofa, filled with Ginny's messages. Now you might be wondering why anyone would care about that? Well, we're impressed by his battery life.
Eagle-eyed fans spotted the unexplainable percentage as one commenter took Twitter saying: "Watching #ginnyandgeorgia and hard to believe Marcus' phone battery would last SO long. Mine lasts HALF A DAY!"
Another added: "Standing ovation for the battery life on Marcus' phone. That [thing is] powered by the energizer bunny."
Viewers also had a lot to say after Max found the phone and saw the messages, as one commenter wrote: "Ohhhhhh no... Max is about to find all the texts between Ginny and Marcus! I thought she'd be okay, even happy if they talked to her about it first but not like this."
Another concluded the chit-chat writing: "That whole scene with Ginny & Marcus where she climbed through his window was beautiful. The talk they had after w/Marcus bringing up her self-harm was a great convo. So glad Marcus brought it up... Max seeing their texts at the end, though."
The ending of Ginny & Georgia left many things up in the air—where is Ginny going with Austin? What other messes has Georgia gotten herself in over the past 15 years? Well, let's all pray for a second season...
Since December 2020, Kudzai has worked as a trainee journalist at FUTURE, writing about fashion, entertainment and beauty content for My Imperfect Life.

Kudzai previously worked as a freelance fashion wardrobe stylist, directing magazine photoshoots and coordinating the fashion direction of recording artists.

A fully qualified Journalism and Media graduate from De Mont Fort University, Kudzai graduated in the summer of 2020.