These are the hottest 2021 home decor trends, according to Etsy
One unexpected decor trend will take your home into summer seamlessly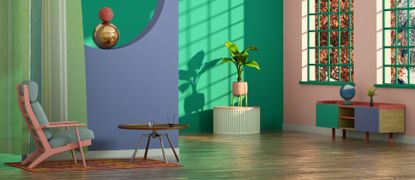 (Image credit: Getty)
Moving furniture and accessories around over the last few months has probably given you a good home workout, but if you're still looking for a change in your house or apartment's aesthetic, Etsy's predictions of the top 2021 home decor trends might be just the interior design inspo you need.
You don't need to do a massive overhaul to start transitioning your space, according to Etsy's just-released annual Home Decor Trend Guide. You can easily create a completely different mood with only a few key additions or modifications. And with these six Etsy-approved decor trends for 2021—including a few Instagram and TikTok favorites—you'll be sure to find what your space needs to re-energize for summer and beyond.
The 6 hottest home decor trends of 2021
1. Checkered prints
The checkered pattern is one of the most popular trends of the year so far, showing up on everything from high-profile runways shows to Harry Styles-esque sweater vests. This microtrend is also showing up in all of our favorite home decor stores, with an abundance of eye-catching prints and colorways.

According to Dayna Isom Johnson, Etsy's resident trend expert: "Searches for checkered print items within the home and living category have jumped 889%."
We've spotted checkered items, such as area rugs, flower vases, and ceramic mugs, in the background of a few fashion girl homes. The appeal is simple: it's an unexpected element that's quirky, fresh, and adaptable all at the same time.
2. Japandi
Japandi is a minimalist interior design style that is a perfect mixture of simplicity and nature, bringing together the best of two worlds—the function of Scandinavia and the flow of Japan—to create a soothing fusion style known as Japandi.

Johnson said: "On Etsy, there has been a 172% increase in searches for Japanese decor and a 55% increase in searches for Scandinavian decor, and I predict that searches will only continue to rise."

This fusion focuses on clean lines, bright spaces, and neutral tones to produce the ideal mix of function and form. So, instead of going entirely maximalist with an abundance of decor, instead opt for a more minimal, function-focused design with a light sprinkle of stylish decor objects.
3. Mushroom motifs
According to Etsy, mushrooms are going from wellness teas and skincare products and moving straight into your home. The fun, funky shape has flooded social media feeds as of late in the form of whimsical table lamps—Etsy saw a 371% increase in searches for mushroom lamps, says Johnson—and has its roots in retro 1960s and 1970s design. Add a mushroom-shaped light fixture to your nightstand or end table for a modern, mischievous touch to your room.
4. Sanctuary vibes
Let's be real—our homes have become literal sanctuaries during this lockdown era. But 2021 is turning that safe, secure feeling into an actual home trend by adding a spa-like environment in your house or apartment, especially in the bathroom.
"Creating spa-like atmospheres in bathrooms is one popular way to unwind—we've seen a 7,466% increase in searches for eucalyptus shower bundles, a 212% increase in searches for bath caddies and a 120% increase in searches for waffle towels," says Johnson.

To get the home sanctuary feel in your own home, stock up on greenery like olive trees (can be faux!) or eucalyptus branches for some nature-inspired tranquility. You can also trick out your bath space with super-soft towels and the best scented candles you can find.
5. Travertine touches
Travertine is a limestone sedimentary rock that has been around since the Roman era. It's formed when calcium carbonate precipitates from freshwater, particularly hot springs, and after marble, it's the most commonly used stone in interior design.
Walls covered in travertine tiles are a great way to add elegance to your home, embodying both luxury and functionality. Along with tiled walls or flooring, travertine furniture makes a powerful statement. A beautiful stone coffee table in the living room or a console in the hallway will entice every visitor. Johnson says: "Shoppers are especially looking for travertine tables—both vintage and handmade—with searches up 361% on Etsy."
6. Waves and squiggles
You've probably noticed this 2021 home decor trend without even realizing it, whether it's a groovily wavy mirror popping up in selfies all over social media or a delightfully twisty candle peeking out from your boss's background on Zoom. (According to Johnson, there's been "a staggering 28,236% increase in searches for wavy candles and 5,296% increase in searches for wavy mirrors" on Etsy.)

This wavy, squiggly decor trend has a playful vibe that is best described as a millennial-chic-aesthetic that meets our childhood dreamhouse visions.
Since December 2020, Kudzai has worked as a trainee journalist at FUTURE, writing about fashion, entertainment and beauty content for My Imperfect Life.

Kudzai previously worked as a freelance fashion wardrobe stylist, directing magazine photoshoots and coordinating the fashion direction of recording artists.

A fully qualified Journalism and Media graduate from De Mont Fort University, Kudzai graduated in the summer of 2020.