Hygge home decor: create a snuggly, serene scene with these pieces
These cozy hygge home items are ideal for warming up your home anytime of the year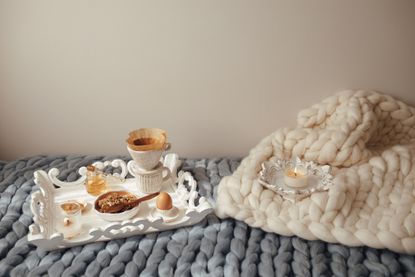 (Image credit: Getty)
If you're all about comfort, investing in a few hygge home decor buys will ensure your space looks—and feels—warm and welcoming. After all, we all want to feel relaxed in our homes and a big part of that is being comfortable. Having chairs that are hard to sit on, a lack of soft furnishings and nowhere to recline when you've had a hard day means you're less likely to want to retreat to that space.
If you don't want to splurge on big items, but still want to add a comfy feel to your home, there are a few easy upgrades you can make. Firstly, look out for anything that's going to make you more comfortable—whether it's the best scented candles, a few extra cushions for squishing behind your back when you're relaxing on the sofa, or a pouf to rest your feet on, it's these small things that are not only useful but are literally designed to make you feel more content.
Secondly, opt for the most tactile materials you can. We're talking soft faux fur you want to stroke, luxurious velvet and snuggly, chunky wool. All these have-to-touch textiles will ignite that 'aah' moment and make for a more comfortable environment.
Have hard flooring underfoot? Go for a rug with a long pile rather than short—something you want to sink your feet into. Blinds at the window? Add some curtains for extra coziness (and privacy!). Bench seating or wooden chairs at the dining table? Pop on a faux sheepskin to break up the hard surface and make it comfier, especially if you're likely to be sitting there for long periods over dinner.
Lastly, think about the times you might have extra guests—will you need extra seating to accommodate them? If so, separate armchairs are ideal so you're not all squished on your sofa, or a beanbag chair if space is especially tight. Again, poufs can double up as seating, footrests or handy side tables, while extra blankets and cushions—stored in a basket or ottoman—can be whipped out to make visitors feel perfectly at home.
We've picked out our top five upgrades to help you create a home that screams comfort. Ready? Then read on for hygge home décor you won't want to miss.
---
Best desk chairs: cool and comfy picks for your home office
Top Ikea candles to shop for an affordable cozy ambience
Friluftsliv: the Nordic concept that'll help you get through this global pandemic
---
Best hygge home finds to add to your space
1. Ikea Nautrup Rug
Best for adding warmth to hard flooring
Whether you want a soft surface to step out of bed on or you want to break up a large expanse of hard flooring, a super-cozy rug is a great addition. This retro Nautrup design from Ikea was inspired by the popular 1970s shaggy style and its long pile makes it ideal for sinking your toes into.
If you're worried about putting it in a high-traffic area, don't be—it's made from 100-percent wool and is naturally soil-repellent and pretty durable. Team it with an anti-slip rug underlay for extra safety and enjoy!
2. Chunky tassel fringe knitting throw blanket
Best for snuggling up in on the sofa
Drape it across your sofa or bed, have it peeking out of a basket ready to use, or on the back of an office chair ready for those extra-chilly days—however you utilize this throw, you'll be glad you have it to hand.
Yes, this chunky throw is ideal for wrapping yourself up in, but it's also good as a decorative piece, with adorable oversized pom-poms and a light pink colorway. Not keen on the color? It comes in white and grey, too, which are just as gorgeous.
3. Luxe Cowhide Chain Pouf
Best for homes with a luxe scheme
There's nothing worse when you're settling down to watch your favorite shows than not having a spot to put your feet up on, which is why a pouf is a great addition for the ultimate comfort. It also doubles up as a handy stool and extra seating when needed, so this multifunctional piece is worth its weight in gold.
We like this design because of its luxe, stylish looks: made from cowhide and festooned with fun fringe chains, the silver-grey color will go with most color schemes. (It does come in an equally glam black and copper combo, too, which we were quite taken with.) Consider it an investment buy that'll last for years to come.
4. Beccles Stripe Floor Cushion
Best for indoor-outdoor living
Scoot them closer to the fire in the winter and take them outside for picnics in the summer—floor cushions are ideal for laidback entertaining and everyday living in any season. This Beccles stripe design is made from thick recycled wool in neutral stripes, meaning it will go with most décor schemes.
Durable and deeply padded for comfort, it also comes with a carrying handle to make it easy to transport it from room to garden. We've given you the price for the largest size, but there is a medium design available should you want a more compact version.
5. New Zealand Sheepskin Beanbag Chair
Best for a blow-the-budget buy
You'd be forgiven for thinking beanbags are purely for kids, but the latest sophisticated styles are not only grown-up but chic enough that you'll want to show them off.
This chair design from Sweetpea & Willow certainly isn't cheap, but it's a statement buy that you'll certainly get your money's worth of. Luxurious and uber-snuggly, it's made from premium quality New Zealand sheepskin and is so soft and sumptuous that once you've sunk into it, your only problem will be that you won't want to leave.
Laurie Davidson is a Surrey-based freelance interior stylist and writer, who also dabbles in travel, craft and lifestyle content. She has over a decade of publishing experience and spent five years as the Homes & Interiors Editor on Style at Home magazine.