Byredo candles are coming to Ikea - and they're super affordable
It's a limited edition collection so go, go, go!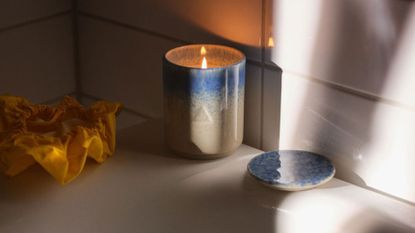 (Image credit: Ikea)
Byredo is one of the most luxurious fragrance brands, with its candles typically costing around $85 (£60). But, lucky for us, you can get your hands on one of these gorgeous candles for a fraction of the cost.
As part of a limited edition collaboration between the Swedish furniture giant and Byredo's founder, Ben Gorham, you can now purchase a Byredo x Ikea candle for between $9.99 (£9) and $25 (£25).
The collection, called Osynlig, will feature 13 of the best scented candles which were made to provoke nostalgia, dreams and generally heighten the experience of being at home. They're perfect to help you create a new morning ritual, to relieve stress, or even to help you relax before bed so you can reap all the benefits of sleep.
Osynlig is Swedish for invisible, and the collection is meant to play a part in the "invisible design" of the home.
"Invisible design is that layer on top of functionality that completes the home, the intangible things like lighting, mood and atmosphere that enable you to have a really emotive, interesting environment," says James Futcher, creative leader at Ikea for Osynlig.
"It was never about making scented candles as much as it was about encouraging the many people to tap into memories, other abstract things, as they construct their own homes."
"Smell is a very relevant part of the home," says Byredo founder Ben.
"It creates a sense of comfort and security. We're trying to develop a ton of smells enforcing the idea that everyone has a different relationship to it, and nothing is right or wrong."
Each candle's exterior is glazed with a blend of two colours which are intended to reflect their "title notes".
Scents include Tea Leaves & Verbena, Pomegranate & Amber, Basil & Mint, Fig & Cypress, Peach Blossom & Bamboo, Lilac & Amber and Sandalwood & Vanilla.
The Swedish retailer said it wanted to "democratise" scent and make it an affordable luxury at a low price - and can we just say at $9 a candle, we are here for it.
Beth Gault is a freelance journalist and editor. She is the former news editor at fashion magazine Drapers and has written for multiple titles across lifestyle and business media, including GoodtoKnow and Woman's Own. She loves chatting about ending period poverty, is a self-confessed coffee snob, and is never one to turn down a good book.