Top Ikea candles to shop for affordable cozy vibes
Craving coziness but don't want to spend big bucks? These Ikea candles are here to help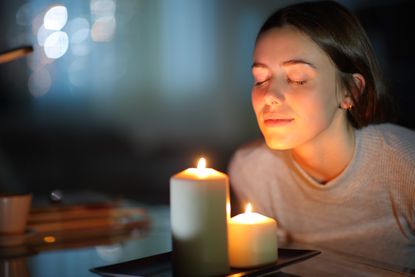 (Image credit: Getty)
We love their furniture (except those instructions, gah!), but have you ever tried Ikea candles? If the answer is no, you're missing out big time.
There are plenty of luxury options when it comes to the best scented candles, but we're not afraid to admit that sometimes, nothing beats the Swedish home and furniture brand's own cheap-and-cheerful offerings.
For starters, no one loves burning candles like Scandinavians. Not only is it a crucial part of their minimalistic home aesthetics, but the lovely wax lights are also essential to the art of hygge home decor, a Danish term we know all about by now. (If you don't, think of it as a mood of overall coziness and relaxation—stuff like plush socks, woven blankets, and, yes, twinkling candles.) Lighting a candle on a dark winter evening can feel like a warm, comforting hug, which is something we could all do with right now.
Then there's the gorgeous aroma a well-scented candle can bring. Like a good fragrance, it can whisk you away to a memorable moment or simply add an inviting atmosphere to your home. Try it for yourself by cozying up your house with these top Ikea candles.
---
---
The best Ikea candles to add to your home
1. SINNLIG Scented block candle
A minimalist dream
This simple Ikea candle complements any room, bringing a sweet scent of vanilla ice cream and freshly baked waffles to your ambiance. As well as its delicious scent, it has been praised for its consistency and longevity.
2. SINNLIG Scented candle in glass
Rich in color and scent
Bringing a pop of color to the room, this gorgeous red candle comes in a glass vessel and has a ripe scent of sweet red berries with a slight hint of florals—a fragrance that gets all the compliments according to customer reviews. This Ikea candle has also been raved about for being long-lasting.
3. VANSKLIG Scented candle in glass, 3 wicks
The bigger the candle, the better
Featuring a blend of lime, basil, and mandarin, this three-wick candle is perfect for those dark, cold nights where you're curled up in the living room with a soft blanket. Plus, when the candle has burnt itself out, the glass lid can be reused as a storage jar for small things. Cute and convenient!
4. STORSTAD Scented candle in glass
It comes with a gorgeous candle holder
Not only does this candle have a lovely plummy scent, but it also comes with a super cool green candle holder that alone makes the purchase worth it. Once you've burnt the candle out, you can use it as a decorative vase or for storing bits and bobs. It would make for one of the best cozy gifts for a gal pal or family member!
5. STORSTAD Scented candle in glass
An adorable set of three
Three is a much-welcome crowd with this cute trio of candles. Each has its own design on the candle holder, which complements the others with similar patterns and colors. These Ikea candles also come with a gold lid, making it a great catch-all for small items that you don't want out and about once the wax has finished burning.
6. LUGGA Scented block candle
Pretty in pink
Another beautiful set of three, this trio's theme is soft pink and lavender. As for the scent, expect a gorgeous whiff of romantic florals, paired with warm candlelight. These femme flambeaux have also been praised for burning perfectly with no waste.
7. OSYNLIG Scented candle in pot with lid
Comes in a beautifully designed candle pot
Once again, the candle holder steals the show! This lovely leaf-and-berry scented candle comes in a gorgeous, intricately designed pot. The torch itself is part of Ikea's OSYNLIG series, which has been created and composed just like a perfume, with a base note, a heart note, and a top note.
8. HÖSTVÄRME Scented candle in glass
Perfect for the festive season
If you're after a candle that will make your home feel festive, this is it. Bringing a cozy, warming scent of cinnamon, cardamom, and cloves, this candle is the comfort you need in your home during the colder months. Plus, it comes in a chic black candle holder with a silver lid, which means it'll match loads of decor types.
Sagal is a journalist, specialising in lifestyle, pop culture, fashion and beauty. She has written for a number of publications including Vogue, Glamour, Stylist, Evening Standard, Bustle, You Magazine, Dazed and Wonderland to name a few.