Why the TikTok favorite 'Italian bob' haircut is hot right now
Say ciao to the viral 'Italian bob' haircut for instant summer chic...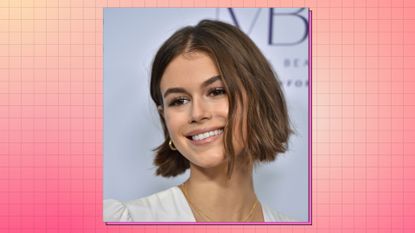 (Image credit: Future/Getty)
Buzz around the Italian bob haircut has been growing for some time. Just like the twee haircut trend, it's slowly but surely found itself going viral—receiving more than 414 million views on TikTok and a 170% spike in Google searches during the past month.
It's not hard to see why. Struggling with long, lank locks and fancy change from summer braids à la Hailey Bieber? The Italian bob—which suits most face shapes and parting preferences—will add some voluminous la dolce vita to your look. What's more, the chic chop is also easy to style and mega versatile, as demonstrated by celebrity fan Kaia Gerber.
So, what exactly is making the Italian bob the cult hairstyle of the moment that you are about to see on everyone? And how exactly is it a cut above its close sister the 'French bob'? Brush up on it all here...
What's an Italian bob haircut?
The Italian bob's newfound TikTok fame is largely thanks to a post by The Hair Bros where they demonstrated its transformative powers. In a video—viewed more than 97,000 times—they showed a flowing mane turned into a look worthy of a fabulous Mediterranean getaway. "It's chunky-ended, neck grazing and long enough to tie up, yet short enough to turn heads," hairstylist Nick Latham, who runs the account with Sean Paul Nother, told GLAMOUR. Indeed, the blunter ends and minimal layers make it feel lovely and luxurious.
Additionally, it's also super easy to style, because—like Kaia—you can wear it in your hair's natural wave with little fuss. "The beauty of this haircut is its versatility," explained Sean in the same GLAMOUR interview. "The heaviness allows for that Parisian air-dried feel when left natural, but you can put a brush through it for a nod to classic 60's glamour." Talking of which, these are the best brushes for curly hair.
What is different about a French bob?
Of course, this isn't the first shorter cut in town to be inspired by a stylish European nation. The French bob has long been a classic—originating in the 1920s 'flapper' era and gaining more recent popularity thanks largely to the film Amélie. While both cuts allow your hairdresser to get a bit scissor-happy, there are some key differences.
"A French bob is typically shorter than your typical chin-length bob we've been seeing a lot of lately," hairstylist Alex Brown told GLAMOUR on another occasion. "It has a bit of a 'wedge' look to it, and is so chic and stylish." Unlike the slightly below-chin Italian bob, this look should be cut to hit the jawline.
Whatever you opt for, ensure that you keep your locks healthy—perhaps with one of the best shampoo bars and Olaplex's iconic No.3 hair protector.
Lauren is a freelance writer and editor with more than six years of digital and magazine experience. Most recently, she has been the Acting Commissioning Editor of Women's Health—where she co-produced the Going For Goal podcast—and has previously also written news and features for titles including The Telegraph, Grazia, Stylist, Dazed, The Sun's Fabulous, Yahoo Style UK and Get The Gloss. She covers all aspects of lifestyle, specializing in health, beauty, and travel. Can't live without: oat milk lattes, new podcast episodes, long walks, and great skincare.