How to use the ITV2 Love Island voting app during the final show
Time is of the essence when it comes to using the ITV2 Love Island voting app during the final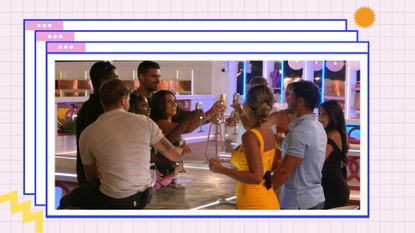 (Image credit: ITV Press Centre)
The Love Island 2022 final is here, so it's essential you know how to use the Love Island voting app during tonight's show. Now that we have our final four couples, every vote counts towards who will win Love Island 2022—especially as there will be multiple votes during the final show.
So far, our Love Island votes have meant that Dami and Indiyah, Davide and Ekin-Su, Andrew and Tasha and Luca and Gemma have made it to the final. The voting app came in especially useful this past weekend, when the islanders had to vote for who they thought were the least compatible Love Island couples and each one voted for fan favorites Davide and Ekin-Su. Luckily, our votes meant that the viewer-dubbed 'mom and dad' of the villa—who have given us some iconic Love Island memes this season—were saved and made it to tonight's final.
So if you want to ensure that your fave Love Island couples to go home with love and that 50k tonight (here's how to watch Love Island final if you're away on your travels), you better get the app downloaded (if you haven't already) and get familiar with all the deets on the voting process...
When do you need to vote on the Love Island voting app?
During tonight's Love Island final, it is likely that viewers will have to vote at least once. We'd recommend watching the Love Island final live, as viewers will be prompted either by live host Laura Whitmore or voiceover narrator Iain Stirling to vote at the correct time.
Usually, once the vote is declared open you will have just 15 minutes to make your decision and confirm your vote—meaning if you're watching on-demand, you won't be able to vote. However, seeing as this is final show and timing is everything, you might have even less than this time period, so it's important to keep your ears open when the hosts mention the public vote.
If you need help with downloading the app—keep on reading folks!
Can you have multiple Love Island votes?
Sadly the answer is no. As much as we'd love to vote repeatedly for Ekin-De—each viewer is only allowed to vote once for one couple.
This is different to previous years, when the ITV Love Island voting app did allow viewers to submit up to five different votes.
How do you get the ITV2 'Love Island' voting app?
For those who have not yet been wielding their voting powers—all you need to do is head over to the Google Store or Apple store (depending on your phone's make) and search 'Love Island' and download the option by ITV PLC.
Then open the app and enter your date of birth—from there you're free to shop all the Love Island gifts and merch, interact with polls and be the first to watch the Love Island First Look teaser video, as it's uploaded to the app first!
How to vote on the Love Island app?
When the voting is open for the show, simply open your app and click the 'Vote' icon at the bottom of the screen.
The app will then take you to the ITV Love Island website, where you will be asked to enter your mobile number. Once you have done that, a code will be sent to your phone to then enter on the website and then you're free to cast your vote!
You can then vote for your favorite couple to win.
Vote wisely!
Best Love Island gifts and merch to shop now
Brand
Colour
Price
Refine ☵
Sort By