Love Island fans are convinced Davide deliberately 'butchered' Charlie's hair
Viewers claim Davide Sanclimenti is out to sabotage romantic rival Charlie Radnedge's chances with Ekin-Su Cülcüloğlu...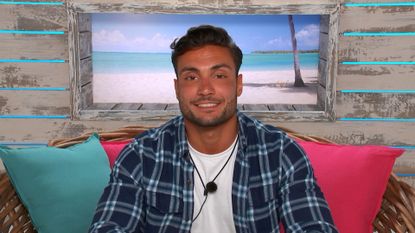 (Image credit: ITV)
Fans of Love Island 2022 are convinced that Davide Sanclimenti is beginning to play dirty in his efforts to win back Ekin-su Cülcüloğlu. Viewers got the giggles during tonight's episode when the Italian hunk "butchered" the blonde hair of his romantic rival Charlie Radnedge with a pair of hair clippers. They joked that he was trying to "sabotage" the trim in order to give the Turkish actress the "ick" (want to stay up-to-date with the drama? Here's where to watch Love Island).
In the latest installment of Love Island season eight, Davide, 27, appeared to hint that he still held a flame for Ekin-Su, also 27. They were previously coupled up together, before she went behind his back and kissed another Islander called Jay Younger, 28, who is now after 24-year-old Paige Thorne (keeping up alright?). Meanwhile, 28-year-old newcomer Charlie—who picked Ekin-Su at the latest recoupling—attempted to ramp up the heat with her in an outdoor gym training session.
However, despite Davide insisting that Ekin-Su was more interested in a reunion—suggesting that all he'd have to do is tell her the "door is open"—those watching at home were convinced he was up to some tricks to try and increase his chances. They were left in stitches when the Manchester-based business owner hailing from Rome, who is himself coupled up with Antigoni Buxton, got to work on Charlie's hair and left him rather uneven results. He told him "just trust me bro" when the latter questioned the validity of his styling skills, and looked sheepish when Islander Gemma Owen called his handiwork "shocking".
Posting on Twitter, one person asked: "Has Davide butchered Charlie's hair for a reason?". Similarly, another concluded: "Davide sabotaged Charlie's hair so Ekin-Su would get the ick." A third agreed: "I'm convinced Davide sabotaged Charlie's hair on purpose because he likes Ekin-Su #enemiestolovers." And a fourth added: "Davide knew what he was doing with that haircut." A fifth rightly questioned why he even needed a trim in the first place since he had only just entered the Spanish villa.
Charlie: "Where did you learn to cut hair?"Davide: "Just trust me bro" https://t.co/zKxEshPDPyJune 26, 2022
See more
Has Davide butchered Charlie's hair for a reason 😏 #LoveIslandJune 26, 2022
See more
Davide must've done Charlie's hair like that by purpose so Ekin gets put off😭😭 #LoveIslandJune 26, 2022
See more
davide sabotaged Charlie's hair so ekin su would get the ick 😭😭😭😭#loveisland pic.twitter.com/jV74jRnIZfJune 26, 2022
See more
I'm convinced davide sabotaged Charlie hair on purpose cuz he likes ekin #enemiestolovers #LoveIslandJune 26, 2022
See more
Davide cutting Charlie's hair 😭 #LoveIsland pic.twitter.com/8VG8YA2yuCJune 26, 2022
See more
Davide's undercover efforts fit in with another fan theory—that he is the Tindler Swindler. When he first came onto the show as a bombshell, viewers couldn't get over the striking physical resemblance between him and the convicted Israeli fraudster Simon Leviev made famous by the Netflix documentary. Posting on Twitter, one person joked: "Davide is giving me Tinder Swindler vibes." Another agreed, writing: "Is it just me or does Davide look like the guy from Tinder Swindler???"
In other recent Love Island news, viewers shared their suspicions that Natasha Ghouri wasn't actually that into Andrew Le Page, with whom she is coupled up with. Their relationship was tested on Friday when a dramatic recoupling saw the model appear disappointed that Charlie had picked Ekin-Su over her,—before she was picked by the real estate agent. It's never a dull moment...
Best Love Island gifts and merch to shop now
Price
Refine ☵
Sort By
Lauren is a freelance writer and editor with more than six years of digital and magazine experience. Most recently, she has been the Acting Commissioning Editor of Women's Health—where she co-produced the Going For Goal podcast—and has previously also written news and features for titles including The Telegraph, Grazia, Stylist, Dazed, The Sun's Fabulous, Yahoo Style UK and Get The Gloss. She covers all aspects of lifestyle, specializing in health, beauty, and travel. Can't live without: oat milk lattes, new podcast episodes, long walks, and great skincare.