Love Island fans are convinced this Islander looks like the Tinder Swindler
Viewers pointed out the striking physical resemblance between Italian stallion Davide Sanclimenti and Netflix's favorite conman...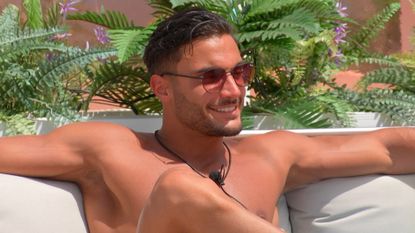 (Image credit: ITV)
Things have started heating up in the second episode of Love Island 2022. There were passionate kisses beneath the sunshine, cozy bedtime snuggling and chats around the firepit. However, there was, unsurprisingly, a lot of attention focused directly on the newest resident hunk Davide Sanclimenti.
Yesterday, in the launch episode of Love Island season eight, viewers couldn't help but notice the similarities between the tattoos of Islander Luca Bish and none other than Harry Styles. Now, in this evening's second episode, comparisons were drawn between his fellow Italian contestant and the Tindler Swindler.
The hit Netflix documentary saw Israeli convicted fraudster Simon Leviev woo women online before conning them out of millions of dollars of money. It's not hard to see why Davide's dark hair, tanned skin and penchant for spectacles (you have to see if for yourself—here's where to watch Love Island) saw him likened to the fake diamond mogul.
Posting on Twitter, one person joked: "Davide is giving me Tinder Swindler vibes." Another agreed, writing: "Is it just me or does Davide look like the guy from Tinder Swindler???" However, others teased that he was an improved version of the 31-year-old scammer. One added: "Davide lowkey looks like the hotter version of the Tinder Swindler." Despite the physical resemblance, the Islander is a 27-year-old business owner from Rome now living in Manchester.
Davide lowkey looks like the hotter version of the tinder swindler #LoveIslandJune 7, 2022
See more
Is it just me or does Davide look like the guy from tinder swindler??? #LoveIsland #Davide #LoveIslandUK #LoveIsland pic.twitter.com/mHyGSybaCVJune 7, 2022
See more
Davide is giving me Tinder Swindler vibes #LoveIslandJune 7, 2022
See more
Davide is giving me massive tinder swindler vibes #loveisland pic.twitter.com/PKXVvsmPcpJune 7, 2022
See more
After playing the field in the villa, Davide was forced as the episode drew to a close to choose which of the girls to couple up with. While viewers admitted they had struggled to warm up to him—unlike the boys who seemed mesmerized by his strong facial features and impeccable abs—his thick accent lead to much amusement. We wonder if "I'VE GOT A TAXTT" and "ICELANDERS!" will catch on among the best Love Island quotes?
If you've not seen the episode yet, then we've got a spoiler alert for you. The Italian stallion, having also chatted to Paige Thorne and Natasha Ghouri, ended up choosing Gemma Owen (yep, the daughter of former soccer star Michael). However, it's during the next episode—thanks to a juicy teaser aired at the end of today's show—that we predict the drama will really begin, with two new female Bombshells set to arrive...
Best Love Island gifts and merch to shop now
Price
Refine ☵
Sort By
Lauren is a freelance writer and editor with more than six years of digital and magazine experience. Most recently, she has been the Acting Commissioning Editor of Women's Health—where she co-produced the Going For Goal podcast—and has previously also written news and features for titles including The Telegraph, Grazia, Stylist, Dazed, The Sun's Fabulous, Yahoo Style UK and Get The Gloss. She covers all aspects of lifestyle, specializing in health, beauty, and travel. Can't live without: oat milk lattes, new podcast episodes, long walks, and great skincare.