The best-dressed celebrities at the Met Gala 2021
Check out all the best-dressed celebrities from The Met Gala 2021, including Billie Eilish, Lil' Nas X and Rihanna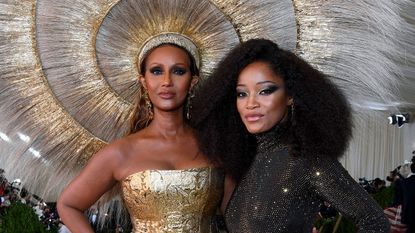 (Image credit: Getty Images/Kevin Mazur/MG21 / Contributor)
Yes, the style gods have answered our prayers: the Met Gala 2021 delivered everything we needed and more.
We saw A-listers use the spotlight moment to make politicals statements, like AOC's 'Tax the rich' dress, and Billie Eilish helping to end the use of fur at Oscar de la Renta. Not to mention makeovers, like Gigi Hadid's incredible Met Gala hair.
When it comes to fashion, the Met Gala is the red carpet event of the year—every other event is just playing for second place, and yet again it's clear why.
For the uninitiated, the Met Gala is an annual charity event that raises funds for the Metropolitan Museum of Art's Costume Institute and signifies the opening of the annual fashion exhibit. Formerly known as the Costume Institute Gala, the event is where the fashion world, Hollywood, and music royalty collide, with the likes of Rihanna, Jennifer Lawrence, and Beyoncé all regularly bringing their A-game to the red carpet.
For a quick catch-up, we'd recommend streaming The First Monday In May, a documentary by Andrew Rossi, which tells the story of how the Met's 2015 fashion exhibition "China: Through The Looking Glass" was put together. The story follows Andrew Bolton (the museum's curator and husband to fashion designer Thom Browne) as he puts together the magnificent exhibition, peppered with behind-the-scenes snippets like Anna Wintour deliberating over who gets to sit next to Bradley Cooper—a must-watch in our eyes.
Now that you're caught up on this history, let's dive into all the best looks from the Met Gala this year.
The best-dressed at the Met gala 2021
1. Billie Eilish in Oscar De La Renta
Billie Eilish wowed us all as she floated down the red carpet, in a stunning, Marilyn Monroe-inspired, Oscar de la Renta gown.
2. Kendall Jenner in Givenchy
Kendall Jenner rocked a bedazzled, sheer dress by Givenchy. The 'naked dress' is really having a moment right now.
3. Rihanna and A$AP Rocky in Balenciaga and ERL
Rihanna and A$AP Rocky were absolute couple goals as they walked the carpet together. Rihanna Stunned in a Balenciaga overcoat and matching hat, while A$AP wore a quilt-look coat by ERL.
4. Alexandria Ocasio-Cortez in Aurora James
Congresswoman Alexandria Ocasio-Cortez made a political statement with her bold 'TAX THE RICH' dress designed by Aurora James.
5. Kim Kardashian in Balenciaga
We could not take our eyes off Kim Kardashian as she arrived in a dramatic full-body, black Balenciaga look.
6. Emma Raducanu in Chanel
US Open Champion, Emma Raducanu made her Met Gala debut in Chanel.
7. Lil' Nas X in Versace
Lil' Nas X arrived at the Met Gala in a full-on, gold Versace suit of armor, and changed into this glittery Versace number.
8. Maisie Williams in Thom Browne
Maisie Williams gave us goth and we love it! She wore a dress by designer Thom Browne and even rocked bleached eyebrows.
9. Chloe and Halley Bailey in Rodarte
Sisters Chloe and Halley Bailey wore gorgeous looks by fellow sister designers, Kate and Laura Mulleavy of Rodarte.
10. Troye Sivan in Altu and Rick Owens
Troye looked elegant in an Altu look, paired with black, platform Rick Owens boots.
11. Diane Kruger in Prabal Gurung
We are so obsessed with Diane Kruger's neon green Prabal Gurung look, which she paired with a striking, pink eye look.
12. Kaia Gerber in Oscar De La Renta
Kaia Gerber put on a stunning display in a black, classic Oscar de la Renta gown.
13. Hunter Schafer in Prada
Hunter looked ethereal, wearing an armor-inspired look by Prada, with bold, white contacts in.
14. Michaela Coel in Balenciaga
Michaela looked incredible wearing a sequin Balenciaga jumpsuit in a bright, royal blue.
14. Imaan Hammam
Imaan gave us another sheer dress moment, the Versace star and crystal-encrusted dress is literally the dress of our dreams.
15. Indya Moore in Saint Laurent
Indya gave us a monochrome moment in Saint Laurent.
16. Amandla Stenberg in Thom Browne
Amandla Stenberg also opted for a contrasting white and black look in Thom Browne.
17. Iman in Harris Reed
Iman delivered a true Met Gala show stopper in a custom Harris Reed outfit. Here she is pictured with the designer.
18. Naomi Osaka in Louis Vuitton

Naomi Osaka is pictured on the MET Gala 2021 red carpet wearing an outfit by Louis Vuitton and beauty look created by Marty Harper for NatureLab Tokyo
---
---
Met Gala: The Details
Where to watch the Met Gala 2021:
Alas, those who are not actually invited to the Met Gala won't be allowed access to all of the stylish shenanigans happening inside, but at least we lay folk can enjoy all of the fashions outside.
This year, you can live stream the red carpet and all of the celebrity attendees from home thanks to Vogue, with hosts Keke Palmer and Ilana Glazer serving as your MCs and interviewers for the evening. The live stream will be available to watch on Vogue's website or on the brand's Twitter account.
You can also watch all of the arrivals on E! alongside hosts like E! News' Nina Parker, stylist Brad Goreski and Queer Eye star Karamo Brown.
When's the Met Gala 2021?
This year, the event did not take place on its customary first Monday in May—a date usually etched into our psyche—but instead was held on Monday, September 13th starting at 5:30 pm ET (that's 2:30 pm PT and 9:30 pm GMT.)

According to an Instagram post from the Metropolitan Museum of Art, there will be two galas: the first on September 13th, which will mark the end of the September 2021 fashion shows, and a second, with the same theme, in May 2022.
The change comes as no surprise as countless events, including fashion weeks around the globe, have been canceled or postponed due to the ongoing coronavirus pandemic.
Where is the Met Gala held?
Where else? The Met! More formally, the Metropolitan Museum of Art, which is the largest art museum in the United States and is located in New York City on Fifth Avenue and East 82nd Street.
What is the theme for the Met Gala 2021?
The theme for the Met Gala 2021 is "In American: A Lexicon of Fashion." What that means exactly, only time will tell, but as a tribute to American style, we're sure to see the likes of Vera Wang, Ralph Lauren, and Marc Jacobs, along with their stylish muses on the red carpet.
The Met Gala celebrates the intersection between fashion and art, and some highlights have been "China: The Looking Glass" in 2015, "Heavenly Bodies: Fashion and the Catholic Imagination" in 2018 and "Rei Kawakubo/Comme des Garçons: Art of the In-Between" in 2017.
Who hosted the Met Gala 2021?
Pretty much all of our style crushes: Timothée Chalamet served as co-chair of the Met Gala 2021 alongside singer Billie Eilish, poet Amanda Gorman, and tennis pro Naomi Osaka. Designer Tom Ford and, of course, Anna Wintour herself will also serve as honorary chairs.
Who was invited to the Met Gala 2021?
The tables are always the talk of the town, but the Met Gala seating chart 2021 in particular caused quite the commotion on social media.
While the invite list is revealed prior to the event, a supposedly "leaked" seating chart featured the likes of Met Gala regulars such as Beyoncé and Jennifer Lopez mingling with TikTok influencers like Addison Rae and the D'Amelio sisters. However, said seating chart was not leaked by any official sources, so take the rumors with a heap of salt.
Beyond our aforementioned co-hosts, attendees have not officially be confirmed, however Zendaya did say in an interview with Extra that she will unfortunately not be attending this year due to a conflict with Euphoria filming. (*Insert tears here*) The rumor mill has suggested that Gala regular Kim Kardashian, Olympian Simone Biles, actress Tracee Ellis Ross, and YouTuber Emma Chamberlain would all be strutting their stuff down the carpet this year.
The best Met Gala fashion moments ever
1. Rihanna in Guo Pei
You couldn't have a best dressed round up with Rihanna. The originator of countless memes, Rihanna stunned in Guo Pei at the 2015 Met Gala China: Through The Looking Glass.
2. Beyoncé, Beyoncé, Beyoncé
No stranger to the Met red carpet, Beyoncé has attended the Gala eight times. Every look she turned was epic but if we're picking, then we can't forget the perfection of these three Givenchy looks that she wore in 2014, 2015, and 2016. Can we expect a Givenchy revival, by way of Matthew Williams at the Met Gala 2021?
3. When Carrie wore McQueen
Sarah Jessica Parker wearing Alexander McQueen is pictured with Lee McQueen at the Metropolitan Museum of Art Costume Institute Benefit Gala: Anglomania at the Metropolitan Museum of Art on May 1, 2006.
4. Kate Moss
Who else but Kate Moss wearing Marc Jacobs could steal the show at the 2009 Met Gala, The Model As Muse?
5. Princess Diana
Princess Diana wore a navy slip dress from the first John Galliano for Dior collection to the 1996 Met Gala, which celebrated Christian Dior.
6. Rihanna in Rei Kawakubo
Okay, Rihanna again, but who else could pull off Rei Kawakubo with such aplomb?
7. Billie Porter's theatrical entrance
Billie Porter wearing The Blonds carried by six shirtless men. How else are you meant to enter the 2019 Met Gala, Celebrating Camp: Notes on Fashion?
8. Celine Dion has a Showgirl moment
This Oscar De La Renta look for the 2019 Met Gala came halfway through Celine Dion's ferocious comeback with several fashion-forward looks.
9. Harry Styles, just because.
Harry Styles in head-to-toe Gucci at the 2019 Met Gala. What more can we say?
Sunil Makan is the digital editor of Marie Claire UK. With over 12 years of publishing experience, working on print publications and their digital counterparts, national newspapers, and digital pure plays he is an Editor, Strategist, Content Producer, and Creative Director. In his most recent role, Sunil was deputy editor of My Imperfect Life and before that, he was the Associate Editor of British Marie Claire. Prior to that he worked at ELLE, InStyle, Shortlist Media and freelanced at titles such as Mr Porter, Saks Fifth Avenue, Floral Street fragrance, and The Times.
Sunil's specialisms include Fashion, Beauty and Grooming, Lifestyle, and Culture. He has reported and covered fashion trends at International fashion weeks in London, Milan, and Paris, smelled and tested countless fragrances, beauty treatments, slathered on more serums, moisturizers, and masks than he cares to mention plus reviewed some of the best hotels in the world—and the worst.
Sunil has appeared on and led workshops and panels like the All-Party Parliamentary Group (APPG) for Creative Diversity roundtable, the British Fashion Council's Diversity and Inclusion Board, and Fujifilm reader events. A lover of—in no particular order—fragrance, fine wine, champagne, Dior, food, and chicken wings.