Princess Diana's hairstylist reveals the inspo behind her iconic short hair
You have no idea how long we've been waiting to get the scoop on Princess Diana's famous haircut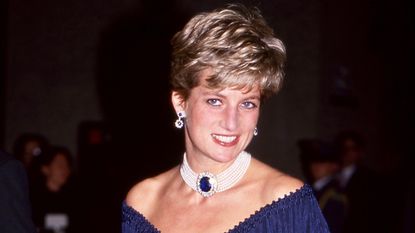 (Image credit: Alamy)
Princess Diana was a 90s fashion queen, from head to toe. And regarding the former, Sam McKnight, Di's legendary hairstylist, recently spoke to British Vogue about how the Princess of Wales got her iconic pixie cut.
According to reports, the famous cut was made on the spur of the moment after Princess Diana asked McKnight: "What would you do with my hair if I just said, 'Do anything?'"

"I said, 'I would cut it all off and just start again,'" said McKnight. "Because it was the beginning of the 90s and it was at the time when I was doing lots of shows and covers, and a lot of the girls had short hair, and we were moving from the big frou-frou 80s into the sharp, more androgynous, business chic of the 90s."

The renowned hairstylist recalled cutting off Di's long-ish blonde locks and the pair "never looked back."
Princess Diana's 90s pixie was one of the most iconic hairstyles of the decade, and despite the fact that Sam McKnight described it as a "risky decision" it fitted the princess's personality perfectly. In the latest episode of British Vogue's "Vogue Visionaries" YouTube series, McKnight recounted how working with Princess Diana and the "impulsive haircut" made history.
McKnight explained that their special relationship began when he met the Princess of Wales on a photoshoot. The hairstylist said: "This leggy blonde comes bouncing up the stairs, and sticks her hand out and introduces herself, smiled and made us all melt, and it was Princess Diana."
McKnight recalls Diana originally rocking her longer Barbie-blonde bob, which she'd sported in the 80s, for the British Vogue photoshoot. That was before he worked his magic by making "it look short under the tiara," which he admitted he had "faked a little."
The hairstylist remembered the shoot as "really lovely" especially since they "laughed so much, as she was very funny."
McKnight later recreated Princess Diana's classic hairstyles on Emma Corrin, the actress who would play the famous royal in this past season of Netflix's The Crown. "From one Princess Diana to another," McKnight said.
Since December 2020, Kudzai has worked as a trainee journalist at FUTURE, writing about fashion, entertainment and beauty content for My Imperfect Life.

Kudzai previously worked as a freelance fashion wardrobe stylist, directing magazine photoshoots and coordinating the fashion direction of recording artists.

A fully qualified Journalism and Media graduate from De Mont Fort University, Kudzai graduated in the summer of 2020.