What is that chaotic Olivia Wilde Daily Mail salad story all about?
Allegedly, a salad with "special dressing" meant for Harry Styles caused a major meltdown in the Olivia Wilde-Jason Sudeikis household—and we have the recipe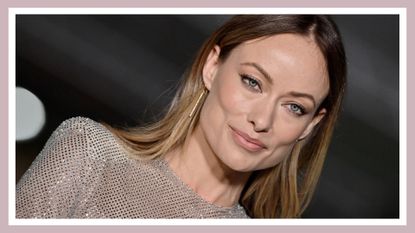 (Image credit: Axelle/Bauer-Griffin/FilmMagic/Getty)
If you thought you were safe from even more behind-the-scenes Don't Worry Darling drama, you thought wrong. The press cycle that gave us those Miss Flo memes, that #Spitgate situation and plenty of questions about Harry Styles and Olivia Wilde's relationship has yet another unhinged development—this one involving a salad, of all things.
According to The Daily Mail, screenshots of alleged tweets from the former nanny of now-exes Olivia Wilde and Jason Sudeikis reveal how Wilde's making a salad with "special dressing" for the "As It Was" pop star led to a blowup between her and Sudeikis back in November 2020, so much so that the Ted Lasso actor reportedly laid under the tires of Wilde's car to prevent her from leaving to meet up with Styles.
The nanny reportedly revealed to the outlet: "Jason told me: 'She made this salad and she made her special dressing and she's leaving with her salad to have dinner with [Harry].'"
"I said, what salad dressing? He said: 'She has a special salad dressing she makes for us and she's taken it to have it with him now.' I don't know what was in it."
"Out of everything, he was like, 'she made her special salad dressing and took it to him.''
What is in the Olivia Wilde salad dressing?
So what the hell could possibly be in this very dramatic salad dressing? Wilde seemingly answered the burning question in an Instagram Story posted on Tuesday, October 18, which featured a page out of Nora Ephron's book Heartburn. The autobiographical novel, which details the disintegration of a public power couple (fitting!), features a recipe for—you guessed it—salad dressing.
"Mix two tablespoons Grey Poupon mustard with 2 tablespoons good red wine vinegar. Then, whisking constantly with a fork, slowly add 6 tablespoons olive oil, until the vinaigrette is thick and creamy; this makes a very strong vinaigrette that's perfect for salad greens like arugola and watercress and endive," Ephron writes in the Heartburn passage. Mystery solved!
Twitter reacts to that Olivia Wilde Daily Mail salad story:
While The Daily Mail piece gave more insight into the breakup between Wilde and Sudeikis and the subsequent timeline of Wilde and Styles' relationship—the exes have released a statement saying the former nanny's "false and scurrilous accusations," such as Sudeikis discovering proof of the affair on an AppleWatch, were part of an "18-month long campaign of harassing us," per Page Six—it is this admittedly ridiculous salad detail that has had social media talking.
Here's what the gossipmongers of Twitter have been saying about the Olivia Wilde salad drama:
i need to know absolutely everything about olivia wilde's "special salad dressing" pic.twitter.com/q9OfExBYfROctober 17, 2022
See more
olivia wilde while jason is under her car pic.twitter.com/SlfGbPPsdoOctober 17, 2022
See more
I don't know what I expected out of this Monday morning news cycle but it definitely wasn't Jason Sudeikis having a mental breakdown over Olivia Wilde making some kind of magical affair saladOctober 17, 2022
See more
olivia wilde fighting jason sudeikis in the kitchen while making a salad pic.twitter.com/W3LcVuh41uOctober 17, 2022
See more
If I was Olivia Wilde I would post the salad dressing recipe to my Instagram story and then turn off my phoneOctober 17, 2022
See more
harry styles watching jason sudeikis and olivia wilde drama: pic.twitter.com/j1ygyrHCaEOctober 17, 2022
See more
let the record show I'm learning about olivia wilde's salad and her 'special dressing' all against my willOctober 17, 2022
See more
the nanny watching Olivia Wilde put the special salad dressing in a to go cup pic.twitter.com/hBhPALm4mBOctober 17, 2022
See more
harry styles watching jason sudeikis chase after olivia wilde: pic.twitter.com/Q5E6BPb1SdOctober 17, 2022
See more
olivia wilde's silence on the recipe for her special salad dressing is deafeningOctober 17, 2022
See more
good luck to all trivia teams named "olivia wilde's special salad dressing" this week I'm rooting for youOctober 17, 2022
See more
Ain't no way Olivia Wilde's salad dressing is better than Western, though.October 17, 2022
See more
Christina Izzo is the Deputy Editor of My Imperfect Life.
More generally, she is a writer-editor covering food and drink, travel, lifestyle and culture in New York City. She was previously the Features Editor at Rachael Ray In Season and Reveal, as well as the Food & Drink Editor and chief restaurant critic at Time Out New York.
When she's not doing all that, she can probably be found eating cheese somewhere.