How to repair damaged hair without forking out for a professional
Noticed your locks are looking a little worse for wear? Here's how to repair damaged hair at home...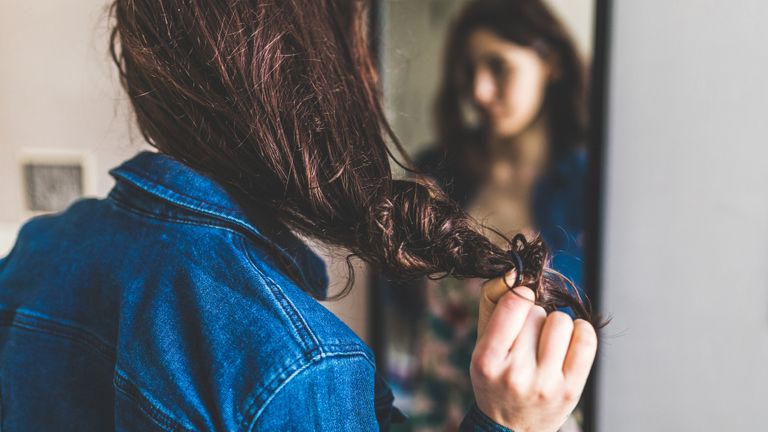 (Image credit: Getty Images)
We all know what goes into damaging our hair, but when it comes to how to repair damaged hair sometimes our knowledge can be a bit lacking. And while the idea of good-hair days impacting our mood might sound fickle, a survey by Living Proof revealing that eight in 10 women feel their confidence levels are directly affected by the health of their hair, shows it's not something to be brushed off.
So if you want to add something to your self-care checklist, take the time to give your hair a little extra TLC. Your locks – and your mood – will thank you for it.
Whatever your hair type or texture, don't waste time lusting after what you don't have - make the most of what you do. Take note of the products that are right for you with our advice on how to repair damaged hair...
How to repair damaged hair
How to repair damaged bleached hair
A morning spent in the salon chair might feel like the antidote to stressed-out, lacklustre tresses but, according to the experts, your locks could be feeling less than happy after a colour refresh.
"For hair to be permanently coloured, an oxidizing (i.e. bleaching) agent must be used – and the protective outer cuticle must be lifted with an alkaline agent to allow the dye to penetrate the cortex of the hair," explains trichologist Anabel Kingsley. "The cuticle is closed post-processing by a conditioner or an acidic rinse, but it never quite regains its original form or integrity, and is left weaker, less elastic and more porous."
The more dramatic the shade shift, the more noticeable the damage will be, with increased breakage. But don't let the science scare you – by using hydrating masks and buying yourself more time between colour treatments with fade-fighting shampoos and toners, you can start restoring your hair to its former glory.
Best products to repair damaged bleached hair
How to repair damaged dry hair
"Similarly to skin, pollution, oxygen and sunshine can all be aggressive to the hair," advises Gorka Arraras, Creative Manager and Senior Master Stylist at Charles Worthington. A common problem post-holiday or party season, the combination of changing temperatures, heat styling and hair colouring can strip hair of much-needed moisture. 
To regain elasticity and reduce the chance of breakage when hair is in a fragile state, stock up on moisturising masks. According to Anabel Kingsley, instead of slathering conditioner all over, you should "gently comb conditioner through your mid-lengths and ends to properly coat each strand and smooth the outer protective cuticle, as a closed cuticle helps to lock in moisture. When using a comb, start at your ends and gradually work your way up – starting at the top can snap fragile strands."
Best products to repair damaged dry hair
How to repair damaged hair that's falling out
On average, we lose more than 100 hairs a day, but if you notice more strands than usual swirling down the plughole, you could be one of the 41% of women who are experiencing – or have experienced – hair loss or thinning. The most common causes are genetic factors, the menopause (as natural oestrogen levels fall), stress (triggered by sudden shock, this typically lasts for around three months – longer if stress is ongoing) or a diet deficiency. 
According to Dr Martin Wade, hair can mirror a person's general health, so if you're suddenly losing a significant amount, it's best to visit your doctor to see if there's an underlying cause.
If stress or the menopause are to blame, take steps to boost strands' thickness, as an increase in body makes hair appear fuller. Root sprays and powders work wonders to mask thinning around the hairline and parting too. 
Best products to repair damaged hair that's falling out
How to repair damaged curly hair 
Although it can be tempting to cut down on washing curly hair to avoid the dreaded blow-dry, according to Anabel Kingsley, it's water – not oils – your hair is craving. "Shampooing actually helps to moisturise strands," she explains. "However, if you have very coarse hair, a daily shampoo is not realistic. Also it's damaging if you straighten your hair after every wash."
Unlike dry hair, which tends to be a short-term problem, coarse hair requires on-going treatment. Piling on products won't change its texture – it's more likely to rob your locks of shine – so choose lightweight products to smooth without weighing down hair. A blow-dry cream that reduces drying time is a godsend, too.
Best products to repair damaged curly hair