How to repair damaged hair without forking out for a professional
Here's how to repair damaged hair at home if you've noticed your locks are looking a little worse for wear.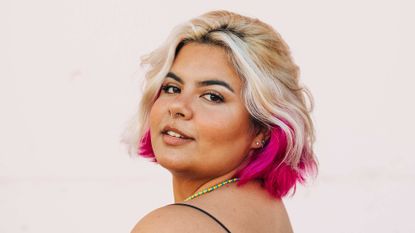 (Image credit: Getty Images / Westend61)
We all know what goes into damaging our hair, but when it comes to how to repair damaged hair sometimes our knowledge can be a bit lacking. Split-ends, damage from coloring and hair loss are just some of the issues that plague many of us. But the good news is that there is something you can do about it.
Whether it's understanding your hair type, using one of the best brushes for curly hair, or soaking up the benefits with an at-home treatment, there are several things you can do to give your hair a little TLC. It's the perfect excuse to indulge in a little me time—perfect for the self-care day ideas list. Your locks—and your mood—will thank you for it.
Whatever your hair type or texture, don't waste time lusting after what you don't have—make the most of what you do. Take note of the products that are right for you with our advice on how to repair damaged hair...
How to repair damaged hair
How to repair damaged bleached hair
A morning spent in the salon chair might feel like the antidote to stressed-out, lackluster tresses but, according to the experts, your locks could be feeling less than happy after a color refresh.
"For hair to be permanently colored, an oxidizing (i.e. bleaching) agent must be used—and the protective outer cuticle must be lifted with an alkaline agent to allow the dye to penetrate the cortex of the hair," explains trichologist Anabel Kingsley. "The cuticle is closed post-processing by a conditioner or an acidic rinse, but it never quite regains its original form or integrity, and is left weaker, less elastic, and more porous."
The more dramatic the shade shift, the more noticeable the damage will be, with increased breakage. But don't let the science scare you—by using hydrating masks and buying yourself more time between color treatments with fade-fighting shampoos and toners, you can start restoring your hair to its former glory.
Best products to repair damaged bleached hair
1. Living Proof Color Care Shampoo
A gentle shampoo for color treated hair
Reasons to buy
+
Gently cleanses hair
+
Offers UV protection
+
Paraben free
+
Sulphate free
We love the Color Care shampoo by Living Proof which, leaves hair feeling super soft and manageable. Formulated with the addition of suplhates and silicone, it gently cleanses without stripping colored hair of any pigment—infact, it keeps your colors looking better for longer.
2. Olaplex No.3 Hair Perfector
The ultimate treatment to be used once or twice a week
Reasons to buy
+
Reduces breakages
+
Strengthens hair
+
Free of DEA, Aldehydes and Formaldehyde
Olaplex No.3 Hair Perfector was THE product that revolutionized the haircare game. It quickly gained cult status because it ACTUALLY WORKED. For optimum results, the brand recommends leaving on for a minimum of 10 minutes to soak up all the benefits of this miracle product which repairs and strengthens broken hair bonds.
Olaplex no 8 review: One beauty editor put the newest product to the test and here are her honest thoughts
How to repair damaged dry hair
"Similarly to the skin, pollution, oxygen, and sunshine can all be aggressive to the hair," advises Gorka Arraras, Creative Manager and Senior Master Stylist at Charles Worthington. A common problem post-holiday or party season, the combination of changing temperatures, heat styling, and hair coloring can strip hair of much-needed moisture.
To regain elasticity and reduce the chance of breakage when hair is in a fragile state, stock up on moisturizing masks. According to Anabel Kingsley, instead of slathering your conditioner all over, you should "gently comb the conditioner through your mid-lengths and ends to properly coat each strand and smooth the outer protective cuticle, as a closed cuticle helps to lock in moisture. When using a comb, start at your ends and gradually work your way up – starting at the top can snap fragile strands."
Best products to repair damaged dry hair
3. VIRTUE Restorative Treatment Mask 50ml
Great for reversing hair damage
Reasons to buy
+
Great for all hair types
+
Fast acting
+
Sulphate-free
+
Paraben-free
This luxurious hair treatment smooths your locks, whilst reconstructing and offering deep moisturization when you need it most. The hero ingredients here are Keratin and Coconut which mean the hair is left not only super silky, but strong and healthy too.
4. Bumble & Bumble Hairdresser's Invisible Oil Heat/UV Protective Primer
Consider this the foundation of your haircare routine
Reasons to buy
+
Offers heat protection
+
UV Filters
+
Infused with oil
When it comes to styling we know that we need to protect our hair from hair tools and the Invisible Oil Heat/UV Protective Primer is the perfect product to do this. Great for all hair types, the primer promises to smooth, de-frizz, detangle, moisturize, silken, and most importantly protect against breakage and UV damage without weighing it down.
How to repair damaged hair that's falling out
On average, we lose more than 100 hairs a day, but if you notice more strands than usual swirling down the plughole, you could be one of the 41% of women who are experiencing—or have experienced—hair loss or thinning. The most common causes are genetic factors, menopause (as natural estrogen levels fall), stress (triggered by a sudden shock, this typically lasts for around three months—longer if stress is ongoing), or a diet deficiency.
According to Dr. Martin Wade, hair can mirror a person's general health, so if you're suddenly losing a significant amount, it's best to visit your doctor to see if there's an underlying cause.
If stress or menopause is to blame, take steps to boost strands' thickness, as an increase in the body makes hair appear fuller. Root sprays and powders work wonders to mask thinning around the hairline and parting too.
Best products to repair damaged hair that's falling out
5. Kevin.Murphy Full.Again Thickening Lotion
Perfect for those with thinner hair
Reasons to buy
+
Paraben, sulphate and cruelty free
+
Contains elemi
The lightweight formula is imbued with tiny fibres which make your hair not only look but feel fuller and thicker too. It works best when applied on damp hair to the ends and mid-lengths before styling—the brand recommend a blow dry.
6. Toppík Colored Hair Thickener
Ideal for target application for hair that instantly looks fuller
Reasons to buy
+
Target treatment for complete control
+
Covers wider areas too
Sometimes a little cover up is just what is needed and the Toppik coloured hair thickener is the perfect solution. Ideal for target application, simply distribute the pigment into the desired areas for hair that looks fuller and thicker. It really is the ideal way to top-up your color in between apointments and disguise any bits you may not want to show. And just FYI, the product should easily stay in place, come rain, wind or shine.
7. Grow Gorgeous Intense Serum
Increase the thickness of each strand
Reasons to buy
+
Perfect for fine and thinning hair
+
Vegan friendly
+
Formulated without Parabens, Sulphates, Silicones, Phthalates or Mineral Oil
Packed with a host of powerful ingredients like organic pea sprout extract which stimulates roots delivering density where we need it most, green tea which reenergizes the scalp and biomimetic red clover extract which reinvigorates roots, this luxurious serum is powered by a special blend of active ingredients and in clinical trials was shown to increase the thickness of hair strands by up to 13%
How to repair damaged curly hair
Although it can be tempting to cut down on washing curly hair to avoid the dreaded blow-dry, according to Anabel Kingsley, it's water—not oils—your hair is craving. "Shampooing actually helps to moisturize strands," she explains. "However, if you have very coarse hair, a daily shampoo is not realistic. Also, it's damaging if you straighten your hair after every wash."
Unlike dry hair, which tends to be a short-term problem, coarse hair requires ongoing treatment. Piling on products won't change its texture—it's more likely to rob your locks of shine – so choose lightweight products to smooth without weighing down the hair. A blow-dry cream that reduces drying time is a godsend, too.
Best products to repair damaged curly hair
8. Philip Kingsley Elasticizer Therapies
Perfect for those with curly hair in need of a dose of hydration
Reasons to buy
+
Reduces frizz
+
Keeps hair healthy
This all-rounder is the go-to treatment for those with curly hair as it works to delivers a rich and deep conditioning treatment. The brand recommend using it once a week to condition and maintain hair health, hydrate dry hair and deliver a dose of bounce back into to locks that need a bit of TLC.
9. Aveda Speed of Light Blow Dry Accelerator Spray
Great for reducing the drying time
Reasons to buy
+
Great for detangling
+
Heat protection
As a general rule, the less exposure to harsh temperatures from styling the better. Simply section your hair into four working through each section at a time, spritz a liberally amount and comb through your locks to prep it for styling, and cut drying time down.
Jess Beech is a fashion and beauty writer and editor with more than 8 years experience in publishing. She has worked for a number of UK websites and print titles, for brands including woman&home, Woman and Woman's Weekly. She's written about everything from fashion and beauty to homes and travel, and is always on the look-out for the latest trends and innovations. Her special interests include frizz-busting haircare, science-lead skincare and where to find the perfect pair of blue jeans.