Olaplex No 8 - an honest review and a complete guide to how it works
Meet the buzzy new conditioning mask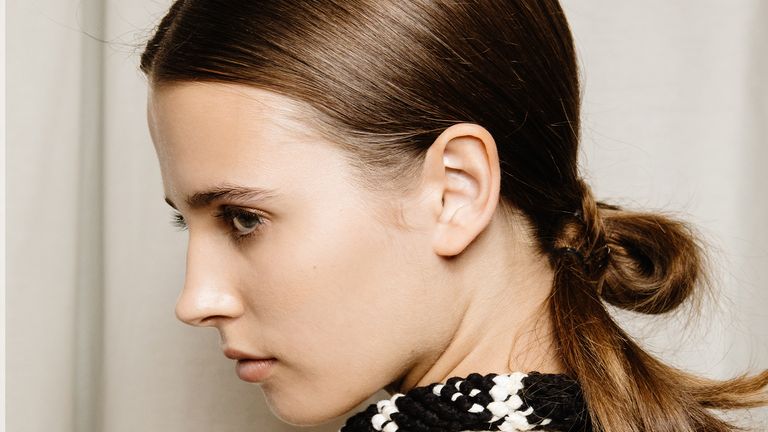 (Image credit: Rosdiana Ciaravolo/Getty Images)
After four years in the making, Olaplex No 8 has launched and its hair repair wizardry is set to win the same cult following as the iconic No 3 Hair Protector. 
For the uninitiated, Olaplex rose to fame almost overnight thanks to two in-salon treatments for those who frequently bleach or dye their hair. The first is mixed into your hair colour, the second is the equivalent of a professional-strength deep conditioning mask and is applied at the back wash. 
Both are scientifically proven to prevent the disulfide bonds in your hair from breaking during the coloring process by effectively 'glueing' them together.  Olaplex also prevents any protein-destroying molecules from ravaging your strands by stepping in before they have the chance to wreak havoc.
Hello switching up your hair color while still maintaining healthy strands.
There are also eight products in the line up (including Olaplex No 8) if you want to repair damaged hair at home. All are powered by the same hero ingredient as the salon treatments  - the bis-aminopropyl diglycol dimaleate molecule - albeit at lower percentages.  
The bottom line: Olaplex doesn't just paper over the cracks, making hair look smoother. It actually improves its structure, a claim most haircare brands can't make.
What is Olaplex No 8?
Olaplex No 8, or Olaplex No 8 Bond Intense Moisture Mask to give it its full name, is a highly concentrated repair mask.  Its airless pump dispenses just the right amount of product to add shine and body as well as throwing copious amounts of moisture at frazzled, damaged hair when the cuticle is open.
A cursory scan of the ingredients list reveals nourishing ingredients borrowed from the best moisturizer for dry skin. There is hyaluronic acid, a moisture-attracting molecule that holds 1,000 times its weight in water; there are ceramides for locking in that hydration; there are oils including avocado and rice bran oils. 
And of course, there is a generous helping of that famous (if unpronounceable) bis-aminopropyl diglycol dimaleate molecule.
Independent clinical trials reveal strands have two times more shine, four times more hydration and six times more smoothness after just one 10-minute session. 
How to apply Olaplex No 8
In the same way that you apply the best sustainable face masks to cleansed skin, simply apply No 8 to freshly shampooed, damp hair from the mid lengths to the ends. 
Start with 2 pumps for shoulder-length hair; use less or more depending on length. Work the product through with your fingers; leave on for 10 minutes then rinse fully.
If hair is seriously compromised, Jenni Mennella, senior director of global eduction at Olaplex, recommends a three-step application combining the brand's No 0 Intensive Bond Building Treatment and No 3 Hair Perfector for deeper repair, followed by No 8. 
Olaplex No 8: a review
It's no secret that Olaplex is the church I worship at when it comes to colored hair that still manages to be full of bounce and shine. 
Seven years ago, after a hair color disaster, my new stylist covertly passed me an unmarked white tub while point blank refusing to color my hair until I had used what was inside. It was Olaplex No 3. It hadn't launched in the UK yet but a Google search convinced me that I'd been handed fairy dust - or, at the very least, a passport out of my current hair crisis (think frazzled, broken, over-bleached ends that resembled straw in every sense of the word). 
Long story short, I used it three times a week without fail and within three months the softness and elasticity returned. So I've been convinced of the genuine science behind Olaplex for some time now. 
No 8 has the same impressive credentials and I predict it will become another sell out success for the brand, especially post summer swims and sunbathing.  Even on fine hair like mine, I never felt like my hair was slick and weighed down with product. It just got to work without any fuss - which is exactly what I demand of my beauty arsenal. 
It's the perfect booster product and I like to rotate it with No 3, a repair treatment with a higher percentage of bis-aminopropyl diglycol dimaleate, so I get the best of both worlds: happy bonds and that light-reflecting sheen you normally have to sacrifice if you want bleached blonde hair.
 Does No 8 warrant hype? It's a resounding yes from me. 
Olaplex No 8 is available for pre-order exclusively from lookfantastic.com for US and UK shoppers and is available to shop on 9 April, 2021.