Sephora's same day delivery is the gift you never knew you needed
A cosmetic SOS? Nah, Sephora's got you covered, my friend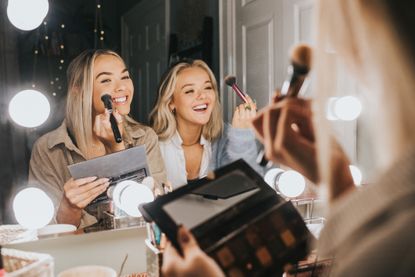 (Image credit: Getty)
Cosmetics crises be damned! The Sephora same-day delivery perk promises to supply us with our beauty needs at the drop of a hat. Well, the retailer will need a few hours, but that's essentially the same thing.
Shoppers will love the licketysplit buying offer, but there are a few rules to note before expecting Charlotte Tilbury's "Pillow Talk" or the best vitamin C serums to arrive at your doorstep. Let's dive in, shall we?
---
---
Sephora's same-day delivery—what you need to know
The beauty giant originally teamed up with Instacart during the height of the pandemic to offer same-day delivery. This allowed customers in the US and Canada to shop all their goods via the app and get it delivered to their homes on the same day, sometimes, within an hour of placing their order.
Now, there have been some tweaks. Here are a few tidbits worth noting:
All orders must be processed by 4pm local time in order to receive same-day delivery
Same-day delivery for an item has a $6.95 flat fee
Same-day delivery is accessible on both the Sephora website and the mobile app
You'll find same-day delivery options on individual product pages, where you're prompted to provide your zip code
Same-day delivery options are available in most major cities and suburbs, seven days per week
Can't make a run to the store during your lunch hour? No sweat. Broke a hair accessory? A replacement's coming. Sephora has your makeup, skin and hair accessories covered. We're already getting used to this luxury, and our shopping carts aren't even full...yet.
Plus, Sephora tweaked its chat feature, which is now called Live Beauty Help. Beauty advisors are online and ready to assist customers from 3am–9pm PT, seven days a week, so if you have a Q about that acne or need a blush recommendation, look no further.
Sephora, you've certainly outdone yourself.
(Psst: it's not too early to stock up on Sephora Holiday Vibes Advent Calendar. Get yours before it's gone!)
Sagal is a journalist, specialising in lifestyle, pop culture, fashion and beauty. She has written for a number of publications including Vogue, Glamour, Stylist, Evening Standard, Bustle, You Magazine, Dazed and Wonderland to name a few.