Here's how to have the best sex ever—according to your star sign
The stars say it's time to get experimental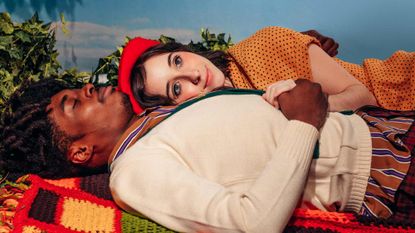 (Image credit: Getty Images / Savana Ogburn)
Boring, routine sex is not what any of us need right now—or ever. In fact, we know having bad sex affects our health, so if you're looking for a way to spice up your sex life look no further than the stars. We've got the low down on all the best sex positions based on your star sign.
Our star sign can tell us so much about ourselves, from what type of lover we are to the best self-care practice, and now it can tell us the best positions for mindblowing sex.
Psychicworld (opens in new tab)has spoken to psychic and healer, Inbaal who has given us all the deets on sex positions and how they can inject some truly unforgettable sex into your lives.
Aries: The Splitting Bamboo & The Joystick Joyride
March 21—April 19
Our Aries have powerful personalities and an abundance of energy. Aries are spontaneous lovers who love to play in the bedroom and there's no better way to amp up your sex life than with the Splitting bamboo and joystick joyride.
The splitting bamboo is a playful twist on classic missionary. You just need to place your leg up on your partner's shoulder for a deeper connection.
The Joystick joyride is similar to 'on top'—but you have your legs straight on either side on your partner's shoulder, and lean back.
Taurus: Nirvana & The Side Saddle
April 20—May 20
Taurus, being ruled by Venus the planet of love, values an emotional connection. So more intimate tried and tested positions are perfect for the bull sign.
Nirvana is a face-to-face position, with lots of sexy looks, kisses, and full-on body contact. It's a classic in the Kama Sutra, it's similar to missionary but instead of you having your legs open, you'll have them closed and straight.
The Sidesaddle is on that looks hot for everyone involved, it's basically sideways cowgirl but with your partner with one leg bent for you to straddle.
Gemini: The Standing Ovation & The T-Bone
May 21—June 20
According to Inbaal, Geminis are arguably the most sexual of all the zodiacs, and because of this, they can get bored- quick.
So mixing up positions is key to helping a Gemini reach orgasm. Inbaal suggests the standing ovation, which is a very versatile position. You can use this position everywhere, from up against a wall to the shower.
The T bone is also ideal for the spontaneous and frisky Gemini, as it guarantees an orgasm. You just need to lie on your front with your legs off the bed and your partner behind you.
Cancer: The Rocking Horse & Doggy Style
June 21—July 22
As Cancer is a water sign, they are emotional and hopelessly romantic - but underneath all of that—they're a 'freak in the sheets.'
The Rocking horse is a dream come true for Cancer, it's very intimate but also great for the G-spot. To do the rocking horse, both you and your partner are sitting, with one person's legs over the others, both leaning back. Doggy style is also a classic, it can be slow and rhythmic or fast and intense.
Both of these positions are ideal for working in some of the best app-controlled vibrators.
Leo: The Waterfall & The Heavyweight
July 23—August 22
Being in control is important to Leo, especially in the bedroom. Leo's love to be riled up and teased, so foreplay is always a big yes.
The waterfall is a variation on cowgirl but with an 'extra climatic scope.' To do this move, your partner can be sat up, and you can be laid back with your vagina tilted up, and you get to control the rhythm and movement.
The heavyweight is also a fun position for a more dominant Leo, simply straddle your partner on a chair.
Virgo: Missionary & The Upstanding Citizen
August 23—September 22
As a Virgo "your Earthy sensibilities are all about pleasure and making someone special feel-good". You like to master a position, rather than flitting between lots of different ones.
Missionary always guarantees to make you and your partner climax. With variations in rhythm and speed, this trusty position is easily spiced up and made exciting - just by changing your leg positions.
The Upstanding Citizen is both romantic and impressive, a lovely twist on the classic standing position. Both intimate and exciting.
Libra: Sixty-nine & The Ballet Dancer
September 23—October 22
The Libran lover doesn't appreciate being controlled, nor do you like to control others. You like equality, 50/50 pleasure.
Inbaal says: "Aesthetically pleasing, slow lovemaking is the way for this sign to reach the ultimate climax."
So knowing this, a sixty-nine is an ultimate position for a fair Libra. A sixty-nine is intimate and ideal for mutual satisfaction.
The ballet dancer is also a great choice. You stand facing your partner and hook your leg around their waist. As an elegant and passionate move, Inbaal says: "it suits your personality to a T and gives you the confidence to let loose and vary your rhythm and speed."
Scorpio: The Bandoleer & The Butter Churner
October 23—November 21
One of the sexiest signs of the Zodiac, for a Scorpio, the more stimulation the better.
The Bandoleer will be a favorite, the receiver needs to lie on their back with their legs tucked toward their chest and feet on their partner's chest.
The Butter Churner is for adventure seekers only! Deep and dynamic it's a perfect fit for the sensual Scorpio.
Sagittarius: Reverse Cowgirl & The Octopus
November 22—December 21
A Sagi is never dull in the bedroom, they bring all their personality and go big, always.
The Reverse Cowgirl is the best choice for a sexy and charismatic Sagittarius. Whilst they have a great view of you, you have all the power to wow, The Octopus is daunting as there is a full view of the action, ideal for the dramatic Sagittarius who thrives when stimulating all senses.
Capricorn: Cowgirl & The Spork
December 22—January 19
Capricorns are no-nonsense, they don't want their sex sesh to be too over the top, or too difficult—it's all just about feeling good and turning each other on.
The classic Cowgirl is perfect for this, as it's simple but gives you everything, a great view, control, rhythm, speed, and pleasure. The Spork is also great because it's super intimate and sensual but offers the deepest penetration and maximizes orgasm.
Aquarius: The Corkscrew & The Good Ex
January 20—February 18
An Aquarius is experimental but also loves intimacy, they're very versatile lovers who like to give and receive.
The Corkscrew brings out your quirky personality and is renowned for delivering mind-blowing orgasms! However, the Good Ex is also a great position for an experiment by Aquarius. You'll need to lie head to toe with your partner, crossing your legs over each other.
Pisces: The Sandwich & The Chair and Prayer
February 19—March 20
For Pisces, sex is all about emotional connection and lovemaking. You like to understand your partner's body so the Sandwich is the position that offers the perfect mix of love and lust, body and spirit, as you can see your partner in all their glory whilst enjoying the closeness of missionary variations.
The Chair and Prayer, however, may take forever, especially for people who like to assume both the dominant and submissive during sex.