Shonda Rhimes reveals why Bridgerton was snubbed by the Golden Globes
The Netflix show broke records but didn't get a single nomination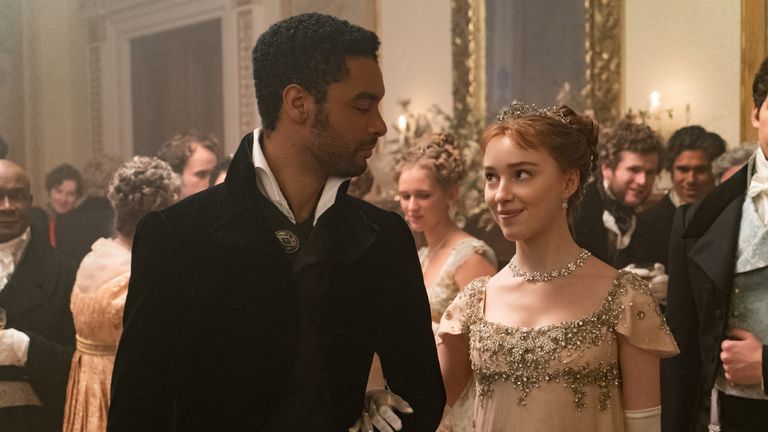 (Image credit: LIAM DANIEL/NETFLIX)
The Golden Globes nominees had already attracted some controversy after shows such as Emily in Paris were recognized with nominations while other popular programs like Bridgerton and I May Destroy You didn't get so much as a mention. Now the Globes are in hot water again and Bridgerton's famous producer, Shonda Rhimes, has spoken out.
The Regency-era Netflix show was a sensation—the lavish, steamy period drama was all we could talk about for weeks and it smashed Netflix's viewership records after being streamed in 83 million households worldwide before the end of January. (And yes, there will be a Bridgerton second season, so you can stop worrying!)
Despite its popularity and a staggering amount of views within its first 28 days of being released, you might be confused as to why it didn't earn even one nomination at the Golden Globes.
The Wrap reported that the Hollywood Foreign Press Association (HFPA), the organization who votes on what shows and films are nominated for Globes, is coming under fire. Apparently, the HFPA denied press conference requests for Bridgerton and other major Black-led series and films, including Girls Trip and Queen & Slim, in recent years.
Shonda Rhimes confirmed and replied to the Wrap's reports, saying in a tweet: "HFPA rejected our press conference. Until it was a 'surprise hit' (Grey's, Scandal, Murder -SURPRISE!)"
Rhimes continued: "And yet they STILL asked me to show up in person to present at the Globes. We're not the only ones. This is why HFPA's house is on fire. They lit the flame w/their own ignorance."
The prolific producer, who is also the mastermind behind shows like Grey's Anatomy and How to Get Away With Murder, explained that Bridgerton didn't get a second look by the HFPA until it became a "surprise" hit and despite the snub, she was asked to attend this year's Golden Globes as a presenter.
Rhimes also tweeted saying: "And I'm the lucky one. More important: think of all the great talent and shows out there that never even got a chance."
The TV mogul also took to Instagram in February to say "enough is enough" to the HFPA after it was revealed there was not a single Black member out of their 87 members.
One fan commented saying: "That is such a disgrace." Another wrote: "Why wasn't anyone in Bridgerton nominated? Not even costume?" A third said: "Now I understand why Bridgerton was snubbed 😡."

Thankfully, the Screen Actors Guild showed the serious some love, nominating the Bridgerton cast for Best Ensemble and singling out Regé-Jean Page with his first SAG nomination for Best Male Actor in a Drama Series.