Shonda Rhimes has finally spoken out on Regé-Jean Page's departure from Bridgerton
We will miss you, Duke of Hastings...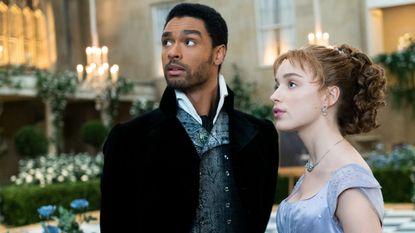 (Image credit: Netflix)
Bridgerton's executive producer, Shonda Rhimes, has finally spoken out about the unexpected departure of Regé-Jean Page, better known as the beloved Duke of Hastings.
Fans were left heartbroken (and no, we're actually not exaggerating) after it was announced that Regé-Jean's character will not be returning for any future installments of the show. While we already suspected he wouldn't be a major character as each of the Bridgerton books focuses on a new sibling, we were still left with many unanswered questions about why the Duke of Hastings left Bridgerton.
Your Grace, it has been a pleasure. 💜🐝 pic.twitter.com/kX1nIG8pz7April 2, 2021
See more
And finally, we have some answers. In a long-awaited interview, Shonda Rhimes told Vanity Fair that she was very 'shocked' at how fans reacted to his departure.
"Really shocked [by the reaction] because usually, that happens when she's killed off somebody that's been around for a while," she jokingly explained. "Like, we didn't kill him, he's still alive!"
She added: "Regé-Jean is a powerful, amazing actor and that meant we did our job—every season, our job is finding the right people and putting together this incredible, world-shifting romance."
Shonda ended her comment by saying: "I don't know that I expected this much of an explosion, given that every book [in the Bridgerton series] is a different romance. What would be the ever-after of this combo? I mean, really: what would Regé-Jean do, you know what I mean? We gave them their happily ever after. And now we have this next couple coming. And so yeah, I was like, whoa!"
While the Duke is on his way out of the Ton, Phoebe Dynevor is confirmed to play Daphne for at least another season. Season two of Bridgerton will focus on Anthony Bridgerton's love life, and his younger sister will be around to help him find his way.
Since December 2020, Kudzai has worked as a trainee journalist at FUTURE, writing about fashion, entertainment and beauty content for My Imperfect Life.

Kudzai previously worked as a freelance fashion wardrobe stylist, directing magazine photoshoots and coordinating the fashion direction of recording artists.

A fully qualified Journalism and Media graduate from De Mont Fort University, Kudzai graduated in the summer of 2020.