The SKIMS Black Friday sale is still on with up to $40 off on loungewear, bras and the viral slip dress
It's go time! The SKIMS Black Friday 2022 sale is still on and there's plenty of loungewear and shapewear calling our names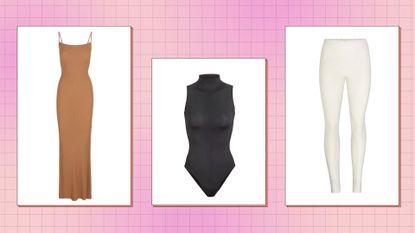 (Image credit: SKIMS)
Cyber weekend is just getting started, meaning there's still plenty of time for you to snag some of the best comfy loungewear in the SKIMS Black Friday sale! The discounts we're seeing are a rarity for Kim Kardashian's clothing line, so don't hold back on these deals!
'Tis officially the season to get cozy and right now the SKIMS sale has everything you need to transform your capsule wardrobe—whether you've been eyeing up SKIMS Cotton Fleece pieces, or you're thinking of stocking up on the recently-launched SKIMS bras. Perhaps you've even seen the SKIMS long slip dress on TikTok and want —nay—need it for your next holiday party. Well, it's officially go-time for discounted loungewear and shapewear buys because the savings event is still very much on, with over $30 off!
The brand offers some of the best comfy attire and sculpting shapewear on the market, but we'll admit, prices quickly add up to a spenny basket. That's why we're using this weekend's discount as a reason to go all out. Now, who's ready for a little holiday season online shopping? (And a Netflix marathon once those Teddy Joggers arrive on our doorstep?)
The best SKIMS Black Friday deals to shop in the US
As you're no doubt already aware, Kim K's brand has been a hit since its debut. In 2022 particularly, the clothing line excited shoppers with the addition of SKIMS swimsuits and seemingly a new line drop per week. When it comes to discounts, however, they're not quite as common as product launches as SKIMS sales only take place twice a year. Thankfully, this bi-annual sale is now live with site-wide discounts of around $10, $20, and upwards of $30.
Additionally, several other retailers also stock SKIMS pieces, so now that Cyber Weekend is well underway, you have so many more options to peruse. In fact, we've already rounded up a few of the best deals to shop ASAP! Get them while they're still in stock...
Where to look for SKIMS Black Friday deals in the US
The best SKIMS Black Friday deals in the US
Best SKIMS Black Friday deals to shop in the UK
UK shoppers can also find all the same SKIMS pieces discounted at incredible prices this Cyber Weekend, as the same bi-annual SKIMS sale is also currently live in the UK!
Not only that, but there are also incredible deals on other stockists to be found—so if your favorite piece is already out of stock, be sure to check out the below retailers between Black Friday and Cyber Monday, too.
Where to look for SKIMS Black Friday deals in the UK
The best SKIMS Black Friday deals in the UK
When is the SKIMS Black Friday sale?
The bi-annual SKIMS sale kicked off on Wednesday, November 23 at 7am PST / 10am EST, meaning the savings are already live. Note that there isn't a confirmed end date, so be sure to fill your shopping cart while your items are still available—they tend to go quickly!
As far as other retailers who sell SKIMS items, like Nordstrom and SSENSE, we have the intel on their deals above, too.
What can we expect from this year's SKIMS Black Friday sale?
Last year, prices were slashed on a selection of SKIMS' best-selling pieces by as much as half off. This year, however, it appears that most savings range from $20-$30 per item. And yes, the viral SKIMS long slip dress that everyone adores is part of the sale! (Why not treat yourself to two for good measure?)
What other deals can we shop this Black Friday?
If you're looking to go big or go home, do be sure to have a look at other savings from similar brands, including the Everlane Black Friday deals 2022, Lululemon Black Friday deals and the Zara Black Friday sale.