11 of the best cozy gifts to keep your favorite people comfy—including Hailey Bieber's go-to
From warming candles to soft robes and luxe bubble baths, these are the best cozy gifts to shop for the holiday season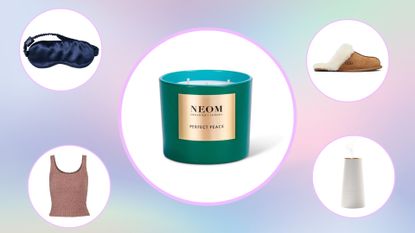 (Image credit: Future/brands pictured)
We're putting it out there: the best cozy gifts are actually all we really want for Christmas. There really is nothing like receiving something that makes you feel warm, comfortable, and like you're really being cared for; which is why it's also the kind of gift we want to give to our loved ones.
From comfy loungewear to big old blankets, you really can't go wrong with snuggly gifts at this time of year—just ask Hailey Bieber. "I feel like you can never go wrong with a cozy blanket, a great pair of cashmere socks, or a big yummy sweater that you'll have forever," she told Harper's Bazaar of her holiday shopping list in a recent interview. So this year, why not look at swapping out out some of those extravagant (and often pricey) tech and experience gifts for something to be enjoyed at home on a cold, dark night?
Whether you opt for the best scented candles and wellness gifts, to chic loungewear and pajamas, cozy gifts will make your loved one feel calm and relaxed—which is something we all need in a year filled with plenty of ongoing chaos and anxiety. Plus, cozy gifts are often on the more affordable side; and with all of us keeping a closer eye on our wallets, that's an obvious plus. Here are the faves we recommend shopping this season.
The best cozy gifts for Christmas to shop now
In essence, cozy gifts are all about gifting your loved one a way to look after themselves—so all of the suggestions mentioned below will help to give your mom, dad, friend, partner or co-worker a slice of self-care and peace.
Not only that, but as we head quickly towards the chilly winter months these buys will all help you to stay warm and (you guessed it) cozy. So, whether you're looking for a luxurious item of clothing, something to set the mood in the evening, or something to help you create comforting, healthy habits, these are the cozy gifts that are on Team My Imperfect Life's wishlist this year.
Where to buy cozy gifts for Christmas in the US
Where to buy cozy gifts for Christmas in the UK
11 cozy gifts to shop during the 2022 holiday season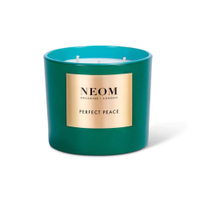 1. NEOM Perfect Peace Scented Candle
RRP: $52.50/£46
This three-wick candle is all about bringing calm and serene vibes into your home—and what could be cozier? Created with a fresh Nordic scent blended with pine, myrrh and lime peel, as well as 22 other essential oils, it swaps stress and tension for a soothing, delicious-smelling atmosphere. The candle isn't just cozy but festive too, making it one of the best Christmas gift options there is.
---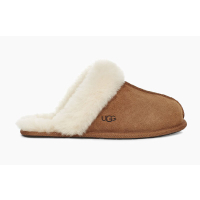 2. UGG Scuffette II Slipper
RRP: $95/£85
Is there anything cozier than a good pair of slippers? These soft suede and sheepskin classics from UGG will keep your feet warm and toasty all winter—and they look super cute and stylish too. We reckon these are one of the best Christmas gift ideas for your girlfriend!
These house slippers are available in different shades too, including the classic chesnut, and a dark 'Starry Night' blue, a 'Red Wine' red, and a neutral 'Goat' beige; so there should be something to satisfy anyone you're looking to gift a Christmas present to.
---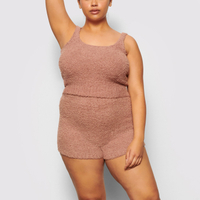 3. SKIMS Cozy Knit Set
RRP: $52 & $58 / £50 & £56
We love us some comfy loungewear (and we're betting most of your loved ones do too)—and SKIMS has some of the best around. Available in nine neutral shades, this tank-and-short matching Cozy Knit set (there's also a robe if you really want to go all out) is made with soft boucle yarn, for maximum comfort. You can also choose the trousers, if you reckon your recipient will prefer to keep their legs toasty and warm, though they are more expensive. One of the best cozy gifts for a friend who likes to stay stylish, even when relaxing or WFH.
---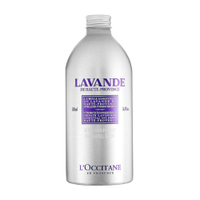 4. L'Occitane Lavender Foaming Bath
RRP: $39/£28
Nothing helps you get cozy quite like a soak in the bath, and splashing out on a luxury bubble bath is a nice way to elevate your favorite bath person's usual ritual. L'Occitane makes some of the best bath and shower buys on the market, and this lavender scent seriously soothes the soul.
---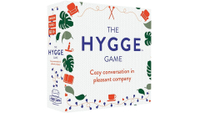 5. The Hygge Game
RRP: $20/£25
If reading about the Danish concept wasn't enough, then playing a game to encourage you to put it into practice might just be what you need, to get a bit of 'hygge' into your lifestyle. Hygge (pronounced hoo-ga) is all about enjoying the good, cozy things in life and being present whilst they're happening—and this cozy game is the ultimate way to do that. It contains 110 cards with more than 300 thought-provoking questions, designed to spark meaningful conversation and create the right atmosphere for a hygge evening with friends or family.
---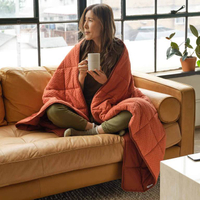 6. Weighted Blanket
RRP: $169/from £80
Weighted blankets are one of the best sleep aid products around, whether you want a full-night snooze or just the greatest couch-nap ever. In the US, this 12-pound quilt from Brooklinen (pictured) is made of breathable cotton and an interior layer of eco-friendly tiny glass beads to ground you and support your snoozing—making it a great eco-friendly Christmas gift idea.
In the UK, this weighted blanket from John Lewis weights in at 4.5kg, and is made with specialist synthetic material to keep you warm and cozy. One of the best Christmas gift ideas for a boyfriend.
---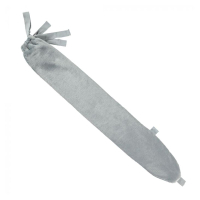 7. YuYu Bottle Luxury Fleece Hot Water Bottle
RRP: $37.78/£33
Everyone needs a hot water bottle, and not just when it's our time of the month. It's the coziest thing to cuddle up with whilst watching Netflix, reading a book or even just lounging around, especially in the cold, dark winter months.
And this long, luxury fleece hot water bottle feels as good as it sounds! (Clearly) bigger than your average hot water bottle, it's designed to be wrapped around you, to keep more of you warm than an average hot water bottle. Because of this, not only is it one of our best cozy gifts for a loved one, it's also great for those who suffer from aches and pains and need a gentle way to soothe them.
---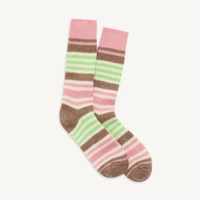 8. Guest in Residence The Soft Striped Socks in Taupe
RRP: $95/£97
Hailey Bieber name-checked Gigi Hadid's cashmere brand for her shopping inspiration and, we can't argue, pretty much everything on site is seriously cozy.
Socks might not sound like the most exciting gift a girl can give, but cashmere socks? That's a whole different ball game. These fun stripy socks will keep your feet super toasty, whether you're curled up with Netflix or keeping extra warm in bed.
---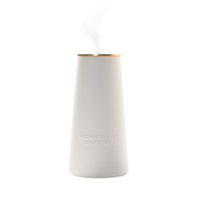 9. Aromatherapy Associates The Atomiser
RRP: $170/£120
A beautiful essential oil diffuser that looks more like a décor piece, this is a really lovely cozy gift. Load up your favorite Aromatherapy Associate scent and allow The Atomiser to fill the room with relaxing or uplifting aromas. It's a Team My Imperfect Life favorite and the perfect gadget to create a cozy atmosphere at home.
---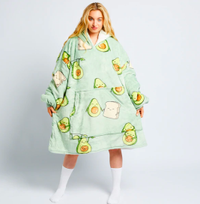 10. The Oodie
RRP: $109/£89
The holy grail of loungewear, every person who enjoys a comfy night in needs one of these in their wardrobe. Sure, they might look a bit unusual, but an oodie (an oversized, wearable blanket) is incredibly soft, warm and is the perfect way to get uber-cozy snuggled up on the sofa. At the official Oodie store, you can get yours in a variety of colors or cute prints (we love the avocado option). This is a gift your recipient will practically live in during winter.
---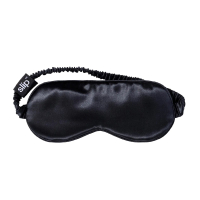 11. Slip Silk Sleep Mask
RRP: $50/£50
A truly indulgent sleep essential, a silk eye mask is one of the best cozy gifts, and a great way to help your loved one lull themselves into the coziest part of the day—bed time!
This pick from Slip is a little pricey, but it's worth the splurge; it's made from 100% mulberry silk, guaranteeing it'll be gentle on your eyes, face and skin. It comes in 12 different colors, too.
Christina Izzo is the Deputy Editor of My Imperfect Life.
More generally, she is a writer-editor covering food and drink, travel, lifestyle and culture in New York City. She was previously the Features Editor at Rachael Ray In Season and Reveal, as well as the Food & Drink Editor and chief restaurant critic at Time Out New York.
When she's not doing all that, she can probably be found eating cheese somewhere.
With contributions from