Cozy gifts that'll keep you and your favorite people comfy all season
From warming candles to soft robes, these are the best cozy gifts to shop this Christmas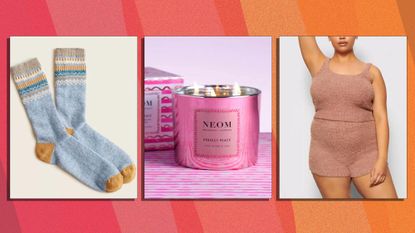 (Image credit: J Crew / Neom / SKIMS )
We're saying it: cozy gifts are the best Christmas gifts. There really is nothing like receiving something that amplifies your comfort, especially now that we're all spending so much time at home.
This year, we'd recommend swapping out all those extravagant tech and experience gifts for something to be enjoyed at home on a cold, dark winter night, from the best scented candles and wellness gifts to chic loungewear and pajamas. In a year filled with even more crazy chaos and anxiety, all we really want to feel is calm and relaxed as we enter 2022, and what better way to do that than in a cozy environment?
Help your friends, family and loved ones create just that by giving them a cozy gift this Christmas. To help you get started, here's some gift inspiration that'll no doubt put a smile on anyone's face, be it your mom or a colleague.
The best cozy gifts to shop this Christmas:
1. NEOM Perfect Peace Scented Candle
This three-wick candle is all about bringing good vibes into your home. Created with a fresh Nordic scent blended with pine, myrrh and lime peel, as well as 22 other essential oils, it swaps stress and tension for a calm, soothing atmosphere. The candle isn't just cozy but festive too, making it perfect for Christmas.
$52.50 at NEOM (opens in new tab)
£46 at NEOM (opens in new tab)
2. Joules Pombury Ballet Slippers
Is there anything cozier than a good pair of slippers? This gorgeous ballet-inspired pair by Joules are both soft and chic, making sure you relax at home in style. Made with a velour shell and faux-fur lining that'll keep your feet warm and toasty all winter, the slippers are available in different shades including soft pink and pale blue.

$34.95 at Zappos (opens in new tab)
£19.95 at Joules (opens in new tab)
3. SKIMS Cozy Knit Set
You know we love us some comfy loungewear, and SKIMS has some of the best. Available in nine neutral shades, this tank-and-short matching set (there's also a robe if you really want to go all out) is made with soft boucle yarn for maximum coziness.
Short $58 at SKIMS (opens in new tab), tank $52 at SKIMS (opens in new tab)
Short £‌63 at SKIMS (opens in new tab), tank £‌57 at SKIMS (opens in new tab)
4. The Hygge Game
If reading about the Danish concept wasn't enough, then playing a game all about it might just be what you need to incorporate 'hygge' into your lifestyle. Hygge is all about enjoying the good things in life and being present in them and this cozy game is the ultimate way to do that. It contains 110 cards with more than 300 thought-provoking questions designed to spark meaningful conversation and create the right atmosphere for a hygge evening with friends or family.
$20 at Amazon (opens in new tab)
£25.62 at Amazon (opens in new tab)
5. Brooklinen Weighted Throw Blanket
Weighted blankets are one of the best sleep aid products around, whether you want a full-night snooze or just the greatest couch-nap ever. This 12-pound quilt is made of breathable cotton and an interior layer of eco-friendly tiny glass beads to ground you and support your snoozing.
$169 at Brooklinen (opens in new tab)
6. Boden Cashmere Hot Water Bottle
Everyone needs a hot water bottle, and not just when it's our time of the month. It's the coziest thing to cuddle up with whilst watching Netflix, reading a book or even just lounging around, especially in the cold, dark winter months. This luxury cashmere hot water bottle feels as good as it sounds and is an excellent way to show a loved one you care about their comfort.
$80 at Boden (opens in new tab)
£55 at Boden (opens in new tab)
7. J. Crew Cozy Fair Isle socks
Now that we're all staying in so much, our main wardrobe essentials have become loungewear pieces with cozy comfort at the heart of every purchase. That's why these festive, lambswool socks by J. Crew make for the perfect Christmas present. Not only are they soft and warm, but the design and print are super cute, too!
$24.50 at J. Crew (opens in new tab)
8. Etsy Personalized Mug
Any gift with a personalized touch makes it all the more special, and what is cozier (and useful) than a nice mug with your name on it? For the coffee addict or tea-time lover in your life, this cute customized mug from Etsy would make a lovely Christmas gift or stocking filler.
$9.69 at Etsy (opens in new tab)
Sagal is a journalist, specialising in lifestyle, pop culture, fashion and beauty. She has written for a number of publications including Vogue, Glamour, Stylist, Evening Standard, Bustle, You Magazine, Dazed and Wonderland to name a few.