The best Lululemon Black Friday deals, including $750 off the popular Lululemon MIRROR
The Lululemon Black Friday sale is LIVE—snap up new sports bras, leggings or the smart mirror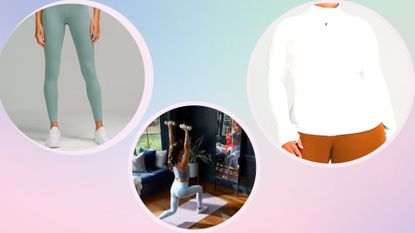 (Image credit: Lululemon)
It's one of the first brand names that come to mind when you think of activewear, so no wonder the Lululemon Black Friday sale is one of the best places to get your hands on leggings and other workout faves for significantly less this time of year.
Home to some of the best workout clothes around, the chic sportswear brand is set to slash its prices once again this Cyber Weekend following the success of previous annual sales. The Lululemon MIRROR Black Friday discount even puts a hefty markdown on the brand's buzzy smart mirror, set at nearly 50% off (we've tried the mirror hands-on too to make sure it's worth the money for our Lululemon MIRROR review).
We found the best discounts in the 2022 Lululemon Black Friday and Cyber Monday sale so you can shop the best deals—go on...
The best Lululemon Black Friday deals in the US
The Lululemon US sale is fully underway, with discounts up to 77% percent on their iconic leggings, sports bras starting at $29 and the TikTok-viral BBL jacket (the Define jacket (opens in new tab)) almost 50% off.
As mentioned, that Lululemon MIRROR—usually priced at $1,495—can now be a techy addition to your home gym for the cool price of $745 during Black Friday with the promo code "BLACKFRIDAY22" at checkout.
Where to look for Lululemon Black Friday deals in the US
The best Lululemon products to shop in the US Black Friday sales
Lululemon MIRROR Black Friday deals
But that's not all, as the discounts aren't just limited to the brand's cult favorite workout wear. As we already mentioned, the newer addition to the Lululemon family, the Lululemon MIRROR, has already been significantly discounted for early bird shoppers.
Right now each package, from the most basic to the top-level bundle, is a ginormous $700 dollars off the usual full price tag. This includes the usually $1,495 MIRROR Basic option, to the normally $2,345 Family plan, which includes Lululemon fitness accessories like foam rollers, yoga blocks, heart rate monitors, etc.
The best products to look out for in the UK Lululemon Black Friday sale
The Canadian activewear brand isn't just available in North America, of course. Lululemon is one of the best-loved workout gear brands in the UK, too, and Brits can now get their hands on the same Lululemon Black Friday discounts as US shoppers.
Where to look for Lululemon Black Friday deals in the UK
The best Lululemon products to shop in the UK Black Friday sales
When is the Lululemon Black Friday sale?
The Lululemon Black Friday sale normally started on actual Black Friday (November 25). Cyber Monday falls on the Monday following Thanksgiving in the States, capping off Cyber Weekend.