Taraji P. Henson is celebrating Black History Month her own way
The actress is sharing her must-buy Black-owned brands to honor Black History Month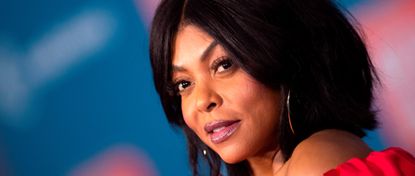 (Image credit: Valerie Macon/Getty)
Taraji P. Henson has been finding her latest inspiration in home decor—the Empire actress revealed her newfound interest in interior designing as she celebrated Black-owned brands on her Instagram ahead of Black History Month.
Since the start of February, which is Black History Month in the states, Henson has shared her favorite aesthetically-pleasing companies that are run by Black owners and offer a wide range of artistic products. Henson has dedicated days to appreciating Black-owned companies across various categories, from makeup and skincare to food and drink, home decor to wellness.
February 11th was spent spotlighting POC-run decor and design brands, as Jenson told her followers: "Today is all about Home, decor, and living 🏡 ."

Henson featured Clare paint, a brand that offers zero VOC paint (that means they're made without the toxic carbon-based solvents), and Claude Home, a vintage-inspired furniture and design store offering minimal, architectural pieces that make every decorating choice stand out.
The Hidden Figures star also showed love to Bolé Textiles, designed in Brooklyn and handwoven in Ethiopia, which provides staples like throw pillows, table linens, bath mats, and more that aren't overdesigned, giving key pieces space to breathe. Rounding out the bunch are PUR HOM's sulfate-free multipurpose cleaners and detergents, and Aya Paper Co.'s 100-percent recycled stationery and inspirational wall art.
Henson's decor recommendations come at a good time—after all, we've recently found that interior design like wall color choice can impact our mental and physical health. Design changes the way we interact with our environment and all the things that are in it. Home decor can offer pleasure and joy, but it can also literally improve our quality of life.
So, if you've been reimagining your environment hoping that it becomes a space that nurtures you, why not try Taraji's recommendations? Add a few hygge home pieces or some of the best scented candles, and you'll instantly have a space you'd love retreating to.
Since December 2020, Kudzai has worked as a trainee journalist at FUTURE, writing about fashion, entertainment and beauty content for My Imperfect Life.

Kudzai previously worked as a freelance fashion wardrobe stylist, directing magazine photoshoots and coordinating the fashion direction of recording artists.

A fully qualified Journalism and Media graduate from De Mont Fort University, Kudzai graduated in the summer of 2020.