People are going crazy for a TikTok video that shows how often we should clean our hairbrushes
How often do you clean yours?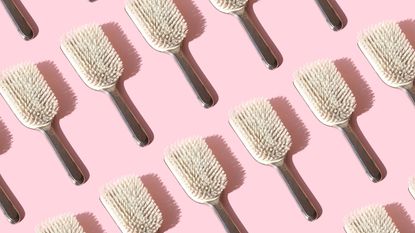 (Image credit: Getty Images)
We love a good hair hack, from ways to fake fuller locks for fine-haired ladies to cool styles to try out, from chic bob hairstyles to bouncy bubble ponytails.
However, most of us barely give a second thought to our hairbrushes, let alone how clean or dirty they are. But now a viral TikTok video is making us feel guilty about how much we've neglected them over the years.
The video, by Jessica Haizman, shows us just how often we should we washing them—and also how thoroughly.
In the quick clip, the cleaning guru, who has nearly 100K followers, tells us that we should be cleaning our hairbrushes every two weeks. And by cleaning, she doesn't just mean pulling out those loose hairs.
Haizman, who has an array of helpful TikTok videos, reveals that if we don't clean our brushes often then we're just putting the dirt and build-up of products back into our hair when we brush it. Eek!
The home-tips guru starts the video by teasing out hair from the brushes with a comb and then lets them soak with baking powder and shampoo, in order to work out any leftover product.
The video shows the water immediately going brown, while Haizman remarks: "I don't even dye my hair or use that much product."
@jessicahaizman

It takes a bit of effort but this works! 🙏##cleaning ##deepclean ##deepcleaning ##airpods ##cleaningvideos ##howtoclean ##learnsomethingnew ##amazonmusthaves

♬ Sugarcrash! - ElyOtto
The TikTok personality goes on to admit that the brown murky water is actually from the dirt which has been collected in her brushes over the last two weeks.
After she's given her brushes a clean in the now-dirty water, Jessica rinses them, and then lets them air dry before she uses them again.
What an eye opener—we're off to clean our hairbrushes ASAP!
Freelance lifestyle journalist for @BBCBusiness @Womanandhome @ESlifeandStyle @TheIndyBest / co-host of @getajobpodcast and founder of PR secrets. I specialise in health and wellbeing, travel, business, human interest, beauty, and in-depth features.