Hair experts warn this popular TikTok hack is doing more damage to our locks than good
The TikTok perfume hack poses a serious safety hazard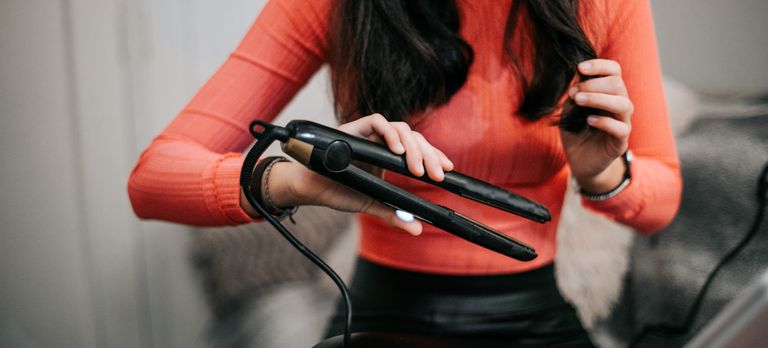 (Image credit: Getty)
Good TikTok hacks are simple and easy to incorporate into our everyday routines, but not all hacks are created equally. The latest TikTok beauty trend is the "perfume hack," which is supposed to change your hair color using your favorite feminine fragrances and a hair straightener.
While TikTok users may be using this trick to cut down on hair appointments, it's actually doing more damage to your hair than good, according to hair experts.
What is the TikTok perfume hack?
Users on TikTok are ditching hair dye and instead have been spraying perfume onto a hair straightener before applying it to their hair. Once the hair straightener has been applied to their strands, it results in that section of hair changing color.
Saving time and money is always a plus, but in this case, Nicole Petty—a haircare expert at Milk + Blush—advises that people avoid attempting the TikTok perfume hack at home.
"Not only will this not work as an effective way of noticeably changing hair color, doing so will inevitably cause damage and could lead to hair loss if it's already in a fragile state," explained Petty.
The hack also poses a safety threat, as perfume is made with alcohol and when combined with the heat from a hair straightener, can pose a major fire hazard.
"Ethanol, which is the primary alcohol used in perfumes, has a flashpoint of approximately 16 degrees Celsius. Considering most hair straighteners can get up to around the 200 degrees Celsius mark, it's clear to see how this hack could easily become a fire hazard," said Petty.
Instead of using this TikTok perfume hack, Petty recommends trying a hair chalk or color spray if you're looking to temporarily switch up your look.
"Alternatively, get in touch with your hairstylist, who can best advise on how to refresh your color and avoid long-lasting damage," advised Petty.
Other TikTok hair trends to try instead:
Since lockdown prevented us from rushing to our hairdresser for styling advice, social media was our only other alternative for hair inspiration.
OnBuy.com researched the top hair trends on TikTok and found that 2.8 billion people have viewed videos about braids and woven hairstyles. The most surprising trend finding, though, was that going "au natural" has been the second most-searched trend with 2.4 billion views, while another 495.5 million people have watched videos about curtain bangs.
Next time you're scrolling through social media, take a look at one of these trending styles to test out this summer and stay far away from the TikTok perfume hack!
Rylee is a digital news writer for woman&home and My Imperfect Life. When she's not writing, you can find her thinking about her next travel destination or testing out the latest fashion trends.