Jennifer Aniston and David Schwimmer were crushing on each other during 'Friends' and fans are losing it
Rachel and Ross—but also Jennifer Aniston and David Schwimmer—really were in love!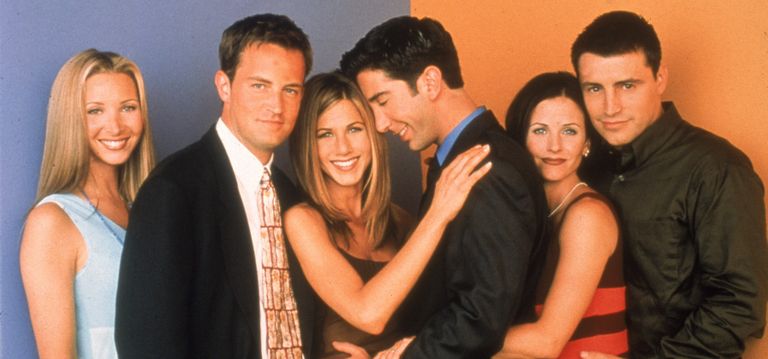 (Image credit: Fotos International|Getty)
OH. MY. GOD. Looks like Jennifer Aniston, David Schwimmer's longtime TV love, didn't have to be terribly convincing in front of the camera all those years. It turns out that the fictional on-again, off-again romance between Rachel Green and Ross Geller wasn't so fictional after all, and Friends fans are having a conniption over the news.
During the taping of the Friends reunion 2021, David Schwimmer admitted that he had real feelings for Jennifer Aniston...and it was mutual! Host James Corden tried to get the scoop out of Jennifer Aniston, David Schwimmer, and the rest of the cast when he insisted that there had to be some sort of real-life chemistry between the actors.
Aniston bites—barely—and allows Schwimmer to the honors of spilling the tea.
"I mean, the first season, I had a major crush on Jen. At some point, we were crushing hard on each other," he said. "But it was like two ships passing because one of us was always in a relationship and we never crossed that boundary. We respected that."
Matt LeBlanc, the fabulous Joey Tribbiani, wasn't entirely convinced with this reveal.
"Bulls****," he joked.
Watch the Jennifer Aniston David Schwimmer reveal
The plot thickens: Apparently, the two would sneak in some PDA when there were breaks between scenes.
"When we had breaks from rehearsal, there were moments where we would cuddle on the couch," Schwimmer said.
"We would spoon and fall asleep on the couch," Aniston added.
Fans react to Jennifer Aniston David Schwimmer crush
We're not entirely sure we'll ever be able to look at these two the same way again, you? Since we are technically reliving 2004 (hello Bennifer—it appears Jennifer Lopez and Ben Affleck are dating), can we cut back to the Friends finale where Rachel famously gets off the plane and returns to Ross? Can we get this to happen in real life?!
The Ross-Rachel romance isn't the only big reveal we can look forward to ahead of the Friends: Reunion (which drops today, May 27th, on HBO Max). Aniston shared her thoughts on Rachel Green and what the iconic character would be up to today, and it appears she has high hopes for her.
Jennifer said in an interview with People: "I would like to have maybe started a clothing line of my own, and it's sort of a small franchise."
Meanwhile, Courteney Cox dished on the making of Friends and got into some nitty-gritty details, particularly about the opening credits. While on The Ellen DeGeneres Show, Cox admitted that filming the fountain scene was kind of painful.
"We were in that fountain for a long time," she told the talk show host. "I don't know who—somebody thought that would be really fun, and let me tell you what happens, it's not fun to be dancing in a fountain for hours and hours."
In classic Chandler fashion, Matthew Perry noted just how much fun he had prancing around the fountain.
"I remember Matthew Perry saying at one point, and we didn't know each other that well at that point, but I remember—and this was so Matthew—but he was like, 'Can't remember a time that I wasn't in this fountain," Courteney joked.
Be sure to tune in on HBO Max for the full scoop!
Danielle is a news writer for woman&home and My Imperfect Life. When she's not working, you can find her experimenting with new recipes or sitting on the couch with a good book and a cup of coffee.