When did Target open? A cameo in 'Candy' on Hulu has TV fans confused
The '80s-set show references the beloved retailer, leaving viewers wondering when did Target open?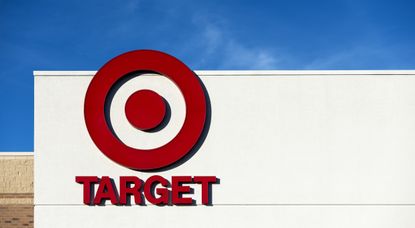 (Image credit: John Greim/Getty)
Hulu's new true-crime series Candy is based on a shocking true story, and thus real-life elements are sprinkled throughout the show's five episodes. One such reality check is the inclusion of one of our favorite stores/hobbies/hangout spots: Target.
Yes, the retail chain makes a cameo in the first episode of Candy, Jessica Biel's retelling of the 1980 murder of Betty Gore at the hands of her close friend Candy Montgomery. In the premiere episode, "Friday the 13th," Texan housewife Candy (Biel) can be seen taking her kids to Sunday school, setting up a Star Wars movie night for her family, and, oh yeah, stabbing her friend Betty 41 times with an ax.
It's in coming up with an alibi for the latter that Target gets roped into things, with Candy saying she had to pick up a Father's Day card for her husband Pat. "I went to Target but saw my watch had stopped," causing her to lose track of time, Candy tells a fellow school mom and later her husband when they inquire about her whereabouts that day.
However, the Target name-drop left some Candy viewers confused as to exactly how long the store chain has been around. The answer may surprise you!
*Warning: spoilers ahead*
I'm watching Candy on Hulu & I kept hearing "Plano Target" which made me wonder IF I'm hearing what I want to hear or it's actually the Wylie murder story 😂May 11, 2022
See more
Ngl I thought miss mamas husband was in on the kill with Candy. Only the first episode so could be a twist, but she establishing that alibi lol reminding folks every chance she get that she didn't get out at target #CandyOnHuluMay 10, 2022
See more
When did Target open in real life?
The series Candy takes place in 1980, with Candy Montgomery repeatedly referencing a Plano location of the store chain. If that seems anachronistic to you, it's not: the first Target discount store opened in Roseville, Minnesota, a suburb of Minneapolis, on May 1, 1962.
The brand expanded nationwide in the 1980s, which means it's entirely plausible that there was a nearby Target location at which Candy Montgomery could buy a Father's Day card—you know, if she hadn't been busy killing someone.
Y'all know I love my Target! https://t.co/pKe1ulWMZCMay 11, 2022
See more
Now that that question is answered, check out some of the most-asked queries fans have about the series: why did Candy Montgomery kill Betty? Where is Candy Montgomery today? And where is Allan Gore today?
There will undoubtedly be even more questions as the last few episodes of Candy air on Hulu through Friday, May 13.
Christina Izzo is the Deputy Editor of My Imperfect Life.
More generally, she is a writer-editor covering food and drink, travel, lifestyle and culture in New York City. She was previously the Features Editor at Rachael Ray In Season and Reveal, as well as the Food & Drink Editor and chief restaurant critic at Time Out New York.
When she's not doing all that, she can probably be found eating cheese somewhere.