Are those 'White Lotus' cowboy theories actually right?
Here's why fans are freaking out about that 'White Lotus' cowboy moment from episode 6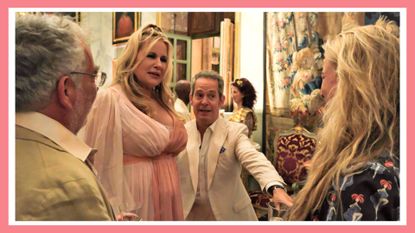 (Image credit: Fabio Lovino/HBO)
We're getting down to the final episodes of The White Lotus season 2 and the penultimate episode, titled "Abductions," just threw yet another wrench in the messiness and mysteries of the show's Sicilian vacation.
Having been wined and dined by her new gaggle of British gays, Jennifer Coolidge's Tanya is the guest of honor at a party thrown by Quentin (Tom Hollander) at his Palermo palazzo. After partaking in some, uh, party favors with boy toy Niccolò (Stefano Gianino), Tanya stumbles across one of Quentin's personal photos, a snap of two cowboys: a younger Quentin with someone who looks eerily familiar. But who is in the picture?
Many fans already think they've decoded the cowboy connection and unraveled how it fits into the main question of the season: who dies in The White Lotus? But are they right?
*Warning: spoilers ahead!*
Who is 'The White Lotus' cowboy?
It hasn't been confirmed just yet onscreen—we still have one more episode in The White Lotus season 2, after all—but that young cowboy next to Quentin in the photo sure does look like Greg Hunt (Jon Gries), Tanya's husband who has been acting plenty shady all season long.
Though Greg was all about Tanya during their Hawaiian excursions in The White Lotus season 1, in the second season, he's been notably distant with his new bride, locking himself in the bathroom to take mysterious private phone calls and leaving their Italian vacation early for business back in the states. We haven't seen the groom since episode three—and, curiously, Quentin and his crew came in to sweep Tanya off her feet during the very next episode.
In episode five, Quentin revealed that he's only been in love one time before: with a straight cowboy that he met while traveling the states some time ago. Is that young cowboy actually Greg? Fans seem to think so, with many believing that it's all a grift to get money out of the wealthy Tanya. We already know Quentin isn't entirely who he says he is—he's certainly not the uncle of Leo Woodall's Jack, given the, ahem, very intimate scene that Tanya walks in on at the end of episode five.
Are they planning on swindling Tanya out of her millions? Or worse?!
Fans speculate about 'The White Lotus' cowboy:
Here's what sleuthing The White Lotus viewers are saying on social media:
the cowboy that the uncle loves is tanya's husband and they're trying to get out of the prenup through getting her to cheat and taking her money that way. i don't think they'll die thankfully i want tanya in every white lotus season she's a queenDecember 5, 2022
See more
Final #WhiteLotus predictions: Euro gays are cash poor and have been hired by Greg to kill Tanya. They attempt on the boat ride but don't succeed. Greg is the straight cowboy from Wyoming.Cam and Daphne's children are actually the trainer's kids. Cam is running a Ponzi schemeDecember 4, 2022
See more
White Lotus. Theory evidence:Greg was visibly annoyed that Portia had come along on the vacation.Greg also needed to 'freshen up' before they had sexnat the beginning of the season- I think he had to take viagra because we all know he is the cowboy.#WhiteLotus #HBODecember 4, 2022
See more
We all saw young Greg in that photo right? The Wyoming cowboy is HIM #WhiteLotusDecember 5, 2022
See more
everyone who believed the wyoming cowboy theory when tanya picked up that picture and saw quentin with her husband greg #WhiteLotus pic.twitter.com/MutzOYeRXxDecember 5, 2022
See more
Omg homeboy is a male prostitute that the gay guy hired to seduce Tanya so he could tape it or something and show her husband, who he is in love with because he's the same cowboy that the gay guy fell in love with when they were young!!! #WhiteLotusDecember 5, 2022
See more
Rewatching ep 1 of white lotus. I think the cowboy is the baldie husband and I think he wanted coolidge to come alone so he could 💀 her. I think blonde wife n slut husband commit evils together, i think they want to fk with their counterparts just for weirdo rich ppl funsiesDecember 5, 2022
See more
GREG!!!! Cowboy Greg!!! #WhiteLotus pic.twitter.com/bOMOQaixyVDecember 5, 2022
See more
Christina Izzo is the Deputy Editor of My Imperfect Life.
More generally, she is a writer-editor covering food and drink, travel, lifestyle and culture in New York City. She was previously the Features Editor at Rachael Ray In Season and Reveal, as well as the Food & Drink Editor and chief restaurant critic at Time Out New York.
When she's not doing all that, she can probably be found eating cheese somewhere.