This is the age women will reach their peak salary, says study
Have you reached your peak earnings yet?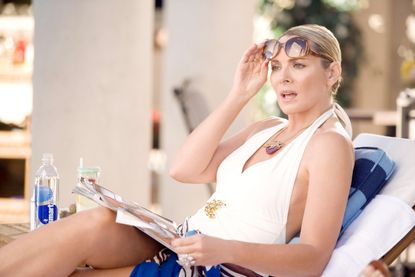 (Image credit: Alamy)
It can be intimidating to think about and strategize over how to get a pay raise or how to get a promotion at work, especially during a pandemic, and money-saving challenges can be, well, challenging!

It's normal to feel like you need to have all of your finances worked out right now. In fact, according to a new study by TotalJobs, women in the U.K. reach their peak earnings, or highest salary, at work at age 40, four whole years earlier than their male counterparts do.
At age 21, women's average earnings are higher than men's, but after that, men's earnings start to outnumber women's. Research by Totaljobs also discovered that men's "max earnings" would be £8,000 higher than women's.
This pay gap is unsurprising, considering that childcare and a lack of flexible job structures that can help working moms succeed have negative impacts on women's career prospects. "An individual's 'peak' is heavily influenced by a combination of factors, such as gender, region, age, education, and experience," says Jon Wilson, CEO of TotalJobs. But gender is the factor that has the biggest impact on both when and at what salary an individual peaks.
Wilson's statement continues: "Finding the balance between achieving the right salary at the right time for personal priorities can be a real challenge, and workers are often navigating salary negotiation without really knowing what is fair and what they are worth." Along with their top wages, women's salary expectations overall are typically significantly lower than men's, found the study. On average, male workers ask for an average 29-percent more than their women counterparts when they start a new position. And though women may receive the same amount of pay raises as men, the amount within those raises is wildly different—almost £500 less, in fact.
While laws have been put in place throughout the U.K. to close the gender gap—pay disparity remains at 15.5-percent—"more transparency" is needed in the workplace when it comes to negotiating wage targets, annual incentives, and future income opportunities, says Jon Wilson.
Wilson insists: "This is particularly important for women, who, as our data shows, are experiencing sizeable pay gaps and peak earnings faring far below that of men."
Wilson continues: "The only way out of this long-standing problem is for employers to genuinely commit to initiatives like fair pay audits." He insists that "transparency on pay and bonuses, as well as the elimination of any biases that can affect an individual's chances of a good career path" would help women earn higher salaries.
Since December 2020, Kudzai has worked as a trainee journalist at FUTURE, writing about fashion, entertainment and beauty content for My Imperfect Life.

Kudzai previously worked as a freelance fashion wardrobe stylist, directing magazine photoshoots and coordinating the fashion direction of recording artists.

A fully qualified Journalism and Media graduate from De Mont Fort University, Kudzai graduated in the summer of 2020.