5 best sunscreens for dry skin that hydrate and protect all year round
You need to compromise when it comes to the best sunscreens for dry skin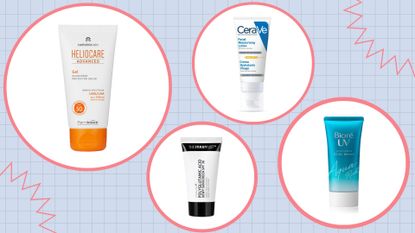 (Image credit: Heliocare/CeraVe/The Inkey List/Biore)
As anybody with dry skin knows, the best sunscreen for dry skin has to be both hydrating and nourishing—but, ideally, you don't want anything that feels too thick, heavy, or greasy on the skin. And while it might feel like the perfect product doesn't exist, we're here to prove that, actually, it does.
The importance of using sunscreen every day shouldn't be underestimated. It's one of the most effective products you can use when it comes to protecting your skin against ageing and getting into the habit of wearing it each and every single day (even when the sun isn't shining) is one of the very best things you can do for the overall health of your skin.
So, to help you cut through the noise (and the seemingly endless selection of products now available) our expert beauty contributor at My Imperfect Life has sifted through a whole host of formulas in order to find a selection of the best face sunscreens for dry skin.
Meet the experts on sunscreen for dry skin
Dr Emma Wedgworth is a consultant dermatologist and Heliocare brand ambassador. After graduating with a 1st class degree from Cambridge University, she went on to specialize in clinical dermatology. She has a vested interest in sun damage and a passion for healthy skin.
Dr Catriona Maybury is clinical lead at Dermatica, a prescription-based skincare brand. She is a consultant dermatologist with a focus on medical dermatology, and her role at Dermatica involves research, clinical practice, and editorial work.
How we tested the best sunscreens for dry skin
A good sunscreen for dry skin shouldn't be hard to use. Instead, it should be lightweight but nourishing, it shouldn't feel greasy or clog pores, and ideally, it will blend seamlessly into skin without leaving a white cast in its wake.
When choosing the products to test, I used a combination of my own personal—and previous—experience, looking at both new launches and older ones. I tested each one for around a week, ensuring the products I used over and under remained the same in order to ensure a fair trial. Of course, the best sunscreen is the one that makes you want to use it every day, but when I was testing these, I took note of:
Price point
Texture
How easily it applied
Whether it left any trace on skin
How well it sat underneath makeup and on top of skincare
How nourishing it felt
I also spoke to two consultant dermatologists and took note of what they would expect to see in the best sunscreens for dry skin, to see if this aligned with each product I tried. Dr Wedgeworth says it's best to avoid sunscreen with high alcohol content: "Instead, look for hydrating formulations with ingredients such as glycerin, which helps to boost the skin barrier function."
Meet the tester
Meet the tester
Lucy Partington
My skin sits at the drier end of the spectrum, although it is also breakout and acne-prone, and I have mild rosacea. Sunscreen is one of my favorite parts of skincare, and over the years I've tried hundreds of different buys—for me, a good sunscreen is lightweight but hydrating, non-greasy, and invisible once blended in, plus it must play well underneath makeup. I'm passionate about finding affordable and effective formulas that make them accessible to everybody.
Best sunscreens for dry skin as reviewed by a beauty expert
1. Heliocare Advanced Gel Sunscreen SPF 50
Best dermatologist-recommended sunscreen for dry skin
Specifications
RRP : $31.50 for 50ml
Skin type : Normal to dry
Additional benefits : Oil free, uses mineral and non-mineral filters, contains glycerin
Reasons to buy
+
Lightweight
+
Hydrating
+
Dermatologist-recommended
Reasons to avoid
-
There are more affordable buys
Heliocare is every dermatologist's best-kept secret, and it's for that reason that I really like—and trust—the brand. This is also Dr. Emma Wedgeworth's pick of the best sunscreen for dry skin. "It's hydrating yet lightweight and contains glycerin," she says. It contains high-level UVA and UVB protection, and it's formulated to help protect and repair DNA.
Personally, I love the rich, nourishing texture—it's not in the slightest bit greasy and it's really easy to blend into the skin. I also liked that it had a slight peachy tone to it—it doesn't add color or coverage to the skin, instead, it helps prevent any white cast. I really liked how it made my skin feel, and it dried down to a lovely finish that helped prepare my skin for the best foundation that I applied over it.
2. Paula's Choice Youth-Extending Daily Hydrating Fluid SPF 50
Best sunscreen for dry skin with SPF 50
Specifications
RRP : $37 for 60ml
Skin type : All
Additional benefits : Soothes and calms redness and sensitivity, contains an antioxidant blend to protect against environmental aggressors
Reasons to buy
+
Layers well with other products
+
Water-light texture
+
Soothing formula
Reasons to avoid
-
Not especially nourishing
This is probably the least nourishing of the sunscreens that I tried, but the lightweight texture, added antioxidant protection, and its mattifying properties meant I really loved using this. Despite not being quite as moisturizing as some, I found it layered really well with my usual best moisturizer on the days when I felt like my skin needed a little bit more nourishment—mostly on the days after using my prescription-strength tretinoin.
The water-like texture is a joy to use, and it blends into the skin like a dream without leaving a white cast. It does feel slightly tacky immediately after application but that dissipates after a few minutes and leaves skin matte but not flat. I like that it also contains oat extract to help soothe skin, while green tea works to calm down any redness.
3. CeraVe Facial Moisturizing Lotion SPF 50
Best sunscreen for dry acne-prone skin
Specifications
RRP : £16.50 for 52ml
Skin type: All
Additional benefits : Contains ceramides for long-lasting moisture, plus it's formulated with niacinamide and vitamin E
Reasons to buy
+
Affordable
+
Non-greasy and non-comedogenic
+
Great for sensitive skin
Reasons to avoid
-
Only available as SPF 30 in the US
I love how affordable and efficient CeraVe is as a brand, and this SPF 50 lotion is exactly that. It ticks all my sunscreen boxes, and I particularly like just how nourishing—but not greasy—it feels on my skin. This is the most lotion-like formula so it's a bit thicker than the others, and it does take a little bit of rubbing so don't worry if it looks quite white on initial application, just keep rubbing and it will eventually leave skin looking dewy and hydrated. Like all CeraVe products, it contains the brand's blend of three ceramides, which work to lock in much-needed moisture, and its patented MVE technology means it is able to deliver hydration throughout the day.
The addition of skin-soothing, all-round hero ingredient niacinamide is excellent, and I like that it's also formulated for sensitive skin, so it doesn't contain any ingredients that may irritate. Plus, it's non-comedogenic so it doesn't clog my pores.
4. Bioré UV Aqua Rich Watery Essence SPF 50
Best sunscreen for dry skin
Specifications
RRP : $17.88 for 50ml
Skin type : All
Additional benefits : Sheer finish, contains glycerin and hyaluronic acid
Reasons to buy
+
Comfortable to wear
+
Lightweight and silky texture
Reasons to avoid
-
Can take a while to rub in
One of these sunscreens sells every 15 seconds, and I can see why, though I do have to admit I was a bit skeptical before trying it. The reason being that Bioré is famed for its pore strips (which I would never, ever use). So I, somewhat naively, assumed that a product from the brand couldn't possibly be any good—but I was wrong to be worried. This sunscreen is truly incredible: I love the lightweight, silky, gel-like formula and it felt fresh on my skin as I applied it. It did take a while to rub it in, and I was worried it was going to leave a white cast at first but it did eventually disappear into the skin and ended up being super comfortable to wear—in fact, I barely even knew it was there. If you're using the two-finger method to apply the right amount, I would suggest applying one finger at a time and layering it up to help it absorb more quickly.
I did notice that alcohol is the second ingredient listed—I could smell it whilst applying—which is something that Dr Wedgeworth warned against, but the fact it's combined with glycerin, hyaluronic acid, and vitamin E means it doesn't feel drying at all. It played exceptionally well with my other skincare, and acted as a great base for makeup, too. It's a new firm favorite for me.
5. The Inkey List Polyglutamic Acid Dewy Sunscreen SPF 30
Best makeup-friendly sunscreen for dry skin
Specifications
RRP : $14.99 for 50ml
Skin type: All
Additional benefits : Primes skin for makeup application, promises instant hydration
Reasons to buy
+
Doesn't pill
+
Affordable
+
Very moisturizing
Off the bat, I do wish this was an SPF 50—although SPF 30 is the minimum protection level experts would recommend, I always prefer to go higher just to be on the extra safe side and, really, there's never really an excuse not to. However, my own personal preferences aside, there's no denying that this is a great formula, especially for the price point.
I like that it's being marketed in an appealing way—who doesn't want a product that preps skin for makeup application and leaves it looking dewy? And it really does deliver on its promises. It doesn't pill, and it contains a trio of hydrating ingredients—polyglutamic acid, glycerin, and squalane—which helps to keep skin loaded with moisture without looking greasy or feeling heavy. I also really loved how it made my skin look once it was rubbed in, so it was the perfect choice for those no-makeup-makeup days, too.
Lucy Partington has been a beauty journalist for eight years, writing for titles including Stylist and Cosmopolitan. She's a true skincare nerd who's on a lifelong quest for a glowing complexion and loves nothing more than learning about new ingredients and products. She's obsessed with having perfect eyebrows and collecting eyeshadow palettes she'll probably never use.