Denman D3 brush review: is the 7 Row Styler the secret to the best curls ever?
The Denman D3 brush is the ultimate versatile brush for styling all curl types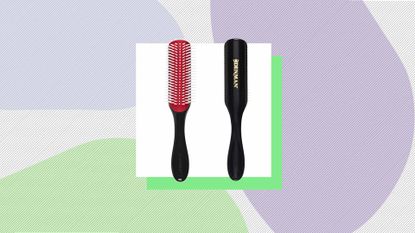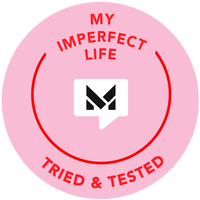 (Image credit: Denman)
My Imperfect Life Verdict
If you're looking for a brush to style your curls and coils and do a bit of light detangling, this is a great choice.
Reasons to buy
+

Excellent at forming curls

+

Saves time styling

+

Versatile for definition and heat-styling

+

Easy to clean
Reasons to avoid
-

Not to use for initial detangling
The Denman D3 brush is one of our favourite brushes for curly hair, but are you wondering if it's the best option for you?
This particular brush has been loved by the natural hair community and curly/coily-haired folk around the world for decades. They have a few variations with different number of rows so if you have thick hair you can opt for the 9 row styler or if you have shorter hair you can go for the 5-row version. The 7 row styler is the most popular because it suits the majority of curly densities and patterns. For hair like mine, (mid-length natural coils) the 7 row styler works perfectly.
In terms of pricing, the Denman D3 doesn't vary too much in price online - it's super-affordable but doesn't feel cheaply made and if you look after it, it'll serve your curls for years.
What type of hair does the Denman D3 Styler work best for?
This brush genuinely is great for all hair types. From bone straight to 'Z' shaped kinks. Whether you want to stretch your coils or you want to rake leave-in conditioner through your curls, this brush can help. A handy, secret trick is, if you want to make raking through product easier, you can make the brush more comb-like by popping the rubber-base out and removing a couple of rows.
If you have type 2 to 3 ringlets you can use this brush on freshly-detangled hair to create uniformed ringlets. If you have type 4 hair you can use it to define your coils if you want to or you can simply use it to distribute products like curl cream or leave in conditioner through your strands.
Can you use the Denman D3 to detangle hair?
I wouldn't suggest using this for the initial detangling part after you've washed your hair. Because the teeth are so rigid, it will tear through knots if you aren't gentle with it, and curly/coily hair can be quite delicate in the first place. I use a wide tooth comb or a specific shower detangler to initially detangle my hair before applying product and brushing through with the Denman D3 in small sections. You can use this brush on dry hair that only needs a little bit of detangling when you're brushing through. Just make sure you're teasing it from tip to root though, working out any snags without causing any breakage.
How do you create definition with the Denman D3?
This is the best part about the D3. It's so good to use the create defined but natural-looking curls and coils that mimic the effective of finger coiling but takes less than half the time. Start with untangled, freshly-washed, wet (but not sopping) hair and section your hair in four to keep the parts you aren't styling out of the way. Then, take smaller vertical sections and brush through pulling your curls taunt, kind of like how you use the blade of scissors to curl a ribbon. That's how you define a curl with the Denman brush. Once you've done that to each section scrunch it upwards to encourage the curl even further.
Can you use the D3 with a hairdryer?
Definitely, the materials used in this brush are highly-durable so they can withstand higher heat settings so if you like to switch up your styles like I do you can easily blow-dry your hair with this brush too. The teeth help to stretch even the tightest coil to create a straight style and you can pull hair taunt so that you can knock out volume from the root to if you're after a very sleek look. The slim design means that the brush can be used for bending the ends I or out for a bit of bounce and lots of body too. Also don't forgot you can use this to define your curls and then diffuse dry your hair.
How long will a Denman D3 Styler last?
My last Denman brush lasted me for five years before I replaced it, and that was mainly because I didn't look after it very well towards the end, not cleaning it or drying it out. Remember the secret trick we spoke about above? That's your key to having a long-lasting Denman. To clean it properly to can pop out the cushion and pull out each row of teeth to wash them in warm water. This will remove product build up, hair and anything else lurking in there. Leave it to dry before putting it back together and your brush will honestly last you for years.
So should you invest in a Denman D3 Brush?
Considering how affordable this Denman D3 brush is and how long-lasting it's proven to be, it's definitely a great purchase for incorporating into your curly hair wash day. While you might not be able to do a heavy detangling session with this brush, this brush is great for all hair types and textures. It can do almost everything else that you need for versatile styling curly and coily textured hair from aiding in creating naturally uniformed curls to stretching out your mane for style switch up of you feel like it. And all this for under $10? How could we not recommend it...
Keeks is an award-winning digital & social content specialist a hair & beauty writer and a brand consultant. You can find her work in Cosmopolitan (in print and online), Refinery29, Harper's Bazaar, Woman and Home, Women's Health, My Imperfect Life, OK! Online and Hairdressers Journal