Murad Retinol Youth Renewal Serum review: does the No1 retinol product in the US really deliver?
The Murad Retinol Youth Renewal Serum review: does this product actually deliver what it promises?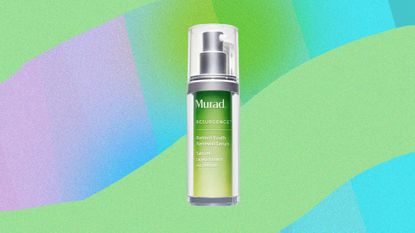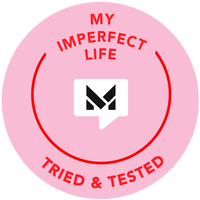 (Image credit: Murad)
My Imperfect Life Verdict
This high-tech formula soaks into the skin easily, is gentle enough for daily use but seriously delivers.
Reasons to buy
+

High-tech formula

+

Dermatologist-approved ingredients at significant concentrations

+

Results-driven

+

Pump prevents air from contaminating the retinol

+

Opaque bottle protects against sunlight

+

Clinically proven to improve the look of lines after 2 weeks
Reasons to avoid
-

Too potent for very reactive, sensitive skin

-

On the pricey side
When we learned that the Murad Retinol Youth Renewal Serum is the No1 retinol product in the US, we decided to put it to the test. And boy did it deliver as one the best retinol serums you can buy without a prescription.
There's always the danger when a dermatologist brings out their own line of non-prescription skincare that the actives will be significantly watered down. This has never been the case with Murad, which allows consumers access to high-tech, doctor-vetted ingredients at a mid-range price tag.
Dr. Howard Murad is a board-certified dermatologist, trained pharmacist, and Associate Clinical Professor of Medicine at the Geffen School of Medicine, UCLA, who has personally treated over 50,000 patients. So you could say that he knows a thing or two about skin. Dr. Murad's eponymous line distills his expertise into a wide range of products designed to tackle every skin woe from dark spots to wrinkles and acne. He's also a renowned pioneer in skincare formulation, being one of the first to use acids in products.
That same pioneering spirit applies to the Murad Retinol Youth Renewal Serum, which is powered by a potent retinol complex that accelerates cell renewal and encourages the skin to behave like its younger self but in a less aggressive manner than a lot of other retinol products.
To that end, Dr. Murad didn't just opt for any old retinol to improve fine lines, wrinkles, and pigmentation. The Murad Retinol Youth Renewal Serum contains Tri-Active Technology comprising a fast-acting retinoid (a retinol derivative, which is gentler than retinol), time-released retinol (it slowly drip-feeds a potent active into your skin while you sleep in order to minimize irritation and maximize visible results) and a booster to amplify retinol's ability to increase cell turnover.
---
---
Murad Retinol Youth Renewal Serum: the need to know
Targets: Fine lines, loss of firmness, hyperpigmentation but also acne
USP: Its Tri-Active Technology comprises three different types of retinol—a fast-acting retinoid, a time-released retinol, and a booster—for fewer side effects and a visible improvement to skin. Clinical studies by the brand revealed it reduces the look of wrinkles in just two weeks.
The science behind Murad Retinol Youth Renewal Serum
The different releases of retinol make it more tolerable for the skin. It combines the line-softening effects of retinol with hyaluronic acid, a humectant that draws moisture to the skin and is said to be so powerful that it can hold 1,000 times its own weight in water. Hyaluronic acid also plumps up the surface of the skin, helping to improve the look of wrinkles so you get a double-whammy effect. This is a solid ingredient pairing as the hyaluronic acid provides a buffer to any potential dryness caused by retinol. In those with acne, it also prevents a vicious cycle of parched skin followed by an overproduction of pore-clogging oil to compensate. Additionally, the extract of swertia flower (a medicinal flower from the Himalayas) increases the skin's elasticity. In clinical trials, 93% of users saw a reduction in lines and wrinkles; 98% noticed smoother skin, and 85% experience a boost in overall radiance.
How to use
At night apply a thin layer of Murad Retinol Youth Renewal Serum to the face and follow with a moisturizer. As with all retinol products, it's important to ease yourself in to avoid flaking, redness, or irritation—aka retinol uglies. So start by using the serum twice a week for the first two weeks and then build up to every other night for weeks three and four before switching up to daily use. It's vital that you wear SPF the following day as retinol makes skin more sensitive to UV damage.
Pricing
The recommended RRP for Murad Retinol Youth Renewal Serum is $89 / £75, which isn't cheap but is the average amount you can expect to pay for a mid-range doctor brand. The ingredients and highly scientific formula are dermatologist vetted and are still less expensive than an appointment with the man himself.
Who should buy Murad Retinol Youth Renewal Serum?
It's aimed at all ages—from those wanting to defend against future wrinkles, slackness and hyperpigmentation in their 20s to those experiencing the advanced signs of ageing in their 50s and 60s when oestrogen and collagen levels dip. As it's gentle enough for daily use but also powerful enough to make a visible difference to ageing skin, it's a good all-rounder for retinol virgins and those who regularly include actives in their regime. As for sensitive skin types, they may want to tread carefully to avoid flare-ups.
Murad Retinol Youth Renewal Serum: the verdict
This sheer cream absorbs almost immediately into the skin without any tackiness and feels pleasingly light. Despite being a doctor brand it doesn't smell too clinical with a soft fresh scent. The pump dispenser means you can dose accurately; two pumps is enough for the entire face. I started slowly with the serum, which paid dividends as my skin never felt overly dry but I did need to apply both a hyaluronic acid-based serum and a lightweight moisturizer under my sunscreen during the day.
All the more impressive was that the results of the Murad Retinol Youth Renewal Serum matched those of an entry-level prescription retinol that I've used in the past, albeit over a longer period of time but without the 'no pain no gain' experience.
Fiona Embleton is a multi-award-winning beauty editor who has tested over 10,000 products in her 10 years + of writing and shooting beauty stories. For the past four years, she was the Senior Beauty Editor at Marie Claire, having previously worked in the role of Beauty Editor at both Stylist and Cosmopolitan. She has recently gone freelance and alongside My Imperfect Life, she has written for titles including ELLE UK, ELLE Canada, Buro 247, Harper's Bazaar Arabia, Vogue Scandinavia, and ES Magazine. Beauty journalism allowed her to marry up her first-class degree in English Literature and Language (she's a stickler for grammar and a self-confessed ingredients geek) with a passion for make-up and skincare, photography, and catwalk trends. She loves jumping on the latest internet-breaking beauty news, dissecting the best red carpet looks, and having the crème de la crème of dermatologists, make-up artists, and hairstylists on speed dial so she can tap them for the best advice. She's a discerning beauty shopper and knows it can be confusing trying to navigate what's hype and what really works. So if she really likes something, you can trust that she has reached that opinion by vetting it against everything else she's ever tried. Her career highs? Interviewing Cate Blanchett and winning a Jasmine Award for the deeply personal feature Cancer Stole My Mother's Scent.