Vichy Mineral 89 review: a fresh hydrating formula that's perfect for sensitive skin
Our Vichy Mineral 89 review reveals whether this serum made with only 11 ingredients really soothes and hydrates sensitive skin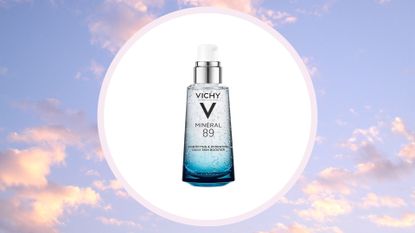 (Image credit: Future/Vichy)
My Imperfect Life Verdict
A powerful and affordable hydrator that leaves skin feeling smooth and plump
Reasons to buy
+

Great for sensitive skin

+

Delivers all-day hydration

+

Affordable
Reasons to avoid
-

Ever so slightly tacky at first
There's a very good reason hyaluronic acid is beloved by dermatologists and skincare formulators—and in our Vichy Mineral 89 review, we're taking a deep dive into one of the best hyaluronic acid serum options on the market, to help you decide if it's the right choice for you.
In a nutshell, hyaluronic acid (HA) is great at holding on to water and hydrating the skin. However, with age we stop producing as much of this molecule; so you may want to consider applying an HA-laced product like this Vichy serum, to plump the skin and introduce much needed moisture to the surface and deeper layers.
The beauty of the Vichy Mineral 89 serum is that it is made with just 11 ingredients, so you're not overloading sensitive skin. 89% of the formula (hence the name) is also given over to thermal water sourced from Vichy, France, which is packed with 15 minerals that are proven to soothe the skin and strengthen its barrier function.
Vichy Mineral 89 review—the need to know
Best for: All skin types, especially sensitive skin
Ingredients: Non-disclosed amount of hyaluronic acid. It also includes 89% mineral-rich thermal water and hydrating glycerin
Aim of the product: Designed to rehydrate and protect the delicate skin barrier
How long it will last: Used twice daily, the 50ml bottle should last around two months
Texture: Lightweight, gel-like texture
Is it scented? No added fragrance
A beauty editor's honest Vichy Mineral 89 review
Use—how do you use Vichy Mineral 89 serum?
The Vichy Mineral 89 can be applied twice a day after cleansing. Hyaluronic acid plays nicely with most other actives so when it comes to your skincare product order, you can follow with your usual serum if you choose, and then a layer of moisturizer and SPF.
The brand says you should use Vichy Mineral 89 on dry skin, but dermatologists often recommend applying a hyaluronic acid serum to damp skin because you're giving the HA added water to hold onto, rather than pulling moisture out of dry skin. The formula is safe to use on all skin types, and can be taken up around eyes without causing irritation.
Experience—how does the Vichy Mineral 89 serum feel?
The high thermal water content is reflected most in Vichy Mineral 89's texture, which feels almost as light as water, making it a winner for both oily skin types, and the rest of us on humid summer days. The fresh gel-like consistency leaves skin feeling slightly tacky the first first few minutes after applying, but this only adds to how instantly hydrated skin feels.
As the gel dries, it has a pleasing skin-tightening effect, which is particularly noticeable around the eye area and on crow's feet. The formulation is unscented, making it ideally suited for sensitive skin. Two pumps is all that's needed morning and night—one for the face and one for the neck and décolleté. I would say, though, that if you want skin care that targets wrinkles or hyperpigmentation, you may want to sandwich another serum between the Vichy Mineral 89 and your moisturizer/SPF.
Results—what does Vichy Mineral 89 do for your skin?
The goal I set myself for this Vichy Mineral 89 review was to see if one application in the morning would live up to the brand's promise of all-day hydration. I'm pleased to report that it does just that—something I put down to three factors.
Firstly, the star ingredient in this serum is sodium hyaluronate, a derivative of hyaluronic acid, which has a molecular structure that allows it to really plump up the top layers of skin. Secondly, the formula includes glycerin, another humectant and hyaluronic acid's budget-friendly cousin. And lastly, as mentioned previously, the Vichy Mineral 89 is packed with Vichy Volcanic Water, the brand's proprietary ingredient that is clinically proven to strengthen the skin barrier and lock moisture in. For this same reason, it keeps potential irritants such as pollen and pollution particles out, keeping sensitive skin on an even keel.
Value—is the Vichy Mineral 89 worth it?
Vichy Mineral 89 is a powerful and affordable hydrator. I also like the fact that this drug store product is so well suited to sensitive skin—especially how the thermal water contains zinc, manganese and potassium to take down skin redness and calm irritation.
On the flip side, the fact that is has 11 ingredients limits how many actives it can actually deploy into the skin. But perhaps those with sensitive skin may not want anything with more ingredients.
How it holds up
As mentioned, apart from hyaluronic acid for hydration, Vichy Mineral 89 is thin on any other benefits.
La Roche-Posay Hyalu B5 Serum also has a relatively minimalist formula, but delivers results with more than one type and size of hyaluronic acid molecule. It, too, contains calming thermal spring water, but it also has vitamin B5 and madeccassoside to boost collagen production.
Although it's more expensive, Drunk Elephant B-Hydra Intensive Hydration Serum additionally delivers provitamin B5 and pineapple ceramides to hold moisture, another hydrating complex in the form of watermelon rind, apple and lentil. It is also free from potentially irritating ingredients such as essential oils, drying alcohols, silicones and fragrance.
My Imperfect Life's verdict on the Vichy Mineral 89 serum
The first time I used this serum was a few months before writing this Vichy Mineral 89 review. My skin is exceptionally sensitive to retinol serums, but I'm always swung by its promise of improved tone and texture, so I'd gradually been introducing it into my routine. Despite the twice-weekly applications my skin soon felt papery and raw; applying moisturizer only made it sting. The fact that Dr Anjali Mahto, a renowned London dermatologist who I regularly tap up for advice in features, recommends Vichy Mineral 89 was enough for me to get my head out of the gutter and to the drug store.
I loved the cool gel-like texture and how it left my skin soothed and full of moisture with only a few applications—although I do need to apply another serum over the top to address the horizontal lines that are starting to appear on my forehead and around my eyes.
I also think this serum would be perfect for anyone going through the menopause as skin gets both drier and more sensitive due to hormonal shifts. For those who are used to their hyaluronic acid serum virtually disappearing into their skin, I can imagine the slight tacky residue from Vichy Mineral 89 might be off-putting.
The glass bottle also doesn't make it ideal for traveling, but overall, I think this serum is a dream for sensitive skin and unlike most products that cater for this skin type, the packaging actually looks premium on your bathroom shelf.
Fiona Embleton is a multi-award-winning beauty editor who has tested over 10,000 products in her 10 years + of writing and shooting beauty stories. For the past four years, she was the Senior Beauty Editor at Marie Claire, having previously worked in the role of Beauty Editor at both Stylist and Cosmopolitan. She has recently gone freelance and alongside My Imperfect Life, she has written for titles including ELLE UK, ELLE Canada, Buro 247, Harper's Bazaar Arabia, Vogue Scandinavia, and ES Magazine. Beauty journalism allowed her to marry up her first-class degree in English Literature and Language (she's a stickler for grammar and a self-confessed ingredients geek) with a passion for make-up and skincare, photography, and catwalk trends. She loves jumping on the latest internet-breaking beauty news, dissecting the best red carpet looks, and having the crème de la crème of dermatologists, make-up artists, and hairstylists on speed dial so she can tap them for the best advice. She's a discerning beauty shopper and knows it can be confusing trying to navigate what's hype and what really works. So if she really likes something, you can trust that she has reached that opinion by vetting it against everything else she's ever tried. Her career highs? Interviewing Cate Blanchett and winning a Jasmine Award for the deeply personal feature Cancer Stole My Mother's Scent.