We-Vibe Chorus review: is this couple's vibrator worth singing about?
The We-Vibe Chorus is a wearable, app-controlled vibrator that brings extra sensations to both partners during PIV sex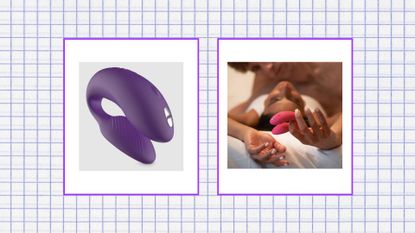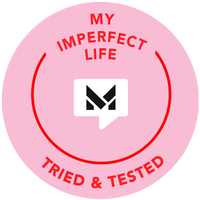 (Image credit: Future)
My Imperfect Life Verdict
We think the We-Vibe Chorus is a great sex toy for couples thanks to its C-shaped design, two vibrating arms, and squeeze remote.
Reasons to buy
+

Adjustable

+

Powerful vibrations at both ends

+

Can control both arms separately

+

Wearable

+

Enjoyable for both during PIV sex
Reasons to avoid
-

Too loud to use in public on higher settings

-

App can be temperamental
If you're looking for a great app-controlled vibrator, meet the We-Vibe Chorus. Especially great for PIV penetration, this toy is an upgrade of the We-Vibe Sync—a C-shaped wearable device that you can integrate into penetrative sex with a partner without one of you having to hold a gadget the whole time.
It pairs easily with the We-Connect app so it can be used for long-distance or public play but, in our experience, it's best put to use when you and your partner are in the same room together. Both of you will enjoy added sensations that can enhance your sexy times and bring you to amazing orgasms, making it one of the best sex toys for couples that you can buy.
The Chorus, which we've chosen as one best app-controlled vibrators on the market, is available from retailers such as Amazon and We-Vibe directly. It's quite a pricy piece of equipment but, when you consider it's one device that gives two people pleasure, we think it's worth it.
We-Vibe Chorus: Everything you need to know
FORM of the We-Vibe Chorus
The slimmer arm slides into the vagina and stimulates the G-spot, while the other one wraps around the body and rests on the clitoris (or nearby, depending on how high or low yours is situated). Both arms have ribbed inner surfaces, while the other side is smooth for the penis to slide against.
One of our favorite features of the We-Vibe Chorus is that both arms have their own powerful internal motor and can be controlled separately when using the app. We also love that its smart design means it's adjustable, so you can bend it to hit just the right spot.
The Chorus also comes with a squeeze remote that works from up to 10 feet away and can be used to alter the toy's vibrations.
POWER SOURCE of the We-Vibe Chorus
Like most of the best types of vibrators, the We-Vibe Chorus is rechargeable using a USB cable. This plugs into an inconspicuous charging-cum-storage case, which means you can have your vibrator charging on display in your living room, on your work desk or in the background of a Zoom call, and no one will be any the wiser (unless they have one themselves!). It takes about 120 minutes for the device to charge fully and it can last for up to 90 minutes of passion per charge.
FUNCTIONS of the We-Vibe Chorus
The We-Vibe Chorus has 10 pre-programmed vibration modes: low, medium, high, ultra, pulse, wave, echo, tide, crest and surf. These patterns can be cycled through using the arrow buttons on the remote control, and the intensity can be increased and decreased with the plus and minus buttons.
We found that these were useful during solo play but, when using the vibrator with a partner, fiddling about with buttons took us out of the moment. Cleverly, We-Vibe had foreseen this and made the remote a "squeeze remote." This means that you can simply choose a mode to enjoy with your partner and, if you want to increase the intensity of the vibration, you simply grip the remote control tighter. Just make sure you're grabbing the right thing!
CARE AND MAINTENANCE of the We-Vibe Chorus
As with any vibrator, it's important to keep the We-Vibe Chorus clean—perhaps even more so since it comes into contact with two sets of genitals. Wash it before and after each use using a sex toy cleaner or soap and water. (Check out our guide on how to clean sex toys for more advice.) Though the remote is not waterproof, the main device is, so don't be afraid to be thorough under the faucet. Then, once it has dried completely, pop it in its futuristic-looking storage case and close the lid to keep dust and dirt away.
The We-Vibe Chorus might well be adjustable but it's best not to be too vigorous with it just in case. This goes for when a penis-wielding partner is trying to slide into your vagina alongside the toy—lube is especially helpful here as it makes the experience smoother (literally) and stops there being too much pressure put on the vibrator.
APP CAPABILITIES of the We-Vibe Chorus
The We-Vibe Chorus can link up to the We-Connect app via Bluetooth; you simply download the app and go through the outlined steps. Once connected, you can use your phone to control the vibrator. You simply swipe sideways to move between the 10 pre-set vibration patterns and move your finger up and down on the screen to increase and decrease the intensity of the vibration.
What's particularly great about the Chorus and its intuitive app is that you can control each of the vibrator's arms independently. So if you want more stimulation on your clitoris but less internally, for instance, it's possible to vary the vibration mode and speed of each part of the device.
One of the frustrating snags with using app-controlled vibrators can be a dodgy Bluetooth connection. We-Vibe has tried to minimize this issue by using the remote control as a middleman between the toy and the app. It's a good idea and we did find it helped, though it was occasionally temperamental.
There are a few unnecessary but appreciated extras on the app, such as three touch-sense modes (changing how the vibrator responds when it touches your skin), the option to create your own vibration sequences, and the ability to connect your toy to music or your own voice. We tried making up and recording a sexy rap but for some reason, it didn't get us off...
WE-VIBE CHORUS—SHOULD YOU BUY IT?
If you're sick of getting a hand cramp from holding a bullet on your clitoris at the same time as riding your partner, then the We-Vibe Chorus is definitely a sound investment. (Who doesn't love hands-free vibrators?)

Not only is it totally hands-free (once inserted), but it also provides extra pleasure for both you and your lover and is the ideal toy to take your sex sessions to the next level.
Victoria is a freelance journalist with eight years of experience, writing everything from reviews and news pieces to meaty features for various online and print titles — including easyJet Traveller and b.inspired. Her work covers travel, lifestyle, health, and fitness. In her spare time, Victoria performs improv comedy and she's currently training to be a PT.