The best clit vibrators for a seriously intense experience
We've tested and reviewed the best clit vibrators from the likes of Womanizer, Unbound and We-Vibe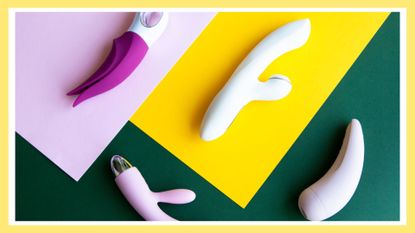 (Image credit: Getty)
Not all vibrators are created equal—and the best clit vibrators are some of the best out there. When shopping for a new vibrator, it's easy to think that as long as it gets you to the Big O, it's a keeper, right? Well we're here to tell you that much more goes into choosing a vibrator.
A class-A clitoral vibrator can turn your climax from a simple "ohhh" to an "ohhhhhhh, oh my God, yes!" You deserve only the very best sex toys, after all, especially as your clitoris—which contains about 8,000 nerve endings, double the amount of the penis—is the main area from which women enjoy pleasure and where almost all of their orgasms come from.
We did some (really) deep research and a lot of (hands-on) experimenting to discover the top clitoral stimulators on the market. We took a look at pricier and less expensive gadgets to ensure we tested a wide range of the market—and this is our eventual round-up of the best clit vibrators out there. Get your credit card ready!
The best clit vibrators to add to your collection:
1. Womanizer Liberty Clitoral Stimulator
Specifications
Power source: USB—rechargable
Intensity levels: Six
Material: Silicone
Wearable: N/A
Reasons to buy
+
Gentle, buildable vibrations
+
Hyper-focused on clitoral stimulation
Reasons to avoid
-
Magnet charger can be faulty
-
Not for those who want super-intense stimulation
Let's face it, vaginal penetration is fun and definitely can add some sugar to your orgasm, but without the clitoris, most of us wouldn't climax. That's why we're obsessed with the Womanizer Liberty Clitoral Stimulator.
This waterproof silicone toy hyper-focuses on the clit, which may sound a little too powerful and intimidating, but we're telling you this vibrator knows what it's doing. When you place the hole of the vibrator over the clit, a suction-like sensation produced by puffs of air gently revs you up without overloading the nerve endings.
As such, this is a great vibrator for someone who's a little more sensitive down there and who doesn't want to be aggressively bombarded with intense vibrations. What we really love about this one is that you can easily use it to orgasm multiple times in a row, without a break, because of how gentle it is. Plus, if you want to increase the air pressure for a more intense experience, there are six settings that allow you to do so. It's not a hands-free vibrator, but we love it all the more because of that.
2. Satisfyer Pro 2 Next Generation
Specifications
Power source: Rechargeable battery
Intensity levels: 11
Material: Silicone head
Wearable: No
Reasons to buy
+
Replicates oral sex
+
Waterproof
+
Has eleven speeds
Reasons to avoid
-
Doesn't hold charge as well as competitors
Most women can agree that getting a little love from her lover's tongue feels like heaven—and the Satisfyer Pro 2 Next Generation aims to replicate this feeling. This vibrator is the closest thing to oral sex that you will get while playing solo, making it one of our favorite types of vibrators!
This vibrator stimulates the clit with air pressure, and has eleven speeds ranging from low to high. We love that this baby is waterproof because who doesn't want to fantasize about steamy, wet roleplay? We recommend experimenting with a bit of warming lube around the rim of the hole of the vibrator that gets placed over the clit. It'll add an even greater sensation—but warning: it may set you up for disappointment in your future lover's oral skills!
3. Intense Triple Tip Clitoral Massager With Attachments
Specifications
Power source: USB rechargeable
Intensity levels: 10
Material: Tip made from silicone, body is ABS plastic
Wearable: No
Reasons to buy
+
Various tip attachments allow for customization
+
Great bang for the buck
+
Great for both beginners and pros
Reasons to avoid
-
Lowest vibration is still quite substantial
-
Quite small, which can make it hard to use
Okay, so this gem is one-of-a-kind when it comes to clitoral vibrators. The Intense Triple Tip Clitoral Massager With Attachments comes with three different interchangeable tips, all specially designed to get you off. We especially love the curved tip, which resembles the tip of a finger making a "come hither" movement, as it provides a mind-blowing amount of pressure without exhausting your clit before you can finish.
We definitely think this vibrator is a major bargain considering you basically get three toys in one! Plus, it's waterproof (always a major win) and there are ten vibrating speeds and rhythms to experiment with. The variety this vibrator offers makes it perfect for both the newbie and the advanced player. If you want a vibrator you won't quickly grow tired of, this is the toy for you.
4. Unbound Pep
Specifications
Power source: USB rechargeable
Intensity levels: Five
Material: Silicone
Wearable: No
Reasons to buy
+
Quiet and discreet
+
Compact and portable
+
Great for beginners; comes with a handy instructional pamphlet
Reasons to avoid
-
Might be too lo-fi for more experienced sex toy user
-
Doesn't come with a travel pouch
The Unbound Pep is a clit vibrator like you've never seen before. It fits in the palm of your hand, so it's super compact and easy to take with you on your travels. What we love most about this toy is its unique egg shape, which makes it ideal for both targeted and broad stimulation. If you love experimenting with different pressure points and angles, this is a fun toy to have in your stash.
The five speeds and three rhythm patterns add even more variation for pleasure. This option is also one of the best vibrators for beginners, because it is non-penetrating and focuses on the vulva and clit rather than the vagina, which can oftentimes be too intense for someone just starting out. We're also mega-fans of how quiet it is: it's absolutely perfect for anyone who shares an apartment with roommates or for someone who prefers to be discreet. This is also a fun one to use with a partner because of the creative possibilities the shape inspires!
5. Dame Products Fin
Specifications
Power source: USB rechargeable
Intensity levels: Three
Material: Medical-grade silicone
Wearable: Yes
Reasons to buy
+
Easy to use
+
Seamless design
+
Great for edging
Reasons to avoid
-
Not the quietest option on the market
Girl, let's be honest: edging can be hard, especially with vibrators. It's not an easy task to hold out on a perfectly good orgasm even though we know if we do, it'll be so much more intense.
But, the Fin finger vibrator from Dame allows for the most beautifully edged orgasms you've ever had! Never before did we think that a vibrator could make us edge so easily—the finger strap design makes this feel like an extension of your own hands.
Solo or with a partner, the Fin is a winner every time because it is so easy to control and tailor to your unique pressure points and individual climax. This is a must-have for all looking for the best clit vibrator options.
6. We-Vibe Melt
Specifications
Power source: Rechargeable
Intensity levels: 12
Material: Silicone
Wearable: No
Reasons to buy
+
Can be used internally and externally
+
App-controlled
Reasons to avoid
-
App can drop if Bluetooth connection isn't strong
In the age of technology, toy companies have gotten a lot more clever. One of these techie toys is the We-Vibe Melt.
The Melt is one of the best app-controlled vibrators, and a clitoral stimulator with twelve levels of intensity. We know what you're thinking: why do you need an app to control a vibrator? You don't always, but it's a good perk and a sexy way to get your partner involved in your usual solo session from afar, too. The vibrator can be controlled from anywhere, which means if you're in a long-distance relationship your partner can still get you off by commanding the app—a damn good way to keep the spark alive and a game-changing addition to LDR phone and video sex, so long as your Bluetooth connection is strong.
The Melt's design can be used in a variety of ways, both internally and externally. Plus it has a hole that provides air pressure for clitoral stimulation, and it's waterproof. What else could you want in a toy?
Laurie Riihimaki is a full-time freelance writer, editor, and busy-bee covering topics such as sex and relationships, holistic medicine and self-care, and career and personal development. Laurie's background and studies with theatre in Boston, London, and New York City have helped her to create a fun, comical voice that she utilizes in her writing. When she is not writing for work, Laurie puts time into developing novels, poetry, and personal essays. And when she isn't writing, she is spending time directing, acting, painting, exploring nature, reading, or spending time with family and her dog, of course.