The best early Prime Days deals on Amazon gel nail kits—for all your at-home manicure needs
Want to do your own glazed donut nails, à la Hailey Bieber? Ahead of Prime Day, you can find some seriously major early deals on Amazon gel nail kits...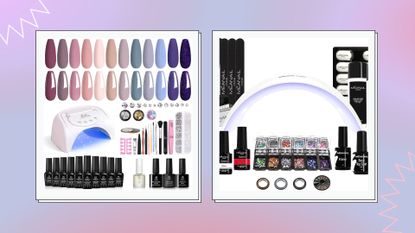 (Image credit: Amazon/Future)
Whether you want to try your hand at Hailey Bieber's viral glazed donut nails, or fancy emulating the delicate Selena Gomez angel nails trend, Amazon gel nail kits are always a brilliant option for creating pretty nails at a low cost. And that's even more true during Amazon Prime Day—which is now just around the corner.
The first of Amazon's two Prime Day sales this year will take place on 11-12 July, and it's always a fantastic opportunity to pick up a home gel nail kit. While handling your own manicure might seem super intimidating, at-home gels are all the rage right now and thanks to TikTok, there's no shortage of tutorials on how to do it. And given how expensive *life* is right now, being able to do a sleek mani on yourself at home is a great way to save some money too!
However, we know Prime Day can be overwhelming, so ahead of the big day, we've sussed out all the best early deals on gel nail kits for your convenience. And, we'll be adding every worthwhile deal when the sale actually does drop right here. So whether you need a plethora of gel polishes, or a full-on beginner kit with LED curing lamps—these are the best early deals on Amazon gel nail kits right now, a week out from the Prime Day discounts...
The best early Prime Day deals on Amazon gel nail kits
Best early Prime deals on Amazon gel nail kits in the US
Healthier nails here we come! If you've not yet made the transition to gel nail polishes, now is the time (especially with Prime Day savings). You can shop everything from full-on kits with everything you need to create your manicure, but also everything you need to remove your gel polishes. Debit cards at the ready folks...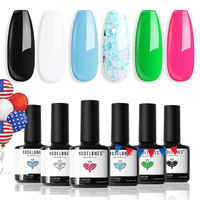 modelones Gel Nail Polish Set: $13.99 $8.99 (save $5) | Amazon US
For those who prefer fun and funky or sleek and neutral, this gel nail set is a must-buy. And with a decent saving of $5 ahead of Prime Day, it's even more of a no brainer.
You'll get six colors in this set making it a great saving on your monthly in-salon manicure, and all the polishes are toxin and odor free.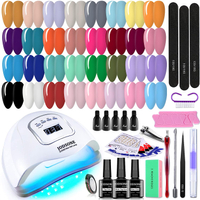 JODSONE Gel Nail Polish Kit with U V Light: $74.99 $44.99 (save $30) | Amazon
Bag yourself an entire gel nail set for under $50 with this early Prime Day deal—included, you'll get an LED lamp, 32 gel polish shades, a base coat, top coat and a variety of nail tools to help you achieve the perfect mani. With this deal, you'll get a whopping 40% off all of this.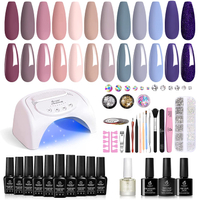 Beetles 12 Colors Gel Nail Polish Starter Kit with UV Light: $49.99 $34.99 (save $15) | Amazon
Though Prime Day is still a few days away yet, there's a very respectable 30% off deal to be had on this gel nail polish starter kit, and it's a brilliant option for those who prefer a nude or neutral shade.
As well as the UV lamp, you'll receive 12 different gel nail colors and various nail art tools and accessories—making it one of the best early Amazon Prime Day deals we've spotted so far.
Best early Prime deals on Amazon gel nail kits in the UK
Gel polishes: Bag up to 5% off if you buy four qualifying items—and get it tomorrow
Nail kits: Up to huge 33% off nail kits with polishes and curing lamps included
UV / LED curing lamps: Limited one-time deals of up to £15 off UV lamps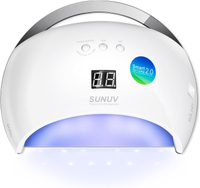 SUNUV UV LED Nail Lamp: £39.99 £23.99 (save £16) | Amazon UK
Get 40% off of this white UV lamp ahead of the major Prime Day sale, which will come in super handy if you already have a few gel nail polishes at home.
This machine will show your usage time and even works on an automatic timer—so your nails are never in there for longer than they need to be.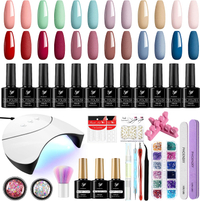 phoenixy Gel Nail Polish Kit: £35.99 £24.29 (save £11.70) | Amazon UK
This phoenixy Gel Nail Polish Kit is currently at its lowest price in the last month, so it's a great time to snap it up ahead of Prime Day!
You'll receive 12 gel nail colors, an LED lamp, a few fun accessories and some helpful nail tools, which is pretty much everything you'll ever need for a sleek neutral mani, or a fun colorful nail look!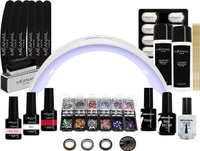 Semi-permanent Gel Nail Polish Manicure Kit: £54.90 £32.90 | Amazon UK
If you're after a really chic looking Amazon gel nail kit, this choice is perfect, and comes with a whole host of goodies, including a UV LED 24W lamp, 6 nail files, 5 cuticle pushers, 1 buffer block, 2 toe separators, 1 cuticle oil, 1 primer, 1 base/top coat, 3x 5ml Colors Gel nail polishes, and more—phew!
Plus, 40% off is one of the best deals we've seen during Amazon Prime Day and outside of it, so there's no need to wait for the big sale to get a serious discount on this set.
Amy Hunt is a lifestyle writer and editor, and was previously Lifestyle Channel Editor at womanandhome.com, having been with the brand since 2015. She is passionate about everything from entertainment to books, to homes, food and wellness. When she isn't editing, researching or writing articles, he's busy burying her nose in a gripping thriller, practising yoga, or buying new homeware.